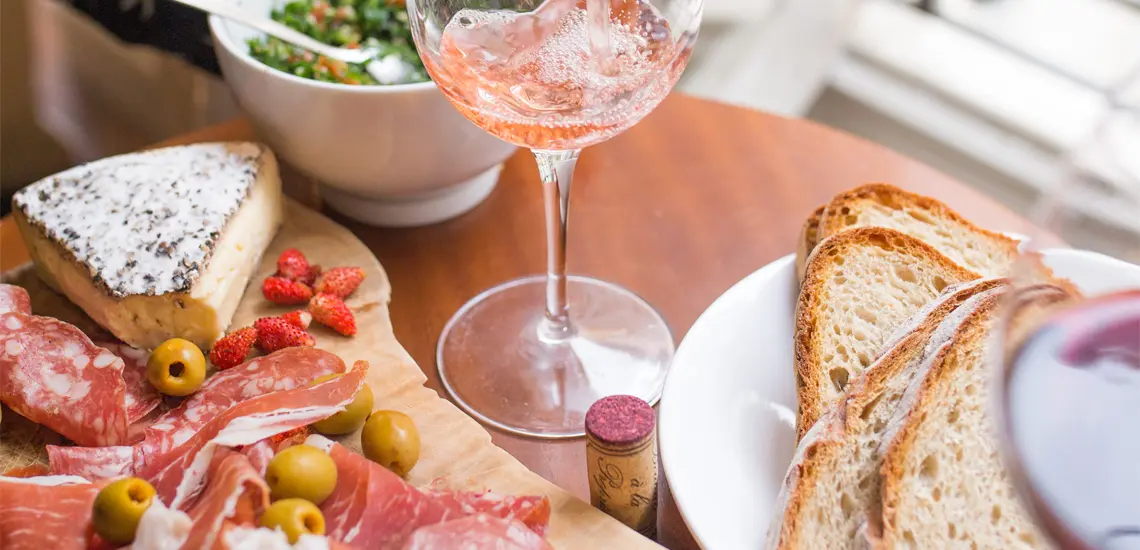 Brisbane's Best Wine and Cheese Venues
Red, red wine… stay close to me!
By Elena Barton | 9th November 2017

Everybody likes to have a little nibble whilst indulging in a tipple or two, and wine and cheese are a match made in heaven. With this in mind, we tracked down (and road-tested #workperk) Brisbane's best wine and cheese venues so you can go and treat yo' self.

With cheeses from around the globe, Cru Bar + Cellar's cheese platters are not to be missed. Served with dried figs, fresh grapes, quince paste, crispbreads and Barossa bark, they ae perfect for sharing. Picking something to wash it all down with will be the hardest part of your day as Cru Bar's wine list is equally as impressive as it is extensive.

All of your cheesy dreams will come true at Fromage The Cow. The full service restaurant's whole menu is based around cheese, from signature cheese platters to their famous fondue it's a cheese lover's paradise.

Cheeseboard for two? Don't mind if we do! Bitter Suite is known for its crazy good selection of craft beers but they also have a sizable wine list with some top notch tipples. And of course, the aforementioned cheeseboard for two, with three cheeses, apple & pear chutney, quince, celery, roasted nuts, sourdough and lavosh bread, is perfect for sharing or pair the cheeseboard with the equally delicious charcuterie platter for a more substantial munch.

For a Spanish spin on your cheese platter or charcuterie board you can't go past Gerard's Bar, the little sister to the ever-popular Gerard's Bistro. Trust us when we say you really haven't lived until you've tried Manchego cheese and Jamón Iberico. Keep with the Spanish theme and try the Campo Viejo Tempranillo from the wonderful wine region of La Rioja in northern Spain.

With a name like Claret House, you'd be safe to assume that the wine list will be extraordinary and extensive, and you'd be correct. With pages of wines to choose from, this is not a place for the indecisive drinker. That said you could always tempt your tastebuds with a selection of cheeses whilst you mull over the menu.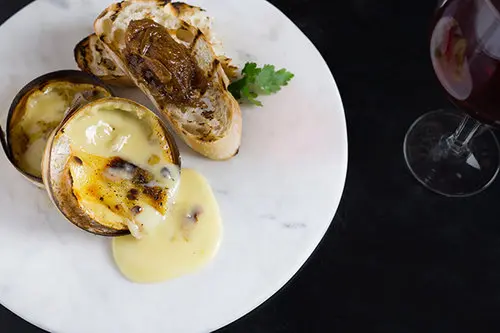 Be still our beating hearts we simply camembert it! Les Bubbles whole baked camembert with onion confit is the perfect way to end a meal if you're not in the mood for a sweet treat. Settle in to their signature red-leather booths and savour some stunning wine and sip the night away.
We can't Brie-lieve it! At Sixes and Sevens cheese boards come with either two cheeses for $19 or three cheeses for $27 as well as quince paste, toasted Turkish, crackers, grapes and Barossa bark. With a plethora of red, white or sparkling wines to choose from wetting your whistle has never been easier.
Mr Edward's Alehouse and Kitchen have cheese and charcuterie boards down to a fine art. With a charcuterie and cheese menu, you can build and customise your own platter and all platters come complete with pickled vegetables, Coopers beer bread, crostini, Arbequina olives and homemade chutney. Don't worry you won't be thirsty either, with wines sourced from all over the world and from the best wine regions in Australia, you are sure to find one that will match your customised charcuterie creation.
Darling & Co have upped the ante with a dedicated wine and cheese night every week! Wine Down Thursdays are, you guessed it, held every Thursday and for $35 you can indulge in a cheese platter and two glasses of wine to help you unwind after a long day at work.
Liked this? You'll love these! 1. Fork Talk: Issue 30 2. Bottoms Up! Brisbane Just Got A Slick New Wine Bar 3. Brisbane's Best Cheese Dishes