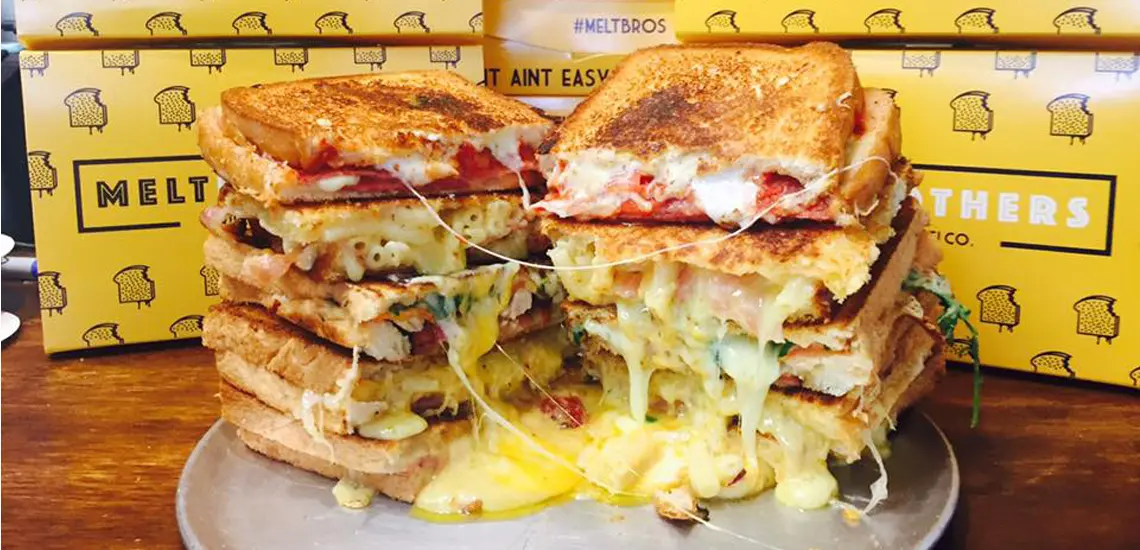 Brisbane's Best Cheese Dishes
These places are Brie-liant!
By Rafael Pratt | 5th September 2017

It's no secret that we love cheese. Melted, fried, or grated, there's no wrong way to enjoy this delicious dairy fave (unless you're lactose intolerant, of course…). We trawled through delis, bars, takeaway joints, beautiful restaurants, and comfort food suppliers to curate our list of Brisbane's best cheese dishes. Bon fromage!

Situated on Adelaide St, and thankfully not in Adelaide! The Cheese Pleaser is one of Brisbane's latest and greatest cheese dreamlands. A small takeaway joint serving extravagant cheese toasties (our favourite of recent trends!) and incredibly well thought out cheese boards. Not to mention the matching coffee and charcuterie. If you seriously desire it, all are available for dine in, and honestly who wouldn't want to spend their morning… afternoon… evening… snacking with accompanying friends on these fantastic fresh cheeses.

Fromage the Cow, Brisbane's first fully licensed fromagerie, is absolutely bursting at the seams with cheese. Hosting more than eighty types of cheese; available from their walk-in cheese room. Fromage the Cow also runs a full restaurant with a menu heavily centred around… well, I'm sure you can guess. The restaurant offers many wine pairings with their cheeses from Spain, France to Australia (and many more). Finally, to top it off they also have a coffee window for those on the run, but don't worry you can still get a fantastic T/A cheese toastie.

Meltbrothers endeavoured to bring a range of the insanely delicious comfort foods they found on offer in New York's alleyways to Brisbane. And well, they have. Meltbrothers menu is packed out with the freakishly good toasties that they are known for. A brekky fave is the Morning Glory toastie with maple bacon, two fried eggs, sriracha mayo and cheddar cheese. Or try the New Yorker with pastrami, sauerkraut, pickles, reuben sauce, American cheese and cheddar cheese. Whatever toastie you get make sure you also get a serving of the loaded tater tots. Oh, and also they have a full bar license and coffee machine if you need any more convincing to go in.

Emile & Solange was inspired by the family history of Sarah Thuillet who's Grandparents had owned a store in the middle of Normandy selling milk, cream and butter that they hand made at their farm. Their names were Emile and Solange. They opened in 1958 and Sarah opened her fromagerie with their names in 2016. Emile & Solange is a fantastic cheese shop driven by strong passion and a deep knowledge of such cheesy things. Emile & Solange also hosts a fantastic accompaniment of charcuteries, jams, honey, crackers and more. The final icing on the cake? They deliver fairly extensively all over Brisbane and further. Go to their website to stock up on your home supply!
CANVAS | WOOLLOONGABBA
Not a cheese speciality place but oh lord they know how to do a charcuterie board. It's the perfect place to start off a night with good friends and drinks and of course cheese. Canvas has a cheese board with the option of one, two, or three cheeses served with warmed ciabatta, rice crackers, pear, fig and pepper paste. That's the simple version if you want to get serious with the charcuterie board you'll get a selection of cured meats – pancetta, sopressata, lombo, calabrese, cheese(!), olives, sun-dried tomatoes, smoked almonds and ciabatta. If that doesn't have you drooling (with everything else on this list) then we're not sure what we can do at this point to make that happen.
Only open a week and we've already heard 100 rave reviews about these guys. Jessie's girl is pioneered by the guys from Scout café but bring a distinctly different vibe whilst maintaining the same happy-go-lucky atmosphere. And! They have cheese. Whilst they are still figuring out their menu they recognised the importance of getting some cheese involved from day one. The gals from Jessie's girl offer a classic cheese board but are very determined to tell a story with the flavours on offer. To do this they're making sure all the cheeses on their boards come from a specific region. But don't worry, they're going to change it up often, taking you on a different trip with every new cheese board. Their current flavour trip originates in Spain with a Viejo maestro, a Oveja alromero and a Iberico served with sourdough crisps, pickled baby figs, onion jam and a Spanish quince.
Feature Image: Melt Brothers
Liked this? You'll love these! 1. A Cheese Festival Is Coming To Brisbane! 2. Brisbane's Best Mac 'N' Cheese: 2017 Edit 3. Cheeses Freaks Unite For Bubbles And Brie