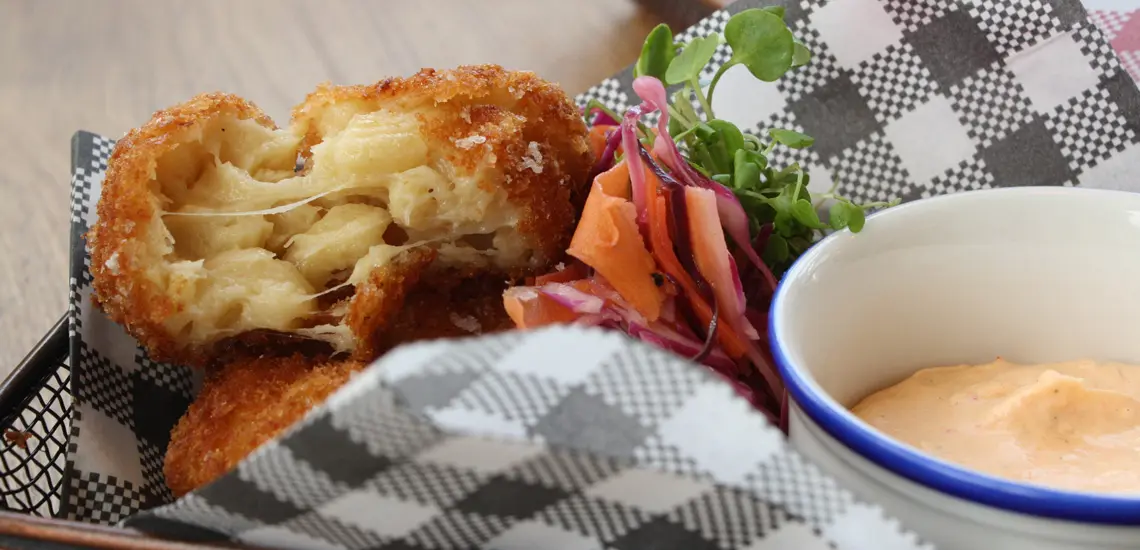 Brisbane's Best Mac 'n' Cheese
Because Mac'n'Cheese!
By Amber Lowther | 28th April 2016
CHECK OUT OUR UPDATED 2017 BRISBANE'S BEST MAC 'N' CHEESE ARTICLE HERE
It's not just a comfort food, you guys. Mac'n'cheese, when made correctly, is an irresistible indulgent treat. Don't fight the urge. Just order these.
Introducing the Mac Doggy at Buffalo Bar. No, it's not a new rapper hitting the charts. It's a hotdog COVERED in mac'n'cheese! DROOL. And there's more. It's then crumbed, fried and ready for you to enjoy. Stop by Buffalo Bar on a Wednesday to get a deal of a Mac Doggy, fries and a drink for $20!
Head on over to one of the best burger joints in town! Miss Kay's Mac Daddy burger is on a whole other level and is perfect for those who love a little bit of everything. You want a beef patty AND mac'n'cheese AND American cheese AND sweet BBQ sauce WITH mayo AND loaded fries?! You got it. Just bring your stretchy pants.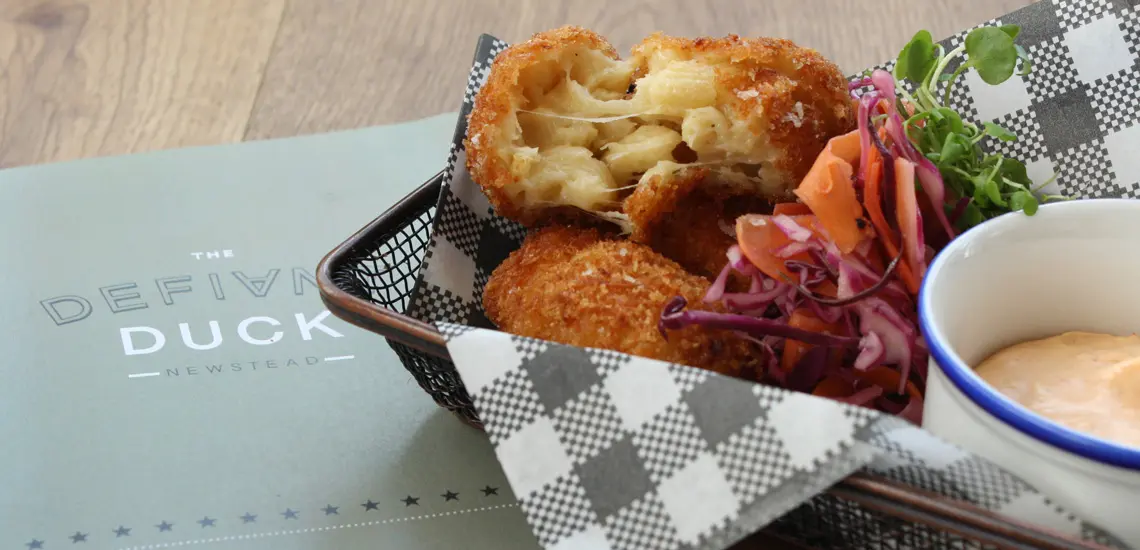 If you're looking for a starter with lots of flavour, The Defiant Duck's mac'n'cheese croquettes are a no-brainer. Drenched with red slaw and Philadelphia cream cheese, it'll be hard to stop at one serving! I'm sure you could totally get away with having a few of these as your main. And did I mention it only costs $8?
Double carbs can be a beautiful thing! The Bella BBQ food truck offers a mac'n'cheese brisket burger with 18-hour slow-smoked Wagyu brisket, covered in a special house rub. Candy bacon is then used to infuse the creamy mac'n'cheese and it's topped with sweet and sticky BBQ sauce. Delish!
If you're after something small but still satisfying, take a seat at Project 41 for a mac'n'cheese jaffle! For $11.50, your jaffle will be filled with macaroni and delicious truffle cheese sauce. This sounds like a great excuse for a tasty lunch – just don't tell the PT.
Honourable mentions

For those who rather their mac'n'cheese plain, check out these places for your cheesy fix.
This is the perfect tasty side with your Friday arvo drinks! With gruyere, smoked cheddar and parsley, it will satisfy your tastebuds and help soak up those bevs.
South Side Diner's mac'n'cheese options will have your mouth watering. Try their Three Cheese and Chive or Smoked Chicken and Scallions for just $14.90. Everyone else at your table is gonna have serious food FOMO.
For a taste of New York, visit Red Hook in Gresham Lane. They have mac'n'cheese squares as a side option and let's be real, it sounds like an amazing start before a delicious burger. YUM!
If you liked this, feast your eyes on these
Brisbane's Best Sliders Brisbane's Best High Tea Brisbane's Best Pub Feeds