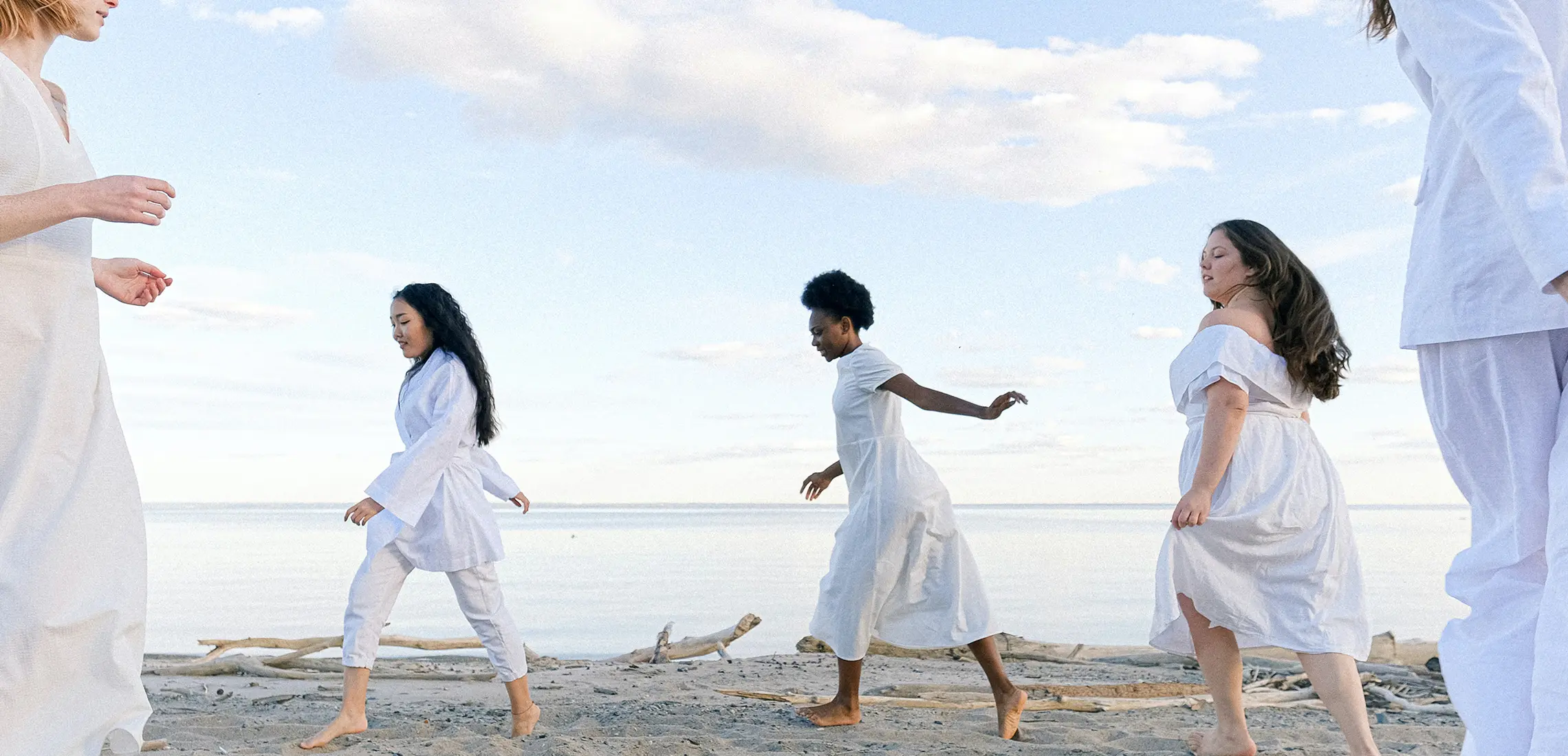 Ease Your Mind With These 8 Everyday Mental Health Hacks
Healthy mind, healthy life
By Kate von Euw | 1st June 2021

How many times can you say you've cared more about how you look than how you feel (okay, guilty)? Mental health. It's the one thing we KNOW is important, yet is not always at the top of our list of priorities (again, guilty). As someone who is a little too good at biting off more than they can chew, I can vouch for the whole "but I don't have time for that" mindset.

Society is often notorious for glamourising "the grind" and things like "no pain, no gain". Instead, let's normalise getting 7+ hours of sleep at night, setting boundaries, practicing self-care, and having a healthy relationship with our mind. Off the back of Mental Health Awareness Month, we're sharing our favourite mental health hacks to improve your day-to-day lifestyle. It's true what they say: mental health is just as important as physical health!
Actively Practice Gratitude
You know that boujee, aesthetic journal you bought months ago and swore you'd use but haven't? Well, here's a use for it! Spend some time at the end of every day, acknowledging five things you are grateful for – big or small. It could be the compliment you received from a stranger on the train, that much needed 10am caramel latte from your fave coffee shop, or even something as simple as Fridays (who isn't grateful for those?). Whatever it may be, take a moment and jot it down.
Schedule Time For Your Hobbies
Anyone else 5-stage-clinger attached to their planner or just me? If there's anything we discovered in 2020, it's an abundance of hobbies that we actually like (crocheting, anyone?). Set some time aside every week for the things you love, whether it be trying new recipes, going to the gym, attempting a jigsaw, or drawing. Whatever the hobby, schedule it in! That way, you're less likely to find an excuse.
Keep Active
It's true what the experts say: exercise releases endorphins and serotonin that improve your mood and trigger feelings of positivity. Spend some time each day being active –your mind will thank you for it! Go for a walk, do a home workout, or even just spend five minutes dancing 'round your living room to your fave song (okay Google, play 'good 4 u' by Olivia Rodrigo). Better still, grab a friend, family member or co-worker and get them to join in on the fun.
Prioritise Sleep
Sure, time is money or whatever your excuse may be, but believe it or not, that pretty lil' mind of yours needs to rest too! Try going to bed and waking up at the same time each day to develop a healthy sleep schedule (I know, I know, easier said than done). Also, guilt-free naps are a thing! Listen to your body and be sure to take rest where needed. Hear me out: the world will not implode if you don't finish all the tasks on your to-do list. In need of some tips for catching those Z's? Check out our natural solutions for a better sleep.
Listen To A Daily Podcast
Dreading the peak-hour traffic commute to work and the endless list of 'to-dos' that await you? Start the day with a podcast to stimulate your motivation for the day. There's no denying the podcast phenomenon has rapidly taken off in the last few years and if you haven't jumped on the bandwagon, it's time to hop aboard! Consuming information in the form of a podcast activates the reward pathway of your brain, releasing dopamine – a feel-good chemical responsible for pleasure and enjoyment. So basically, what we're saying is listen to a podcast, it's good for your brain! Whether you're into thrillers, politics, or in need of a good laugh, there's something for everyone to tune into. Check out our podcast recommendations here.
Practice Meditation
No doubt you've been thinking about this one for a while. After all, we're always being told how good it is, you know, for pretty much everything! But how exactly does one start meditating? Just close your eyes and hope for the best? Start your journey to better mindfulness with the use of guided meditation apps such as Headspace or Calm, both of which offer free and paid versions. Ten minutes of your day, that's all. You'll feel better for it!
Lose Yourself In A Good Book
Whether you're a born reader, lost touch with the literary world, or never found time to enjoy a good read, there's no better time than the current chilly season to curl up with a good book. For those who have always struggled with reading, it's worth exploring new options – let's be real, there's a fictional character everyone can relate to on some level! Along with sharpening your mind, reading provides an abundance of mental benefits such as sensory awakening, reflection, empathy development and stress relief. Stuck on what to read? Find a page-turner with our top reads right now.
Limit Screen Time
If we're naming things toxic to our mental health, then the thing you're likely reading this article on tops the list! Phones. We love them, we need them, we're addicted to them, and yet they're notorious for sometimes causing more problems than they solve (don't come at me!). Be diligent in setting boundaries with screen time. Turn off your phone at a designated time each night and instead spend time with family, take a relaxing bath, or settle in with a good read. If you're someone who needs some extra support in the device self-control department (*raises hand*) the Screen Time (Apple) and Digital Wellbeing (Android) sections of your phone's settings are a great way to set screen time limits for the day.
If you're struggling and in need of extra support, we encourage you to reach out and start a conversation with someone who can help. See below for a list of mental health-oriented organisations and their contact details. Remember, there is no shame in struggle.
Headspace | 1800 650 890 | 9am-1pm | 7 days a week
Lifeline | 13 11 14 | 24/7
MensLine | 1800 614 434 | 8am-8pm | Mon-Fri, 8am-6pm Sat