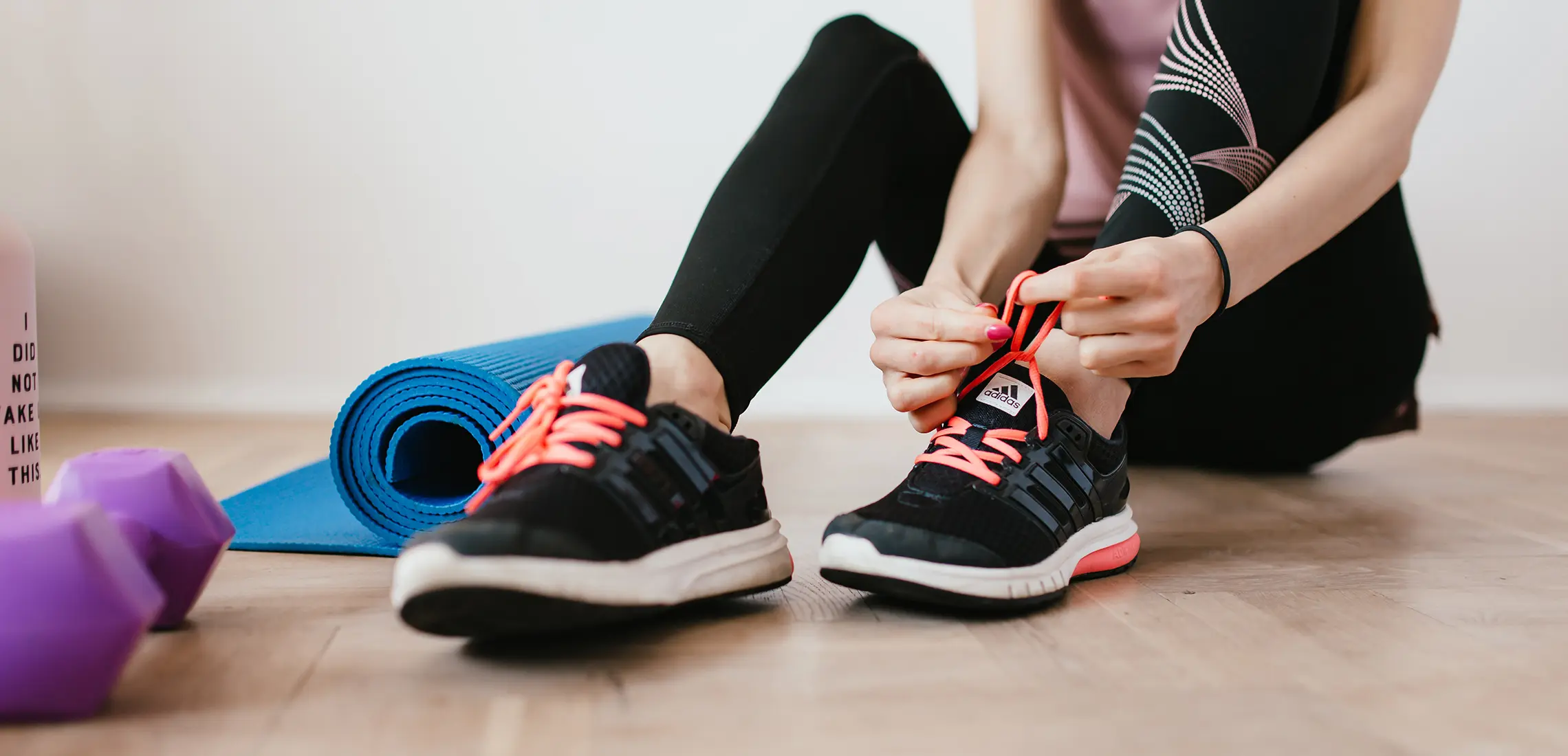 Do Sweat It With 10 At-Home Workouts For All Fitness Levels
From couch to crunch!
By Paige Van Lunteren | 6th April 2021

While there's no time like lockdown to complete your transformation into a full couch potato, it's also easier than ever to get your sweat on. Our favourite #fitspo inspirations have come to the rescue, taking their workouts online, if they weren't already. We're now spoilt for choice when it comes to online workouts, so we've put together this list to narrow down our favourite workouts to do from the comfort of your own home.

If the sound of The Weeknd's 'Blinding Lights' is what gets you pumped for a workout, look no further than MadFit on YouTube. With workouts choreographed to anything from Olivia Rodrigo's hit song 'Drivers Licence' to Dua Lipa's 'Don't Start Now', one three-minute workout will turn into 30 minutes before you know it. MadFit's viral YouTube workouts are also available on her Instagram account, along with extra fitness inspiration. Don't be surprised if you're busting out a workout in your seat next time 'Drivers Licence' plays on the radio!

There's no denying we are massive fangirls of Keep It Cleaner founders, Steph Miller and Laura Henshaw, but we might just be bigger fans of their app. When you join the KIC community, you're paying for unlimited access to equipment-free boxing, HIIT, strength, yoga, and Pilates workouts, complete with guided meditations and recipes. It really isn't just a way – it's a lifestyle! You can get a free taste of Keep It Cleaner workouts via their YouTube or receive access to the whole shebang with a seven-day app trial.

Dubbed YouTube's 'Holistic Health Princess', Sarah's Day is our ultimate fitness inspiration. These days, we see a lot more of Sarah's food content, with the launch of her nutrition app, Sunee. If you've already devoured a bag of Easter eggs instead of taking the opportunity to bake one of Sarah's healthy alternatives, you can purchase her eight-week Sweat it to Shred it fitness e-book to get you back on track. You'll also find a few of her 15-minute workouts on YouTube.

With locations in Newstead, Chermside, and Mt Gravatt, it's no secret TotalFusion is Brisbane's most Instagrammable fitness destination. But did you know their highly sought-after workouts are also available online? Access to TotalVirtual's database of functional, Pilates, yoga, cycle, fusion, and meditation classes is free to all active TotalFusion members. From high intensity express classes to hour-long sessions, there's something for everyone to keep you totally motivated.

You'll be stronger than Thor in no time with Chris Hemsworth's Centr app! Working out under the guidance of Hemsworth's world-class team of fitness, nutrition, and wellness experts, will have you feeling just like a Hollywood celebrity. From as little as $10 a month, you'll receive access to HIIT, boxing, yoga, strength training, Pilates, and MMA workouts, ranging from 20 to 40 minutes. If the seven-day free trial isn't enough to get you running, skipping, and jumping then maybe the eye candy will be!

Speaking of eye candy, Sam Wood's 28-day home fitness program is perfect for any mum on the run! In fact, even the kids will enjoy the recipes you receive when you sign up to this program. In just 28 minutes, Sam will take you through an entire full-body HIIT workout and he'll keep you on track with daily check-ins. Think personal trainer in your pocket for as little as $2 a day!

If it means we'll get abs like Instagram model, Isabelle Mathers, then her workout-of-choice – Bodies by Rachel – is one we are willing to try! When you download the app, you'll first be asked to fill out a questionnaire to find which of her four training and nutrition programs are right for you. The programs range between 4-8 weeks. Again, this one comes at a cost, but judging by the results on her Instagram, it pays off.

If you thought Style Runner was just here to sell us stylish threads to work out in, you're wrong. Since last year's lockdown, our one-stop-shop for activewear and sneakers has also been bringing us IGTV workouts along the lines of Pilates, yoga, core, and full-body workouts from leading trainers. They've dubbed it Style Runner Health Club and it looks like it's here to stay!
FitazFK | E-Book & App
Going back to their foundations of selling online fitness guides before they opened a gym and activewear line, FitazFK are the experts in at-home workout programs. Their popular 28 Day Home Workout Guide takes up to just 18-minutes of the day, so it's perfect for anyone short on time. The guide also includes a complete meal plan because we all know abs are made in the kitchen! You'll find extra tips on nutrition and form, and the occasional free workout on their Instagram.
Exclusively made for women, by women, the Sweat app is perfect if you struggle to commit to one program like us! You will get a choice of programs from our favourite female trainers and the ability to swap between programs, so you're not putting all your eggs in one basket! We love that this app comes with an in-built planner to schedule and arrange your workouts to days that suit you.