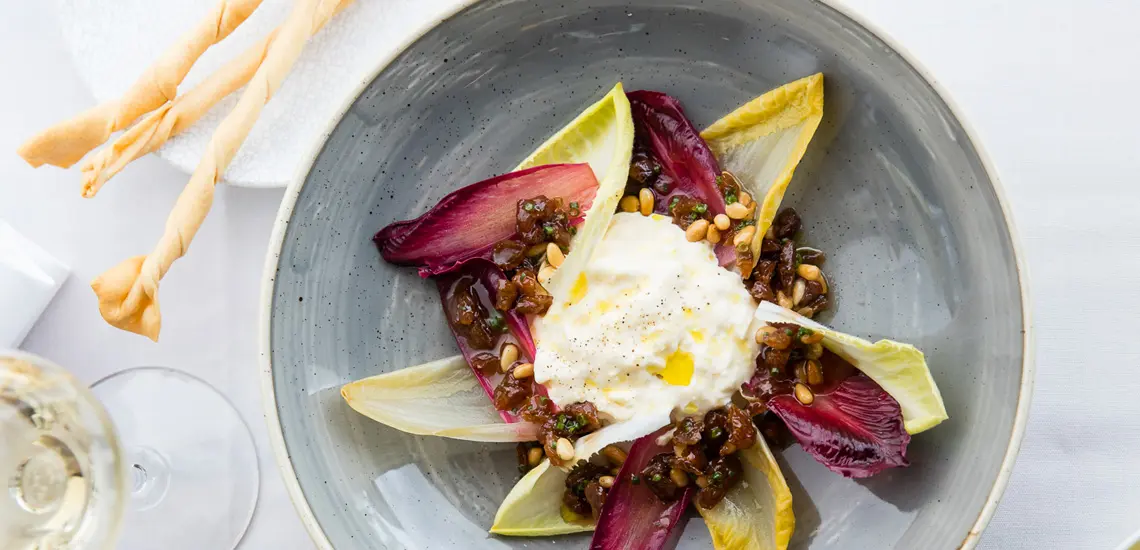 Wine & Dine With Our Pick Of Brisbane's Best Restaurants: 2018 Edit
We'll cheers to that.
By Guest Styler | 15th May 2018

With a never-ending feeding-line of new restaurants, bars and cafés to discover, it's clear that Brisbane's wining & dining ecosystem is done playing second-fiddle to our southern counterparts, Sydney and Melbourne.

From hole-in-the-wall takeaway joints to fine dining institutions, Brisbane's cooks and chefs continue to push the boundaries of what Australian cuisine really is. From cheese burger spring rolls to charred octopus with chorizo, Brisbane is reinventing itself as the mecca of Australian dining and we can't help but take the opportunity to #humblebrag about it whenever we can.

So please, raise your glasses in celebration of 14 of Brisbane's best restaurants.

When it comes to delicious and authentic Moroccan food, you can't go past Fortitude Valley staple Mecca Bah. Serving up traditional Moroccan eats – harissa, kofte and meze, oh my! – Mecca Bah celebrates the iconic flavours of this country while adding their own modern twist. Best enjoyed with friends, their menu is centred around share plates that ensure you can sample and savour as many dishes as possible. Whether you indulge in a Banquet or choose your own adventure from the à la carte menu, there are so many options to tempt you. Catering to vegans, vegetarians and other dietary requirements, their generous menu means that everyone in your group can join in!

Situated at the top of 480 Queen St, OTTO Ristorante is at the top of Brisbane's dining scene in more ways than one. Serving contemporary Italian fare from their uber-chic rooftop restaurant, OTTO is perfect for everything from aperitivo hour drinks to long dinners washed down with plenty of wine. Make sure you try the tortellini with braised oxtail and smoked bone marrow.
Bacchus | South Bank
Any restaurant named after the Greek god of wine is going to be a winner in our books. As one of Brisbane's most celebrated institutions, this is where in-the-know foodies go for a decadent dining experience. When in doubt, always choose the 7-course degustation.
https://www.instagram.com/p/BgiOpe8l_Cu/
Situated right on the Brisbane River, this is al fresco dining done right. At Stokehouse Q you'll enjoy some of Brisbane's best seafood dishes, inspired by the flavours of the Mediterranean and enhanced with local, seasonal produce.
https://www.instagram.com/p/BiA0DCOlhHz/
Aria | Brisbane City
Making any number of "Brisbane's best" round-ups since their opening, Aria truly is the pinnacle of fine dining in Queensland. Whether you're a first-time Aria diner or a loyal disciple, the seasonal tasting menu (available as a 4 or 7-course seating) is a must try.
https://www.instagram.com/p/BdeuFGRlg9f/
Rogue Bar + Bistro | Newstead
Whether you're hitting them up for one of their Insta-worthy brekkies (the waffles with fresh figs, passionfruit curd, marshmallow and salted macadamia gelato will give you life) or indulging in their dinner menu (sign us up for the miso lamb rump with fried brussels sprouts) it's no surprise that Rogue Bar + Bistro is one of Brisbane's most popular dining destinations.
The 2-hatted Montrachet has long been a staple of Brisbane's food & wine scene, known around town for their authentic yet contemporary take on French cuisine. Of course all your favourites are on offer – such as steak frites and crab soufflé – but Chef Shannon Kellam isn't afraid to explore innovative new flavours too.
As the cool, younger sibling of South Brisbane favourite Izakana-Ya Okuman, Tatsu Yakitori Bar is the enticing and welcoming Japanese haunt we've been waiting for. Focusing on dishes that can easily be shared with friends, Tatsu brings authentic Japanese dining to Brisbane with an effortlessly cool attitude that we love. Choose from grilled yakitori skewers (because meat on a stick just tastes better), piping hot ramen, and fluffy bao buns.
https://www.instagram.com/p/BQZ6FeWDzgo/
Greenglass is where classic French flavours meet modern Australian dining. Their Winemaker series brings diners face-to-face with some of the biggest names in Australian winemaking, allowing them to immerse themselves in the colourful and diverse wine culture of Australia, all while enjoying Greenglass' impeccable dishes.
Whether you prefer to choose your own adventure from the à la carte menu or go all the way with a 3 or 5-course degustation, Madame Rouge brings the best of French dining to Brisbane. Head Chef Gert Pretorius has curated a menu that feels like a nostalgic journey through 1920's Parisian bistros, while balancing it all with a modern twist that seduces us every time. Don't pass up the opportunity to indulge in their escargots with garlic butter and toasted sourdough. Life. Changing.
https://www.instagram.com/p/BhNmVvtlzIK/
Saké | Eagle Street Pier
Serving up contemporary Japanese cuisine inspired by the sites, sounds and flavours of the streets of Tokyo, Saké has a reputation for being one of the best Japanese restaurants in Australia. Boasting clean, fresh flavours and an envy-inducing selection of sake and shochu, Saké has more than earned their place on this list.
Black Hide | Petrie Terrace & CBD
For world-class steak that is a cut above the rest, dining at Black Hide Steakhouse is a rite of passage for Brisbane foodies. Serving only the very best in fresh local produce courtesy of Stanbroke Beef (Australia's most celebrated beef producer), it's a truly mouth-watering experience that will have you going back again and again.
Beccofino | Teneriffe
Think you know what goes into preparing the perfect gnocchi, or the difference between Basillicata and Campania flavours? Then Beccofino needs to be at the top of your Italian hit list. With a substantial menu that includes everything from antipasti through to hearty mains (not to mention a satisfying dessert menu which boasts one of Brisbane's best tiramisú's), it's no surprise we return again and again.
Urbane | CBD
Consistently lauded as one of Australia's premier fine dining restaurants, as well as boasting a tidy 3 Chef's Hats status, Urbane offers diners a dining experience that goes beyond the plate. While we know that may sound like foodie-nonsense, it's completely true. Dedicated to pushing the boundaries of contemporary Australian cuisine and constantly exploring what it means to engage in the paddock-to-plate philosophy, it's no surprise that Urbane tops Australia-wide lists regularly. Their 5 and 7-course degustations are tailored based on whether or not you are an omnivore or herbivore and brings the best of Brisbane dining to the table.
https://www.instagram.com/p/BhdtUYkFh1T/
Image: OTTO Ristorante
Liked this? You'll love these! 1. Brisbane's Best French Restaurants 2. We've Found Brisbane's Best Italian Restaurants 3. 9 Of Brisbane's Best Dumpling Restaurants For Your Gyoza Fix