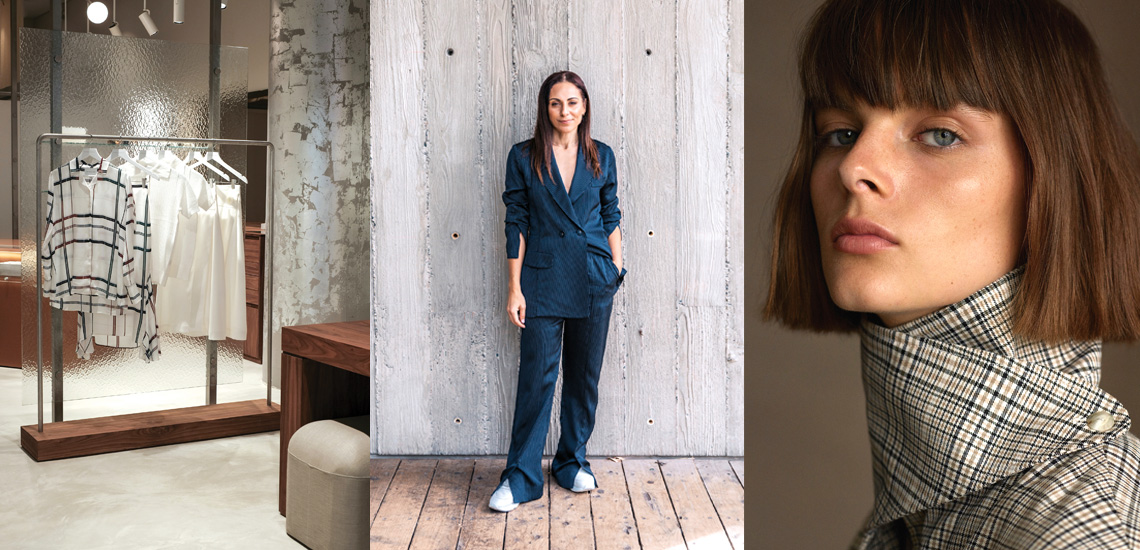 Margie Woods of Viktoria & Woods Tells Us All About Her Sustainable Fashion Label
One of Brisbane's newest boutiques.
---
With the recent opening of the new Viktoria & Woods store in QueensPlaza in Brisbane, we speak to the Founder and Creative director, Margie Woods about her sustainable fashion label.
Viktoria & Woods has been a cult favourite of ours for years; it has an effortless, pared-back modern feel of wardrobe staples that ooze luxury. The brand was founded in Melbourne back in 2004 and is all proudly designed and made in Australia, as well as being accredited with Ethical Clothing Australia – their sustainable textiles and manufacturing methods make for a lighter footprint on the planet and is a philosophy they are committed to. The first Brisbane store is sure to level up our fashion boutique game and helps us embrace our relaxed city style.
Welcome to Brisbane! What made you decide to open a store here?
Thank you! We are so excited to finally be here, and part of the Australian designer floor of Queens Plaza.  We have a growing number Queenslanders that shop with us online and in our Sydney & Melbourne boutiques, so naturally we wanted to continue connecting with our customers here. The city's growth and culture is definitely booming, and we love that we are a part of this exciting progression.
What do you think of Brisbane women's style?
I am always inspired when visiting Brisbane; I love the light, effortless resort style the pleasant climate brings – definitely a contrast to Melbourne.
When and where did you start your label?
Viktoria & Woods was established in 2004 in my hometown, Melbourne. We are celebrating 15 years this year!
Give us a bit of background on Viktoria & Woods?
The label was born from the idea of creating one signature merino wool piece and it's incredible how the brand has evolved since. We now offer complete ready-to-wear collections that include premium denim, footwear, lounge and occasion wear. The brand has expanded with seven boutiques across Australia including online, and we are supported by leading retail destinations.
Describe your brand aesthetic.
Viktoria & Woods is based on a simple approach to create effortless wardrobe staples with a modern feel. Our customer and style is always evolving, but we always remain true to timeless design, quality fabrications, and contemporary styling. We offer our customer with an everyday essential uniform, which is anything but basic.
Where did you draw your inspiration from for your latest collection, 'NORDE'?
This Winter, colours a drawn from our interpretation of natural elements including copper, ice & sand. We were inspired by liquid elements, forming effortless silhouettes. Layering this season is carefully considered from the outside in, with the idea of peeling back – we have included statement coating layered with our luxury knitwear. New offerings this season are lace, spliced with satin creating modernity in our evening dressing.
How is your clothing produced and where is it produced?

Proudly, the majority of Viktoria & Woods designs are made in Australia and accredited by Ethical Clothing Australia. We value sustainable textiles and manufacturing methods that leave a lighter footprint on the planet, a philosophy we are committed to. We have a core focus on sustainability both from an ethical view as well longevity in every piece.
You've just celebrated your 15th Year Anniversary, congratulations! Have you got any exciting plans in the works for 2019?
Thank you, it's an exciting time. We loved celebrating #VW15YEARS over the Virgin Australia Melbourne Fashion Festival, it was a wonderful opportunity to reflect and celebrate our journey with close friends of the brand. This year, we are focused on expanding our retail vision and continuously evolving the brand with our design.
What's your favourite piece in the collection right now, and why?
My favourite look from our latest Winter 19 Collection 'NORDE', is the Niles Suit Jacket & Kensley Skirt Pant, this suit is effortless with an edge and very true to my style. (Reference to come).
Who would you love to see wearing your brand? 
Cate Blanchett, Meghan Markle, Lara Stone & Margot Robbie
Liked this? You'll love these…
1. La Dolce Vita: With Silk Laundry's Katie Kolodinski
2. Your First Look At Brisbane's New Yves Saint Laurent Boutique!
3. Founders Of Will & Bear Chat To Us About Using Fashion To Make A Positive Impact On The Planet