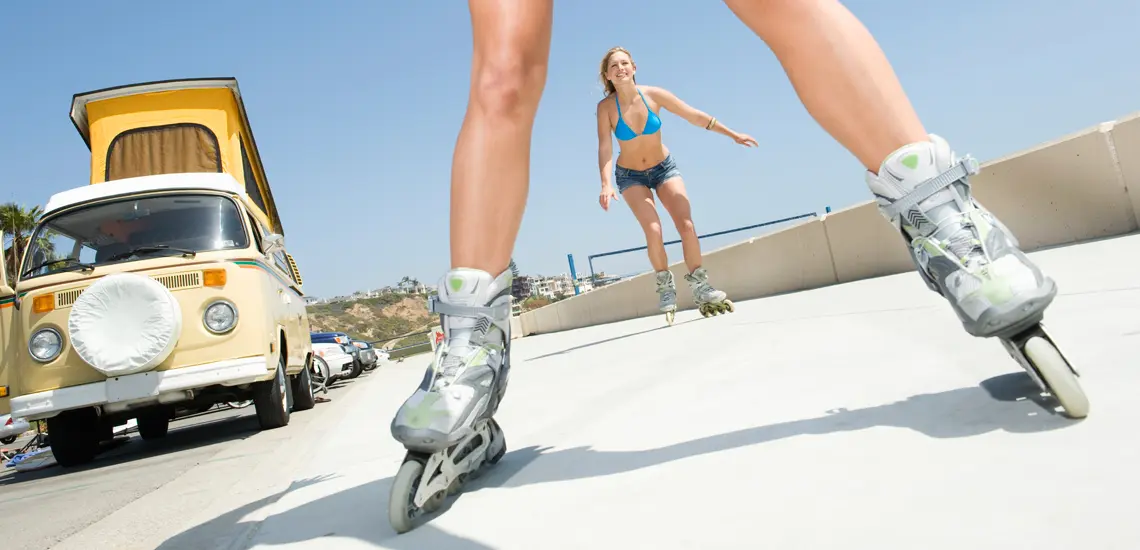 7 Workouts That Don't Feel Like Exercise
Do you count shopping as your exercise of choice? We've found seven workouts that won't make you feel like you're exercising – perfect for the lazy girl in all of us.
By Katie Douglass | 19th July 2016

You've created a killer music playlist, laced up your Nikes, and you're looking fierce in your new ACTIVEWEAR, ACTIVEWEAR. But now it's actually time to exercise. Gulp. The thought of doing burpees or figuring out the least scary kettlebell has you running (who are we kidding – walking) to your couch.

What if we told you that there are workouts that don't feel like "work"? We realise you're still eyeing us with deep suspicion but bear with us; with these exercises you won't even notice you're working your body into shape.
1. Aqua Aerobics
A much more fun and low-impact exercise than swimming, aqua aerobics can improve your cardiovascular fitness and lower your stress levels. Don't be fooled by the grandmas in their flower-embellished swim caps – those grannies are on their way to some serious core strength.
55 School Road, Yeronga www.yerongaswimming.com.au
2. Aerial Yoga
Doing the same yoga poses over and over again may seem boring to you. So why not look at it from a new perspective? Like UPSIDE DOWN? As you're suspended in the air in a silk hammock (not as scary as it sounds, we promise), you'll work on strengthening your core, decompressing your spine and releasing muscle tension. And you'll still feel totally relaxed during and after.
12 Bailey Street, West End www.flightskool.com.au
3. Stand-Up Paddle Boarding
With many beautiful, scenic beaches in Queensland that provide paddleboard hire and lessons you'll be so busy soaking up the views that you won't realise you're working out those abs. Paddleboarding can also improve your balance! And if you happen to break a sweat trying not to fall, you're guaranteed a quick and easy way to cool off afterwards.
172 Gympie Terrace, Noosaville www.noosastanduppaddle.com.au
4. Ballet Barre
All the Victoria's Secret models do it. Taylor Swift is a fan. Gwyneth Paltrow uses it to get those enviably toned legs. So dust off your tutu and sign up for ballet barre lessons. A mix of Pilates, yoga and ballet, this workout helps you get lean limbs, increase your flexibility and core strength. And it's totally suitable for beginners so you don't need a scrap of ballet training before you start.
2/27-29 High Street, Toowong www.zamayoga.com.au
5. Dance
Afraid to shake your groove thang on a night out and reveal how truly uncoordinated you are? Shake off those fears – literally – with dance lessons! Not only can it boost your confidence and self-esteem, it can also improve your muscle tone and strength. Brisbane has tonnes of studios that offer a range of styles to choose from, including hip-hop, jazz, tap and contemporary. Still worried about your two left feet? Mad Dance House has got you covered with classes for people with no dance experience ONLY.
43 Adelaide Street, Brisbane City www.maddance.com.au
6. Indoor Rock Climbing
Indoor rock climbing is deemed the perfect workout as it engages and uses different muscles all at once. And there's an easy goal: get to the top (or as high as you like) however you can.
224 Barry Parade, Fortitude Valley www.rocksports.com.au
7. Roller Skating
Grab your friends and channel your inner Farrah Fawcett (flared denim jeans optional) by heading to a skating rink. With the music blaring and lights flashing you'll be too distracted to realise that it's working all of your muscles. Plus, with four wheels planted on the ground you're more balanced than ice skating and there are heaps of walls to run into until you work out how to stop.
280 Stafford Road, Stafford www.staffordskatecentre.com.au
Liked this? You'll love these! The exercise excuses we all make How to prep for summer in winter Brisbane's Best Winter Workouts