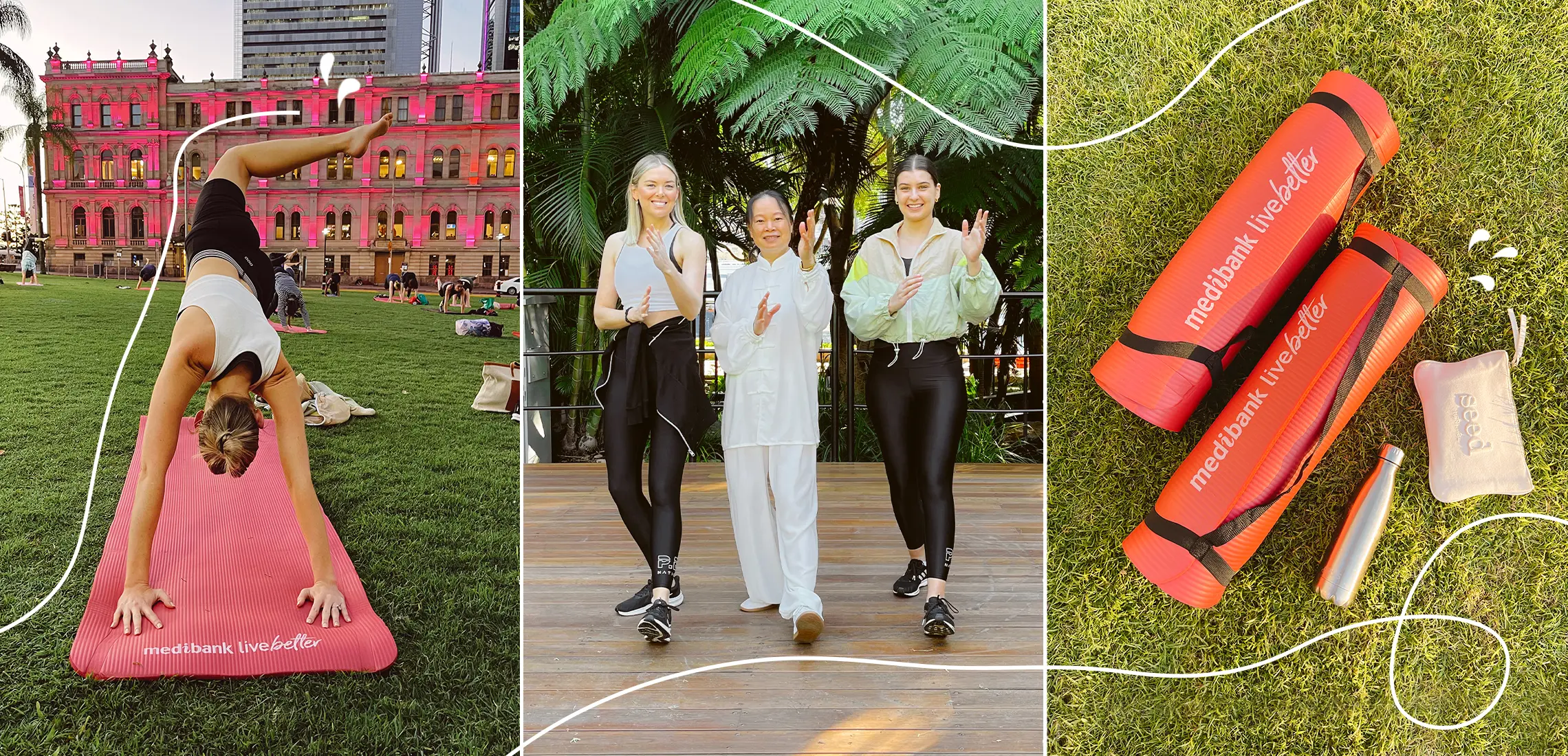 Tried & Tested: We Found Brisbane's Best Free Workouts
No spend, no sweat
By Guest Styler | 14th October 2021

With the sun shining and the spring breeze wafting through the air, it's time to get out and get moving!

As the usual fitness duo in the office, Deputy Editor Fi and I are all about a workout challenge. A free workout challenge? Now that's even better!

Luckily, the Medibank Feel Good Program is in full swing, with plenty of free classes available to get our sweat on. From Latin Fitness and Bollywood Dancing to Mums and Bubs and Bootcamp, there's a class for everyone! With major sponsor Medibank as well as Goodlife Health Clubs endorsing a healthy lifestyle filled with movement, there were a range of classes to choose from at South Bank Parklands and Queens Garden in Brisbane City, available throughout the week, every week until December 4.

Fi and I decided to challenge ourselves with two classes in one day – Tai Chi in South Bank Parklands before work and Yoga in Queens Garden, Brisbane City for sunset (talk about one hella Zen Hump Day!).

South Bank before 7am in October really is an underrated time and place. The morning rays are glorious but not too hot, and the water views are such a novelty to start the day with.

The iconic winding bougainvillea led us to the riverside Rainforest Green area to start Tai Chi, aka the definition of Zen. We're greeted by our talented instructor Chunmei Yang and told that no matter our experience, her class was easy to follow.

Chunmei guided us through each simple movement, creating a flow state that felt calming and natural. Each move was soft and gentle, with a delightfully relaxing manner. The use of our arms and careful, considered steps channelled energy through our bodies, stemming from our centre. Chunmei taught us to breathe within each pose and to use the moves to naturally flow on. It's easy to see why Tai Chi can relieve stress on the mind and body – it's so easy to get lost in the movement and be present. With the sun rising through the trees around us, the open breezy space, and the power of the group moving in sync, Tai Chi was a powerful way to start the morning.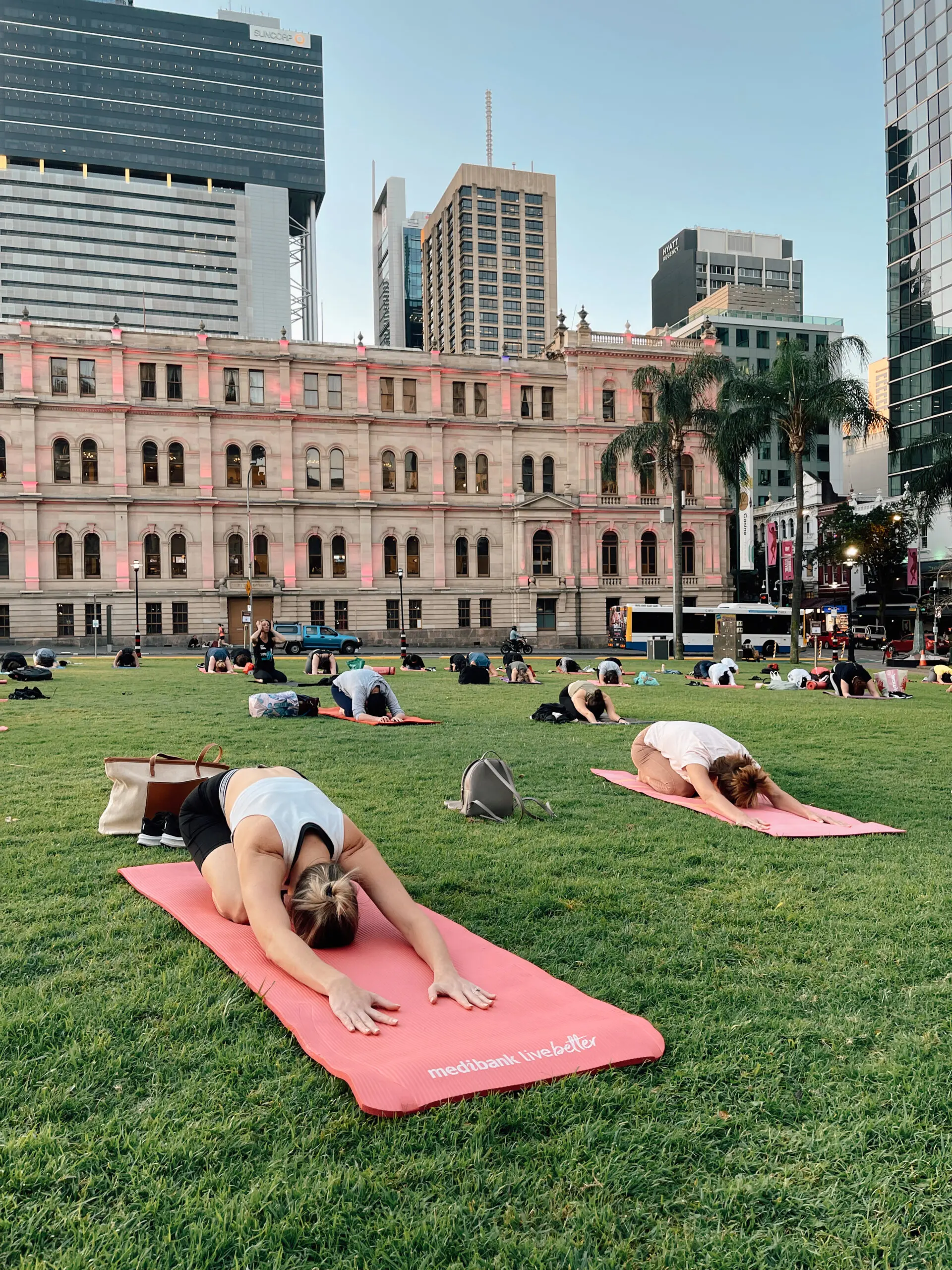 *eight hours at our desk later* We were ready to get out and moving for the second time today! We booked parking at The Myer Centre and strolled over to Queens Garden in Brisbane City. How often do you get Zen with the city lights around you?
The atmosphere after 5pm was electric in the city as everyone trickled in after work. Yoga mats were passed around and places were secured on the leafy green, a beacon of calm amongst the bustle of the CBD. Our instructor guided us through each exercise, offering alternatives for every level of yogi. From Downward Dog and Bridge Pose to Cobra and Warrior, we were challenged at points to test our flexibility and strength. Opening our eyes after a peaceful Shavasana, surrounded by towering buildings and flowing palm trees was a truly unique yoga experience. It was a balmy night, the sun was setting, neon lights were projected on the buildings around us, and we put our hands together in prayer for a tranquil end to our day.
Want to make the most of the Medibank Feel Good Program before it ends in December? Find their program here. There's no need to book – each outdoor location has ample room for everyone!