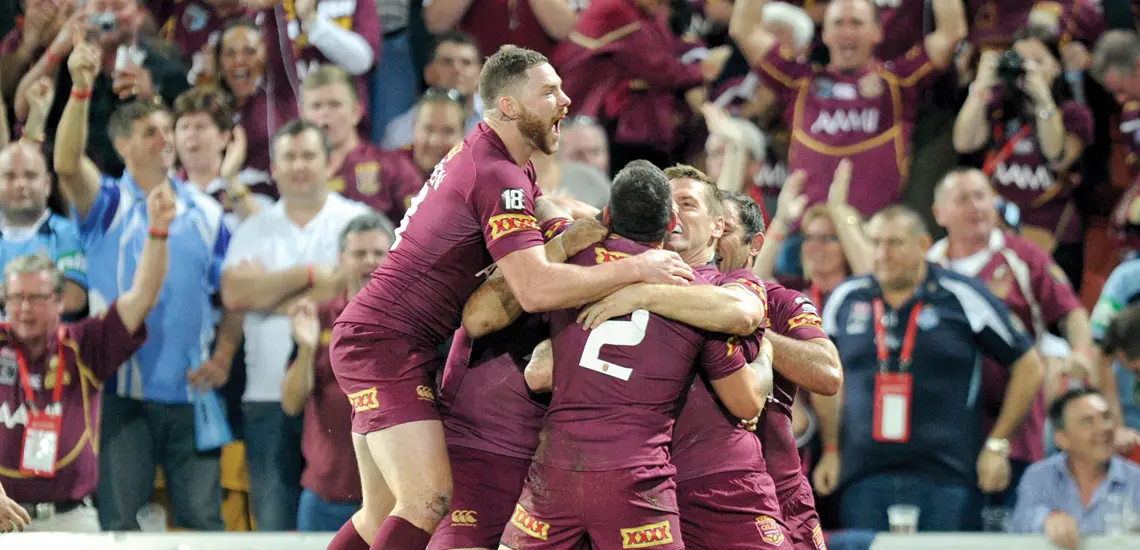 8 Brissie Venues to Watch the State of Origin
#EIGHTINAROW
By Guest Styler | 31st May 2016

Bust out your jerseys – it's STATE OF ORIGIN TIME. Since NSW has only won State of Origin once in the last 10 years, we're feeling pretty confident about our chances.

For three brilliant nights in June and July, everyone's true colours come out. We're talking maroon or blue, of course. It's actually against the law (no, it's not) to wear the wrong colours on State of Origin days, so start looking for that maroon accessory in the back of your wardrobe if you don't want to be mauled in the streets.

If you're itching to find a great place to watch the games LIVE, check out our list of eight venues to watch the Maroons take the win over the Blues (sorry not sorry, NSW fans)! QUEENSLANDER!!!

Sport your Maroons jersey and settle in at The Caxton Hotel to watch the State of Origin! You'll be able to get into the action and watch both away games live & loud on the big screen. There will be plenty of giveaways for you to get your hands on so get ready to show your support for your team (Queenslander!) and watch the game live on Origin Wednesday!
The Flying Cock, Fortitude Valley
Head to The Flying Cock to watch all three games; their four-metre high-definition screen and surround sound will make you feel like you're in the crowd! Doors open at 6.30pm and they're kicking on until late – to celebrate QLD winning, of course! The night will be hosted by Johnny Manning and will include special guests. Don't forget to take advantage of their two parmies for $19.99 when you dine in.
If you're a fan of open-air cinema viewing, the Regatta is the place to be for State of Origin. Not only will there be an open-air cinema in the courtyard, they're also serving dagwood dogs and slow-roast lamb rolls for you to sink your teeth into! Get in early, secure your seat and get ready to cheer on your team! All games will be shown and there will be free buses to Suncorp Stadium for Game 2.
Take in all the action at the Treasury's Maroon Kingdom, where you can watch each game with Origin Legends, enjoy post-game live entertainment and tackle a Mighty Maroon feed every night of the week! For Game 1, you'll be joined by Origin legend Scott Prince in the LiveWire bar, along with giveaways and special promotions. Make sure you get your entry in to win the Maroon Throne valued at more than $7500! The custom-made limited edition leather throne boasts a beer fridge and cup holder, built-in speakers, an iPhone dock, Bluetooth connectivity AND it reclines! Pearl Tier members and higher can also score slots dollars! It's the perfect venue for the die-hard fans!
Pop in early to the Story Bridge Hotel to get the best seat in the house for Origin. You can enjoy dinner and drinks in the Shelter Bar from 7pm and watch the game LIVE on the big screen! If you want to get a head start, there are all-day dining options available in Deery's Restaurant & Smokehouse, The Shelter Bar, Main St Bar & Eatery or The Outback Bar & Grill. Get dressed in your colours and get ready for Origin 2016!
Better book your table at The Defiant Duck quick smart, because they're bringing the biggest screen to Newstead for your State of Origin viewing pleasures, plus they're giving away prizes and a chance to win two gold tickets to the next game at Suncorp Stadium and a $500 venue voucher!
The Normanby is bringing back the annual State of Origin Kick for Cash Car Park Event! Have a go kicking a footy to win some cash for yourself! You'll also be able to watch the Maroons take on the Blues on their 400-inch screen in the car park and the game will be featured live throughout the hotel across huge projectors and wide screen TVs. Get fuelled with their BBQ rump steak for $20 or their Clive Parl-magiana for $15! You can also party after the match in their Beer Garden 'til late.
A favourite for the younger generations, the RE will be showing the State of Origin live and loud on their big screens for your enjoyment! Go along to see the three games and kick back with your mates. This is the best venue for those who don't want to be in the city centre and want a more casual setting. Mingle in their massive beer garden and check out their cheap drinks while watching QLD kick butt!
Liked this? You'll love these! The Exercise Excuses We All Make Meet the Aussies Heading to the Rio Games I Did 29 Classes in 29 Days and Did Not Die