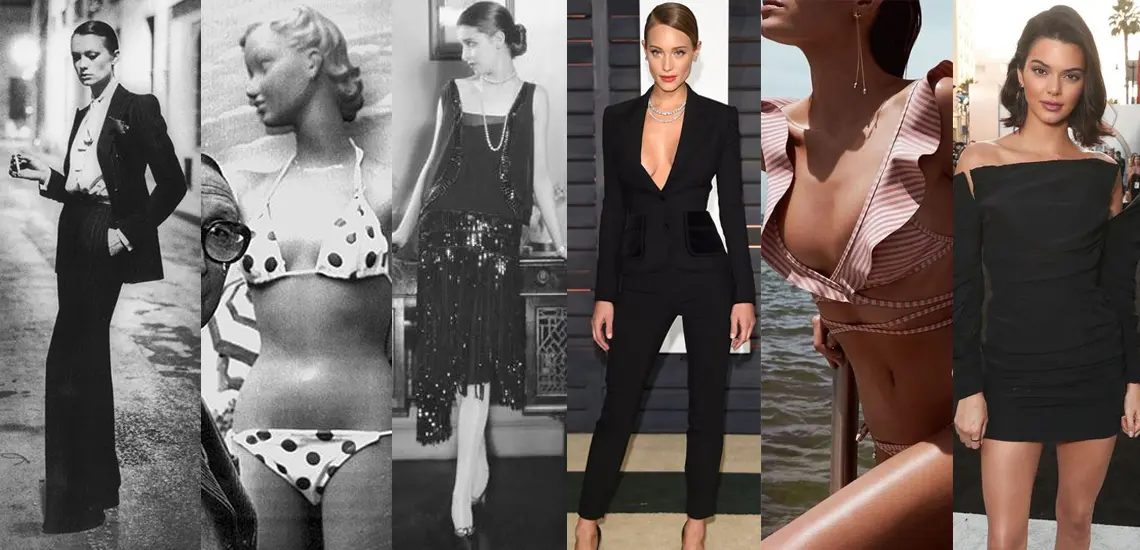 7 Designers We Can Thank For Today's Fashion Trends
A walk down memory lane to show how these treasured designers paved the way for modern-day fashion.
By Bethan Warrior | 21st March 2018

These days the fashion cycle appears to move so fast it's hard to imagine trends that truly last. However, we want to show you how the groundbreaking work of these designers from history has translated into current trends. Dior, Chanel, Givenchy are amongst some of the world's most prolific designers that kick-started trends we still love to see on today's runways. Consider this your history lesson for the day, showing you how your favourite fashion looks were born.
1. Coco Chanel | Little Black Dress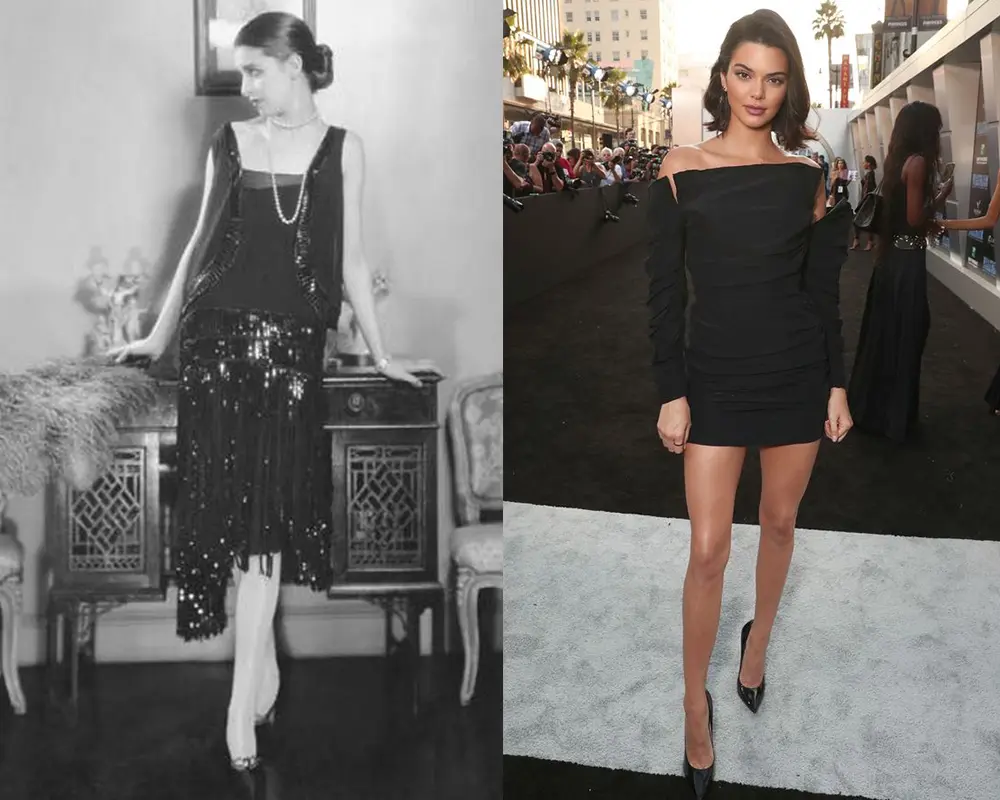 The classic. The LBD has been a fashion staple for centuries, being reinvented and popularised by many designers and brands. Today a version of the little black dress can be found in every woman's wardrobe, but you might not know its origins date back to Coco Chanel's work during the Roaring '20s.
The 1920s saw a revolution of women's fashion with French designer Chanel leading the way. This rise of the flapper era brought about the loosening of silhouettes, the heightening of hems and the start of androgynous dressing. You couldn't get down to some fancy jazz in a corset now, could you? Enter the Little Black Dress. Its original aesthetic was just above the knee in length (pretty shocking for the time) and had the signature 20's loose structure and low waistline. Chanel was also one of the first designers to popularise black as a fashionable colour. Previously it had been reserved for the clergy or for mourning purposes, but Chanel saw it for its chic and sophisticated qualities. The combo of the colour and design cemented the little black dress as an essential item for the fashionable flappers of the 20s.
Amongst the other revolutions Coco made during her career that led to global success and a legacy of style and class, it could be argued that the little black dress is her most famous invention. This trend can be seen in just about every collection, every season and spreads the haute couture to fast fashion landscapes. Just one more thing we can thank Chanel for!
2. Louis Réard – The Bikini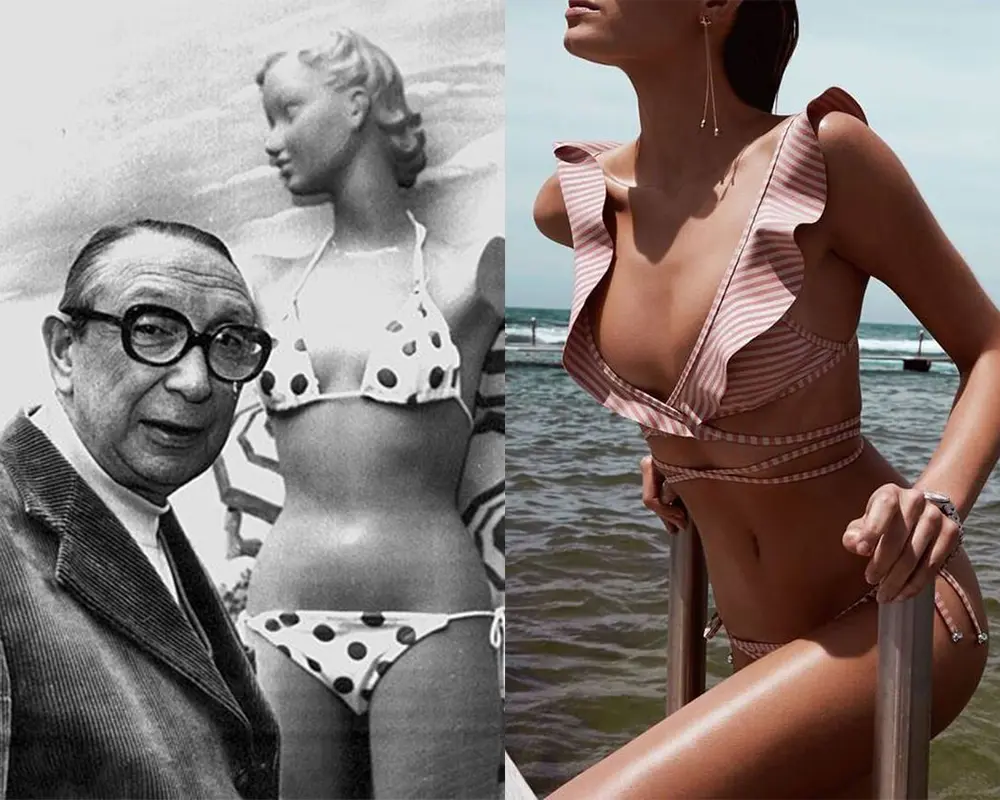 Back in the day swimwear wasn't so much about style but utility, while containing modesty. During the 1920s women's swimwear consisted of frumpy one-pieces that stretched to the mid-thigh. The 30s saw improvements with lengths being shortened and silhouettes being more figure hugging. However, the 1940s is when swimwear took a revolutionary turn…Hello two-piece! Now, the arrival of the bikini was part necessity, part feminism. The bikinis that we all know and love today are the product of post-World War Two fabric rationing and the design of French designer Louis Réard who was aware of women's desire for a less repressive design. Now we should note that Louis did not invent the concept of a two-piece swimsuit. High waisted two-pieces called Atomes were already in circulation and designed by Jacques Heim in 1946. However, Réard was the man to coin the name bikini for his design, which was a lot skimpier and introduced the string feature we identify with bikinis today.
Réard's design was the first in history that showed the wearer's navel and his design redefined the existing ideals of modesty for women. It is said he was first inspired to create a more minimal garment after observing women on the beach rolling up their swimsuits to get a better tan, a concept we can relate too! The post-war fabric rations were restricting designs in every field but Réard used this to his advantage by creating a garment using only 30 square inches of fabric. He was once quoted saying that it wasn't a true bikini "unless it can fit through a wedding ring".
The basic design of Réard's bikini hasn't altered too much since its conception, which is a testament to its popularity. In today's market, swimwear is in a league of its own with stand-alone brands, designers and runaway shows dedicated to swim and resort wear. The introduction of the bikini is not only a fascinating trip through fashion history but also an important moment for female empowerment.
3. Dior | Pencil Skirts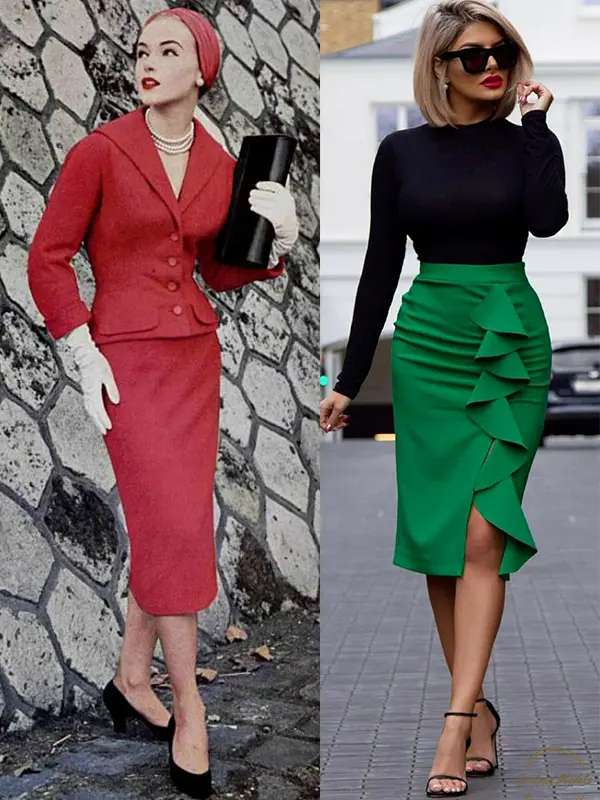 Just one more reason to love and adore Christian Dior. This prolific designer is the man responsible for so many of fashion's iconic looks and the pencil skirt is one of his most famous. We know today it is one of those must-have, every occasion pieces we have in our closet, however back in 1954 it was the ground-breaking new silhouette in Dior's H-Line collection. Dior was renowned for naming his collections after alphabet letters that mimicked his designs. Ever heard of the term A-line? It describes a skirt or dress that synchs at the waist and flares at the hem, like the shape of the letter A. This term became popularised after Dior named his collection, the A-line, which heavily featured this silhouette including, the famous "New Look" ensemble.
The pencil skirt was a part of Dior's H-Line collection, which focused on symmetry and parallel lines within his designs. Dior wanted focus drawn to the hips not the waist, to move on from his previous work. This slender design differed from its predecessors quite drastically. Narrowing at the knees forced women to walk different, just watch any Marilyn Monroe movie, we can thank the pencil skirt for her famous wiggle!
The pencil skirt has been prevalent in every decade since Dior envisioned it. As one the most versatile styles it can be an elegant work outfit or can be styled for a sultry party ensemble. Throughout history, the lengths have gotten shorter and longer depending on the trends of the day. Reinventions have included slits, embellishments and prints to name a few! It all started with Dior.
4. Givenchy | Shift Dress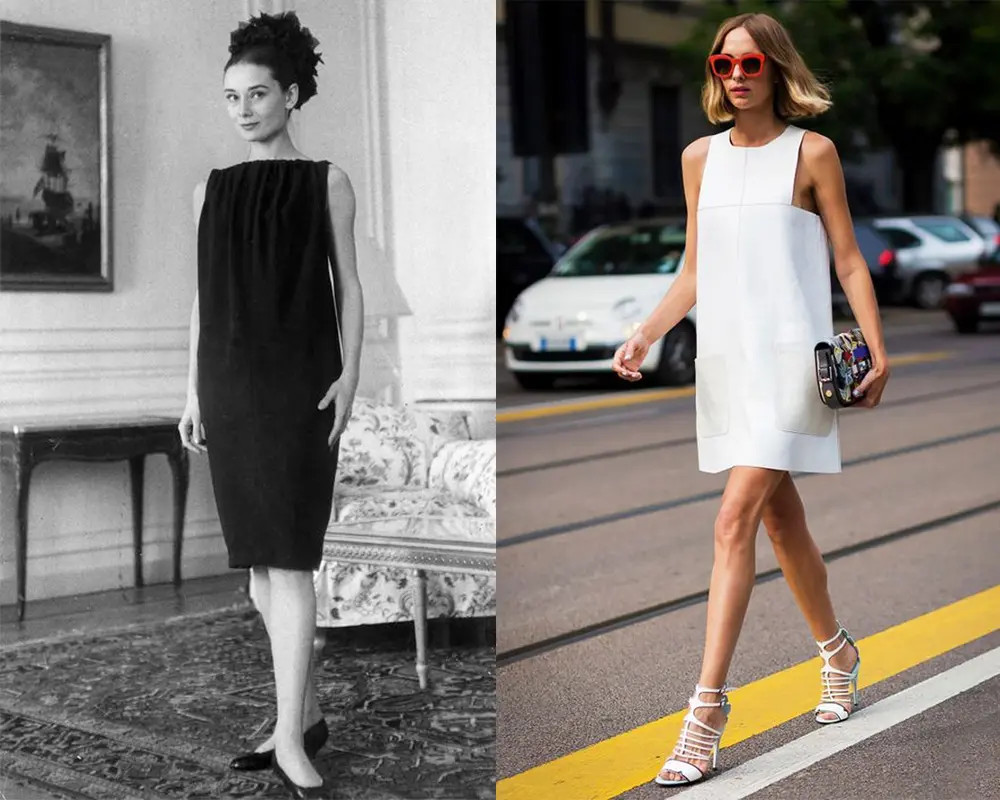 So, who else loves a shift dress? Us too! It seems Hubert de Givenchy thought the same as well. Although back in the late 50s it was referred to as his innovative sack silhouette, the sack dress is defined by its lack of form and shape and has no waistline. No waist? No worries!
It was revolutionary for its time as a comparison to Dior's super structured designs. Plus, many believe Givenchy prompted the 60s mod styles with this design and his support for shortening hemlines. The sack dress might not sound too glamorous, but its lack of form suggested mystery about the body underneath and many of his designs showed off some leg to add a sexy edge to the garment. Givenchy's most famous muse and lifelong friend, Audrey Hepburn can be seen donning the silhouette below and no one could accuse her of a lack of glamour. The sack dress was the rebellious younger sister of wiggle dresses. This dress was for the women who didn't want to be restricted in their clothes. Its free-form nature was liberating after the synching and tailoring of earlier 50s clothing.
Avoiding form and traditional shapes is a technique that many designers have been using since Givenchy's sack dress showed everyone that what is known, isn't all that is possible. The sack dress has been updated and modernised in many collections since 1957 and has been renamed the shift dress in recent years for its movability. As a trans-seasonal favourite, some version of the shift dress is present in most wardrobes.
5. Mary Quant | Mini Skirt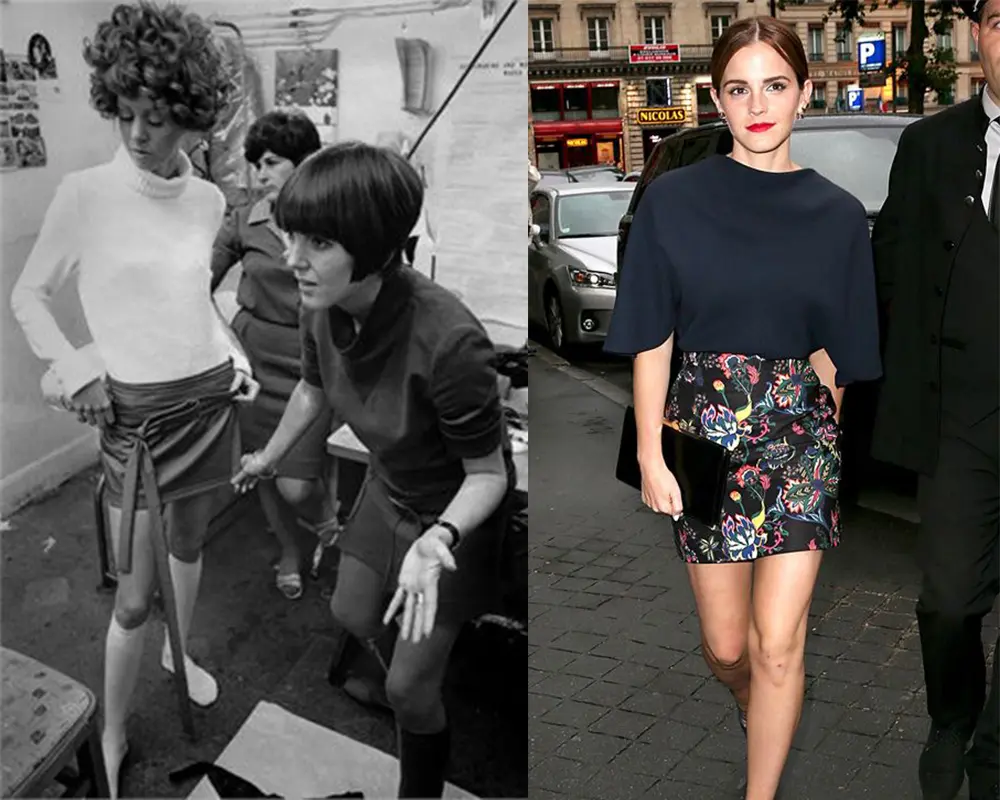 The '60s. A time of great artists, rebellion, and fun. The 1960s represent a time in history where just about every element of society, cultural and political, had a shakeup. And great fashion was one of the results.
The mini skirt is one of fashion's best examples of the bubble up effect. Usually, trends filter down from the couture houses, being modified and made for mainstream consumption (Refer to Meryl Streep's jumper speech in the Devil Wears Prada). However, sometimes the opposite occurs, when a trend starts as street fashion and becomes so popular it inspires big brands, this known as the bubble up effect. Mary Quant owned a small boutique in London and is accredited with the popularisation of the mini skirt and mini dress. Pairing up with then It girl and model Twiggy, the mini skirt has become the icon of 60s fashion.
The mini skirt was also a symbol of social change. The 60s was a major time in history for the Women's Rights Movement as more women than ever were entering the workforce. Disparities in pay and rights sparked a global movement for women, which were reflected in the fashions of the times. Many people believed the mini skirt to be obscene, inappropriate and in some cases dangerous. Some European countries even banned the wearing of the mini skirt in public. Many women, Mary Quant included, tried to nullify these remarks by promoting the wearing of tights under the mini skirt. However, many women felt empowered by wearing the mini skirt, with or without tights and were not prepared to give it up.
The mini skirt is extremely prevalent in modern fashion with the resurfacing of the mini or micro skirt in the late '90s and early 2000s. Nowadays it's hard to see a clothing store without one for sale. GIRL POWER!
6. Andre Courreges | Boots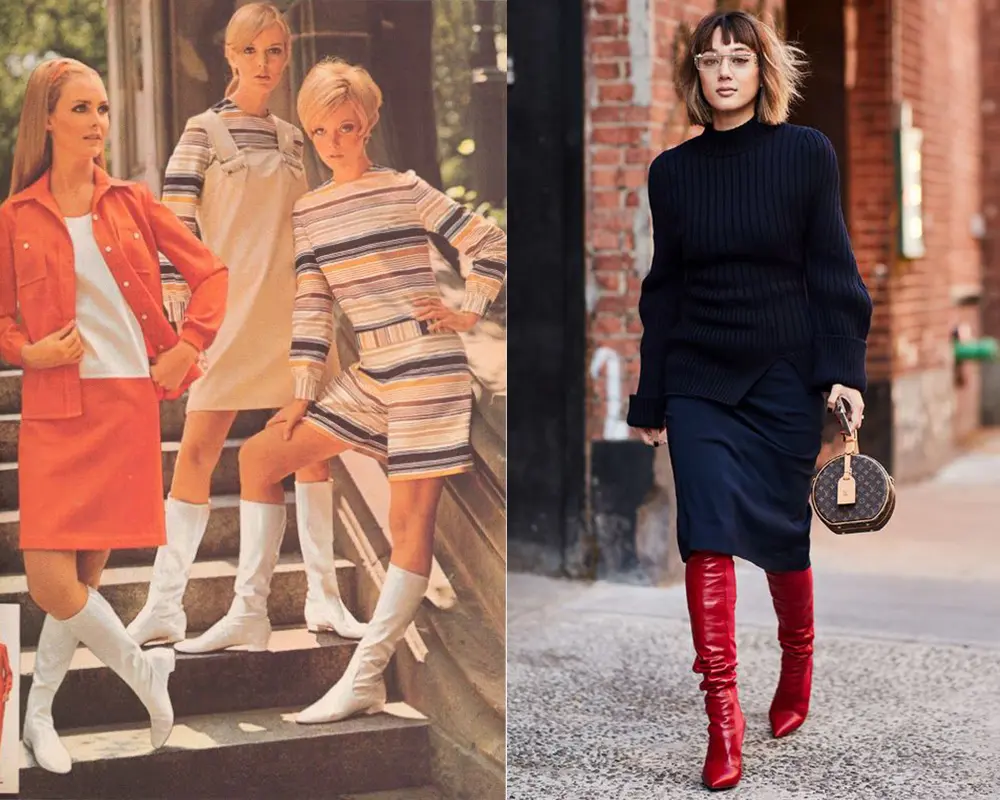 Thigh high, sock or ankle, we all love a boot! As the cooler seasons are coming in, we are all thinking about which boots we'll be pairing with our leather jackets and skinny jeans. However, what you might not know is that boots were originally thought as shoes for function, not fashion. However, that all changed with Andre Courreges in the 1960s with the iconic go-go boot. Before the French designer revolutionised them, the main purpose of boots was protection from the elements. Boots were seen as workwear designed to withstand harsh environments such as mud, snow or water that your delicate kitten heels would be ruined by. It wasn't until the swinging sixties came around that boots were transformed into a fashion staple.
The original go-go boots were white, mid length with a low heel. They were designed as part of Courreges' "Moon Girl" look in his fall collection in 1964. Known for his space-age inspired aesthetic, the boots fitted in with his intergalactic themes but soon became a mainstream phenomenon. They were seen on high-end designer runways alongside street style fashionistas. The go-go boot was also the first example of experimenting with materials for shoes. Andre Courreges was the first to popularise vinyl and plastic as materials for fashionable shoes other than the traditional leather and suede.
Over the years boots have been transformed and reinvented in every cold season collection. Think the platforms of the 70s, cowboys of the 80s and the thigh high boots that reappeared recently. We can thank Andre for bringing boots out of the mud and onto the runway!
7. Yves Saint Laurent | Power Suits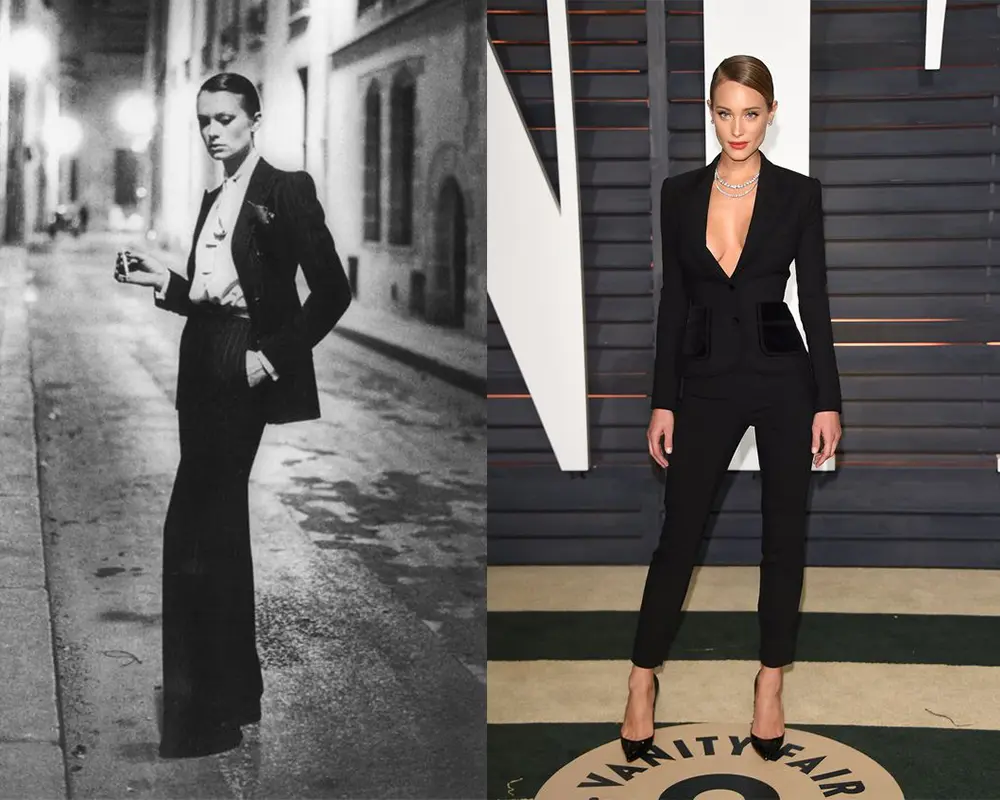 The androgynous dressing is a fashion trend most of us engage with to some extent or another. There's something a little sexy and super empowering about stepping out in an outfit that could very easily be your boyfriends. Nowadays a crisp, tailored suit isn't just for the gents and it's partly down to the work of the iconic Yves Saint Laurent. Back in 1966, the famous couturier released his tuxedo suit for women entitled "Le Smoking". YSL took the classic men's attire and altered it to emphasise the female form, creating an epitome of sex appeal we still draw on today. It was a new form of evening wear for the rebellious and fashion-forward woman. Now not everyone loved this look at first. Editors and buyers did not react well to YSL's collection and there was also a societal backlash, with women even being denied entry to fancy establishments for wearing the tuxedo ensemble. How times have changed!
Nowadays we can see a tuxedo jacket on runways, on magazine covers and at high-end events. Even though not initially successful, the help of some celebrity ambassadors sure did help YSL's groundbreaking design take off. Lauren Bacall, Liza Minnelli and Bianca Jagger were just some of the then "It' girls to don the tuxedo jacket. Eventually, the ensemble became so popular YSL has included a version of it in every collection since its inception in 1966. Replications of YSL's original design can be seen by many brands and power suiting for women has become a staple for the chic and sophisticated woman.
Images: Pinterest
Liked this? You'll love these! 1. The New Frontier Of Sustainable Fashion You Need To Discover 2. 7 Australian Wedding Dress Designers You Need To Know About 3. These Are The Biggest Winter Boot Trends For Winter