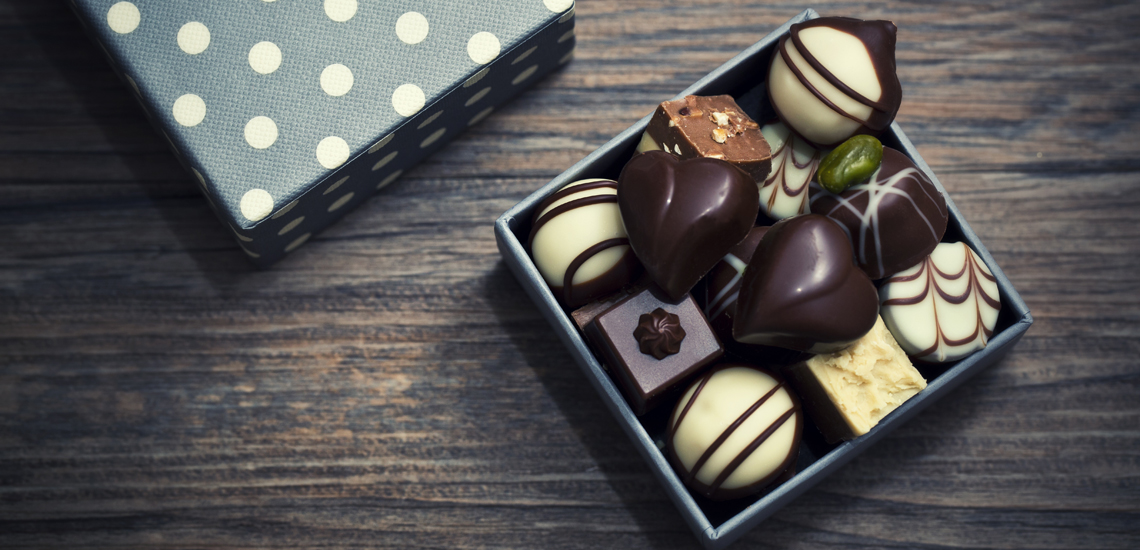 Brisbane's Best Chocolate
Stay cool, guys. Try not to drool too much.
---
In order to compile a comprehensive list of Brisbane's best chocolatiers for our Stylers (or just for us, really), we conducted serious research, sometimes venturing out into the field because we're just THAT dedicated. We can safely say that while these places are as delicious as Willy Wonka treats, we did not encounter any musical orange slaves. So welcome, one and all. This is your golden ticket to the best of the best chocolatiers in Brisbane.
If you live in Brisbane, there's a big chance you've heard of this place (and if you haven't, GET THERE NOW). The Parisian-inspired New Farm Confectionery make all of their delicious products onsite, including rocky road and chocolate bark. You can admire their work at their New Farm store or their Eat Street Market stall.
14 Barker St, New Farm
P 3139 0964
You may recognise Gerrard Gosens as one of Australia's best blind paralympians, or from his 2009 stint on Dancing with the Stars. But you may not have realised that he's one of the best (and only) Belgian chocolatiers in town. All chocolates are handmade in house, but truffles are their specialty: choose from chocolate mousse, wild cherry, hazelnut or coconut just to name a few. If you can tear yourself away from the truffles, remember to try the fudge as well – the alcoholic chocolate fudge gets rave reviews.
117 Albert St, Brisbane
P 3210 2369
You've probably heard of this place because it's all over town. All of their chocolates were created in their test kitchen and evaluated by experts, so you KNOW they're going to be good. Selling a wide range of products (including ganache, alcoholic, dairy-free and vegan), they also create exclusive products such as their glazed orange slices, chili truffles and – the coolest thing ever – a solid milk chocolate cup and saucer! You can drink a hot chocolate out of a cup of chocolate!! THIS IS NOT A DRILL!
155 Wickham Tce, Spring Hill
P 3832 1832
Started by Brisbane girl Jessica Brookes, this place creates drool-worthy products made from the finest Belgian couverture chocolate. All products are preservative-free and made using traditional methods such as hand tempering, dipping and piping. All truffles and bars are made onsite in small batches. Flavours include salted caramel, oozy salted caramel (yes, please!), Milo, champagne and black forest.
19a Enoggera Tce, Red Hill
P 3367 3000
The Swiss have given us our two favourite things in the world: Roger Federer and chocolate. So we know this place will knock our socks off. Named after the in-house chocolatier, this Teneriffe favourite specialises deals in the finest imported Swiss chocolate. All creations are made onsite (including their chocolate Eiffel Towers and chocolate SHOES) and they even have a viewing window for customers to watch the magic happen
Shop 3/113 Commercial Rd, Teneriffe
P 3358 6008
This too-cute-for-words chocolate is handmade in Australia using quality European-style recipes with their own unique Australian touch. The gift-box chocolates are as tasty as they are pretty, and you can even get chocolate shaped like a beauty set, including a hair dryer, rollers, perfume and brushes. SO Style! And if you head down to their factory you can catch a glimpse of the chocolate creation process for yourself.
5/2 Spanns Rd, Beenleigh
P 3807 1936
If you haven't heard of this chocolate rocket you've been living under a rock! The Noosa Chocolate Factory pretty much owns Brisbane CBD and is slowly taking over every inch of our hearts and bellies. With the slogan "uncomplicated Australian chocolate products made fresh in the last 72 hours", how could you go wrong? All dark chocolate is 100 per cent vegan, all products are 100 per cent palm oil-free and they also make a large range of gluten-free items. You can buy these treats from a range of stockists
For chocolate slabs, specialty coffee and their famous rustic hot chocolates, head to The Dark Chocolatier. For fresh rocky road and coated fruit and nuts, go to Fresh from the Noosa Chocolate Factory. And for Queensland-grown and roasted coffee and hot chocolates, go to Made in Queensland.
The Dark Chocolatier
156 Adelaide St, Brisbane
Fresh from the Noosa Chocolate Factory
144 Adelaide St, Brisbane
Made in Queensland
62 Queen Street Mall, Brisbane
(Inside the "Australian" store)
Like this? Then you'll love these!
Brisbane's Best Healthy Treats
This 17-Year-Old's Desserts Are Next Level