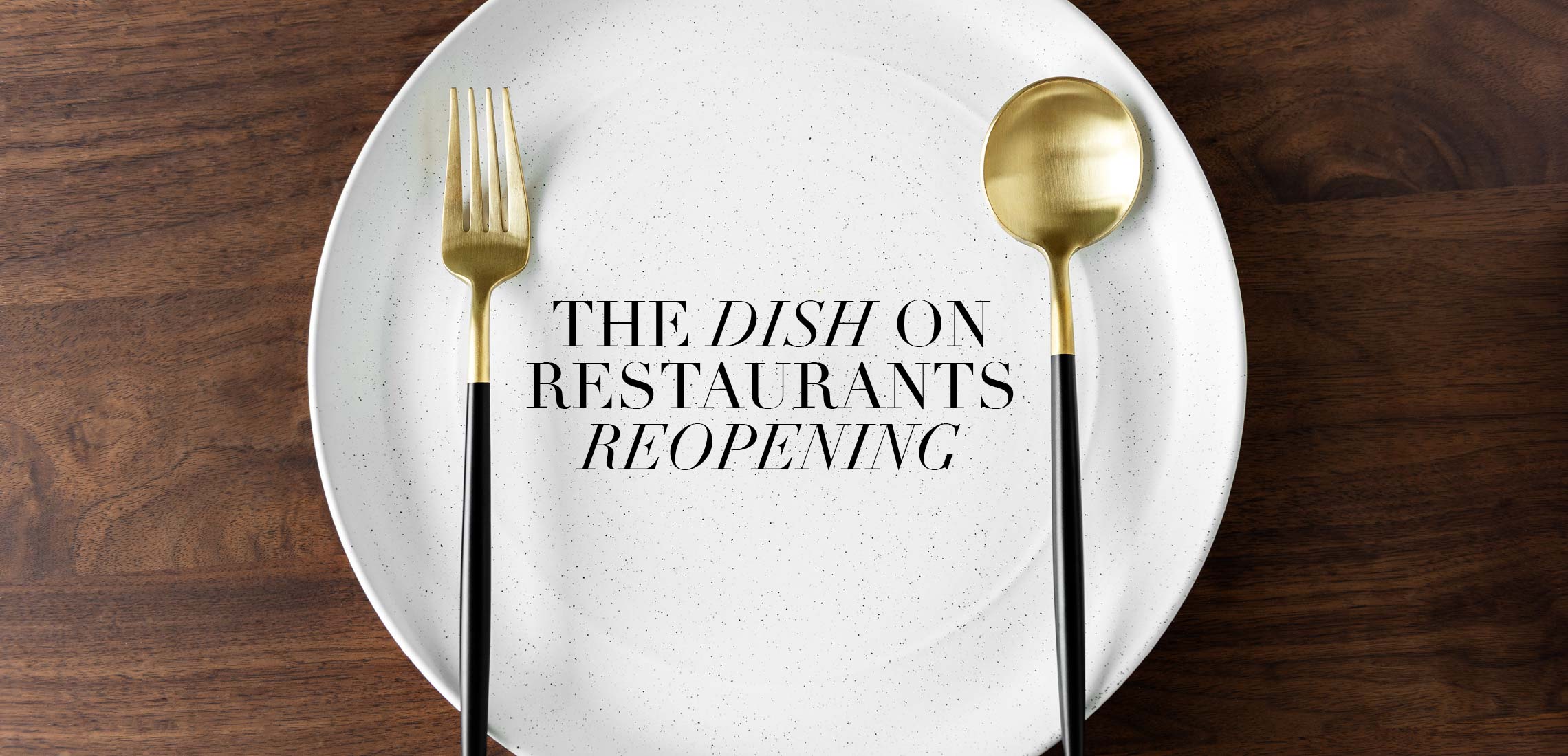 BNE Restaurants Now Open For Dining
Do or dine 🍽
---
The word 'reservation' probably hasn't left your mouth in the past couple of months, but with coronavirus restrictions slowly easing, it's the talk of the town.
From May 16, the Queensland Government has allowed restaurants, cafés and pubs to welcome back dine-in guests. But, before you jump out of your loungewear, there's some rules to follow to ensure everybody's safety. Only 10 patrons are allowed to dine-in at the one time meaning not every restaurant is open. So, don't get your tummy set on a craving just yet, but instead let us do the hard yards for you.
To help reunite you with the food and dining experiences you love, we've created this working list of Brisbane foodie spots that have reopened their doors. We also have all the details you need to know to let them play host to you and your palate.
@ MR & MRS JONES | HAMILTON
Wine and dine over a weekend lunch with three sittings available on Saturday or Sunday from 11:30am, 12:45pm or 2pm. To book, call 0408 238 498.
ALCOVE CAFÉ & DELI | WILSTON
Schedule your brunch date with on the hour bookings offered at every hour. To book, head here.
BAJA | FORTITUDE VALLEY
Cue a fiesta with a tasting menu for groups of 10 with five-courses for $70 or $110 with a drink pairing. To book, email hello@bajamodernmexican.com or message here.
BALFOUR KITCHEN | NEW FARM
Fresh and punchy Vietnamese-inspired meals are available for dine-in from Monday to Saturday during two sittings at 5pm or 7pm. To book, call 3358 8888.
BELVEDERE BAR N GRILL | HAMILTON
The Portside steakhouse is open for dinner on Thursday, Friday and Saturday as well as lunch on Sunday. To book, call 3630 0411, text 0451 836 958 or head here.
BLACK HIDE STEAKHOUSE | BRISBANE CITY
Their iconic steaks are ready to be served for lunch on Tuesday to Friday at 12pm or 2pm and for dinner on Tuesday to Saturday at 6pm or 8pm. Dig into their set menu at $99 per person which is also available in a vegan option. Call 3369 9500 for reservations.
BROOKS & STAIN | WILSTON
Our personal favourite corner café is accepting bookings for breakfast and lunch on Tuesday to Thursday and Sunday, as well as breakfast, lunch and dinner on Friday and Saturday. To book, call 3356 2179 or 0499 217 911.
BYBLÓS | HAMILTON
Feast from the Mediterranean coast in-house with bookings accepted for up to 10 people. To book, call 3268 2223 or email brisbane@byblosbar.com.au.
CHU THE PHAT | SOUTH BRISBANE
Experience an exclusive full venue sitting with Chu The Phat's reopening that will bring your friends and family together to receive the VIP treatment. For $60 per person, up to 10 people will feast on their banquet menu, with a minimum spend of $800 on Friday and Saturday night. To find out more or to book, call 3255 2075 or email info@chuthephat.com.au.
CITY WINERY | FORTITUDE VALLEY
Not only is City Winery opening their doors, they're doing it with a bang by launching their new Fireside Experience. The chef-lead private dining experience will showcase produce from their growers through a five to eight-course menu on Friday, Saturday and Sunday nights. With all sessions for the rest of this month already booked out, secure your spot in June by calling 3854 1392.
COVENT GARDEN | WEST END
The gin family is back together again from Wednesday June 3, but bookings are available now. Four seatings are available at 11am-2pm, 2pm-5pm, 5pm-7:30pm and 7:30pm to close. To book, email info@coventgarden.com.au.
DEER DUCK BISTRO | AUCHENFLOWER
Fine diners are sorted with group bookings offered at 6pm and 7:30pm for up to 10 guests per seating. Maximum seating duration is 1.5 hours and a la carte is not available on weekends to dine in. To book, call 3870 8482 or email deerduckbistro@gmail.com.
DONNA CHANG | BRISBANE CITY
The popular home to modern Chinese is reopening and taking bookings for a maximum of 10 people. To book, call 3243 4888 or email info@donnachang.com.au.
DRUM DINING | NEWSTEAD
The Newstead hub is open for dine-ins from Tuesday through to Saturday over three sittings at 5:30pm, 7pm and 8:30pm, as well as Friday lunch. To book, call 0499 079 719 or email enquiries@drumdining.com.au.
ELSKA RESTAURANT | WILSTON
The intimate degustation is now accepting reservations for its winter season with their first sitting on May 22. Book here.
FAT DUMPLING | BOWEN HILLS
King Street's favourite haunt for handmade pockets packed with flavour are open for inside and outside dining. Plus, solo diners can take advantage of their $15 social distancing eating which comes with your choice of dumplings and drinks in an isolated sitting area. To book, call 3216 1261.
FRITZENBERGER | PETRIE TERRACE & WILSTON
The Fritz is back and pouring their Frizenbeer schooners, which means you can be double-parked with burgers and wings once again. Seating times include lunch, early bird sittings and dinner, so book here.
GAMBARO SEAFOOD RESTAURANT | BRISBANE CITY
Iconic seafood is available to diners for lunch on Tuesday through to Friday at 12pm or 2pm and for dinner on Tuesday to Saturday at 6pm or 8pm for a set menu at $99 person. To book, call 3369 9500.
GERARD'S BISTRO | FORTITUDE VALLEY
Feast from the Middle East with a different set menu on each day from Tuesday to Saturday for $65 per person. To book, head here or call 3852 3822. Gerard's Bar will be open on Thursday and Friday from 4pm to late and Saturday from 12pm to late.
GUSTO DA GIANNI | HAMILTON
Enjoy superb Italian food by the river for dinner on Wednesday to Sunday with two sittings available at 5:30pm and 7:30pm. To book, call 3868 2011.
HAPPY BOY | FORTITUDE VALLEY
Funky Asian institutions Happy Boy and Kid Curry are taking bookings for their $45 banquets that can serve groups as small as two to ten. Book here.
HARAJUKU GYOZA | SOUTH BANK
The delicious gyoza hub is taking diners in for a shortened menu to ensure the best experience any and every time you visit. To book, head here.
HATCH + CO. | NEWSTEAD
This Gasworks resident is welcoming bookings for lunch and dinner with walk-ins subject to availability. To book, call 3257 2969.
IL VERDE | BOWEN HILLS
Modern Italian in the heart of the Valley is back and accepting bookings. Seats are limited so snag a spot by calling 3638 0494.
JADE BUDDHA | BRISBANE CITY
The Eagle Street Pier favourite is accepting walk-ins for dining in with a plan to open seven days a week from midday. Guests will order at the door from a selected menu of their popular eats before being seated and settling in.
LADY MARMALADE | STONES CORNER
The sunny spot on Stones Corner is accepting dine-ins through bookings on Monday, Thursday, Friday, Saturday and Sunday and walks-ins welcomed subject to availability only on weekdays. To book, call 3324 2480.
MINGMING's KITCHEN | WILSTON
Cosy Vietnamese is available from Tuesday to Sunday for dinner with three sittings available to book, or for lunch – just call in 30 minutes beforehand to check availability. To book, call 3356 1112.
MECCA BAH | NEWSTEAD
Feast on the Middle East and the Mediterranean with two banquet menus filled with your favourite Mecca Bah dishes. Dinner bookings are accepted all week at 5pm, 6:30pm and 8pm, while both walk-ins and bookings will be taken for their weekend lunch service. To book, call 3252 5299 or head here.
MORNING AFTER | WEST END
Boujee brunching is back seven days a week from 7am-2pm thanks to this West End favourite who are taking bookings on the hour. To book, call 3844 0500.
MOSCONI | FORTITUDE VALLEY
Honest food and hospitality with heart is available for dinner from Wednesday to Saturday at 7-11pm or lunch on Friday and Saturday at 12-4pm for private bookings of 10.
MR MISTA | FORTITUDE VALLEY
Brisbane's very own L.A. lounge bar is offering intimate dining experiences featuring banquets and drinks every Friday and Saturday night at 6pm or 8pm. Book here.
MRS BROWN'S BAR & KITCHEN | NEWSTEAD
Our lady of the peninsula is back and taking bookings for lunch and dinner on Thursday, Friday and Saturday. To book, email hello@mrsbrowns.com.au.
MUSETTE | BOWEN HILLS
King Street's most delicious pit stop is open for walk-ins under reduced hours from Monday to Friday at 6:30am-1:30pm and Saturday and Sunday at 7am-12pm.
PAWPAW CAFÉ | WOOLLOONGABBA
Exotic Asian flavours are being served up once again for breakfast, lunch and dinner. Book here.
PLENTIFUL CAFÉ | GRACEVILLE
This brunch newbie is offering all-day breakfast from 6:30am-2pm on Monday, Wednesday, Thursday and Friday, and from 7am-2pm on weekends for hour-long bookings. Book here.
RIPIENA | FORTITUDE VALLEY
The pasta laboratory is reopening with a new menu full of Italian delights that have never featured in-store before, including carbonara (easily their most requested dish). They're also offering an optional set menu, which includes Aperitivo, their weekly special pasta and dessert with paired wines available. To book, message them on Facebook here or email info@ripiena.com.au.
SALT MEATS CHEESE | NEWSTEAD
Twirl your fork in-house at the Gasworks joint for lunch and dinner. To book, head here.
SONO JAPANESE RESTAURANT | HAMILTON
Step into Japan with dinner on Tuesday to Thursday at 6pm, Friday and Saturday at 6pm or 8pm and Sunday at 6pm. Weekenders can also enjoy lunch at 12pm with all reservations indulging in their Zen Course menu. To book, head here.
SPAGHETTI HOUSE | SOUTH BRISBANE
This authentic Italian trattoria is opening for outdoor dining with a minimum spend of $50 per person for 90-minute bookings and $70 per person for two hour bookings. To book, call
0428 741 249.
STONE & WOOD | FORTITUDE VALLEY
Stone & Wood is welcoming you back with open arms and a pre-booked session where you and your friends can have the entire tasting room to yourselves and enjoy a tasting paddle, a meal, an exclusive look at the brewery, a $5 voucher for their bottle shops and a $5 voucher for their online store. What a package! Each session is $40 per person on Friday, Saturday or Sunday at 12pm, 2pm, 4pm, 6pm or 8pm. Book here.
SUPER COMBO | BOWEN HILLS
There's no need to wait until you get home to devour these two-hands-needed burgers because you can now sit outside when you pick up your order. They also offer any burger, small fries and a can of soft drink for $20 all day, every day. To order, call 3252 7755.
TETTO ROOFTOP BAR | EVERTON PARK
The Italian coastal vibes are returning to Everton Park with a new range of menu items you may not have expected, as well as the usual favourites that pull a crowd to come back for more. Book here.
XIN CHAO | BOWEN HILLS
Enjoy homestyle Vietnamese off the couch because you can now enjoy their takeaway along King Street. Two stomachs are better than one with their $39 meal deal for two that comes with two main meals, two steamed buns (BBQ pork or veggie) and two soft drinks (or upgrade to two beers for an extra $5). Call 3607 2877 to order.
We're doing the best we can to keep up with all the changes happening every day, but please refer to each business' website or social media pages for more information. If we've missed a restaurant let us know here and we can include them.
– Looking for more food-related content? Head here!
– Takeaway cocktails, picnic packs & restaurants reopening this weekend
– Discover the best day trips near Brisbane to explore
– Can't get to France, here's a five-step sourdough recipe
– Test out some of these mulled wine recipes