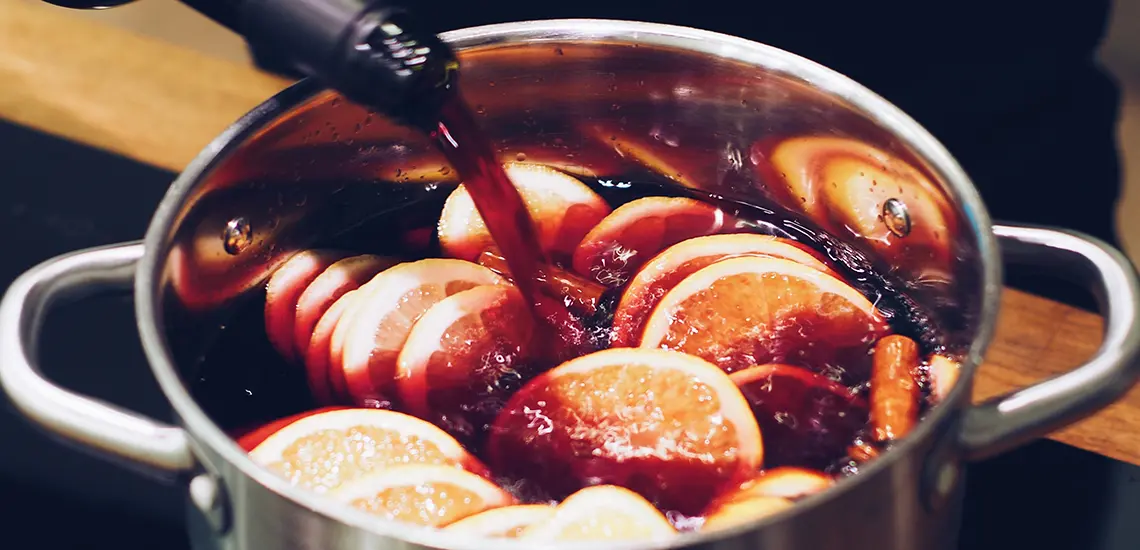 Delicious Mulled Wine Recipes
Don't bother mulling it over, just get to it
By Guest Styler | 30th April 2020

Some may say this is premature, but I say it's poignant.

The experts are warning we're in for a cold snap and even though that may only mean we're dropping to 24 degrees, I'm making the most of it and enjoying a mulled wine moment.

Mulled wine is often the ideal remedy to a cool day (be that weather or vibe) and is best ingested by a fireplace, wrapped in a plush robe, overlooking Swiss ski slopes. Alas, my loungeroom in Brisbane, overlooking the Bowen Hills slopes will suffice. After all, I can always pop on a YouTube video of a fireplace and turn down the AC for some extra ambience.

Whether you're with me and jumping on the bandwagon early or want to master the art of mulling before winter does hit, try your hand at the below. We've gathered a recipe from our own City Winery team and the globally renowned Le Cordon Bleu and they're to impress. Don't forget to taste test as you go – it would be rude not to.
City Winery
Ingredients:
¼ teaspoon whole white pepper
1 star anise
2 cinnamon quill's
1g nutmeg
1 bay leaf
40g pumpkin seeds
5g mandarin peel
150g brown sugar
Zest of 1/3 of a lemon
1 small dried chilli
1 bottle of Grenache Mataro
Method:
Toast the spices and pumpkin seeds on low heat in saucepan until aromatic toasty
Add sugar, zest, mandarin peel and a bottle of wine
Bring to the simmer and then turn off the heat and let it sit for half an hour
Strain through a sieve and enjoy!
To make it even easier, check out City Winery's DIY mulled wine kit!
Le Cordon Bleu
Ingredients
2 bottles of red wine
½ bottle of Port
1 cup of white rum
1 cup of Cointreau
3 lemons
3 oranges
4 tablespoons of honey
3 cinnamon sticks
4 star anise
2 vanilla pods
10g coriander seeds
10g fennel seeds
100g of crystallised ginger or 50g of fresh ginger
Method:
Peel the lemon and orange skins and blanch in warm water for 10 seconds, then run under cold water
Squeeze the juice from the lemons and oranges and add into a large pot
Add the rest of the ingredients
Leave on low heat for 10 minutes
Enjoy hot or cold!