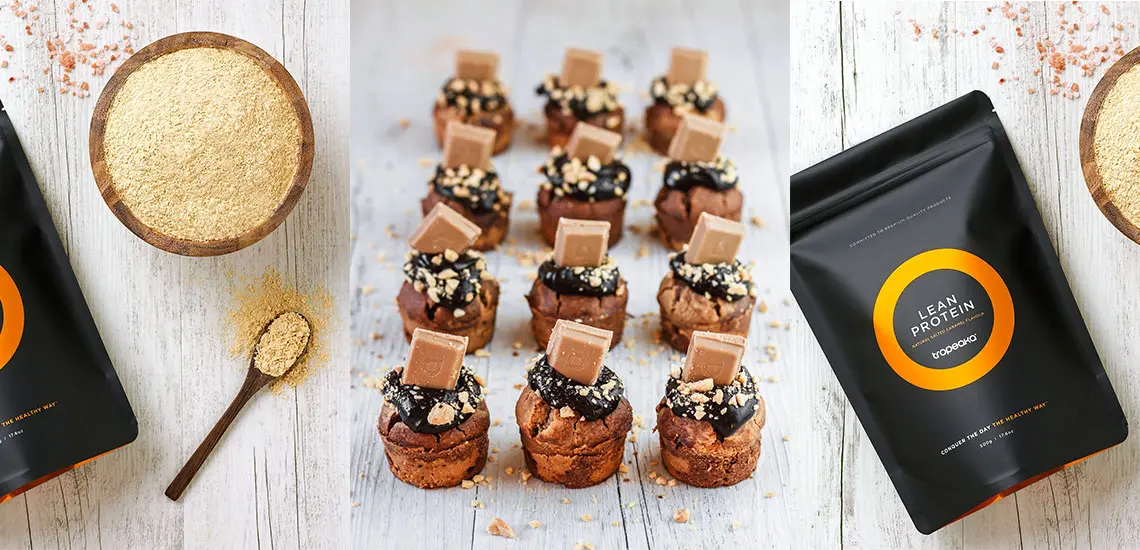 Protein-Filled Cupcake Recipe
Ya-umness alert
By Guest Styler | 28th January 2020

Welcome to the end of January. If you're like me – and no doubt half of the world's population – the 2020 health-kick is off to a very slow start. Chuck in back to work and 3pm sugar cravings to the mix and it can go downhill pretty quick.

I often find myself trawling the world wide web for healthy snack recipes that are both tasty, satisfying and gentle on the waistline and thanks to our friends at Tropeaka, my Googling has ceased. Introducing Tropeaka's Salted Caramel and Choc Swirl Cupcakes; guilt-free and beyond tasty.

With Tropeaka's protein powders, these guys provide wholesome nutrition and no nasties. Plus, they only take 15 minutes to prep and another 15 to cook!

INGREDIENTS:
1 cup wholemeal flour
2 teaspoons baking powder
1/2 teaspoons cinnamon
1/8 teaspoons salt
1/2 cup light agave syrup, gently warmed
3/4 cup almond milk, room temp
1/3 cup cacao butter, melted
1/2 tablespoons apple cider vinegar
2 tablespoons Tropeaka Salted Caramel Lean Protein
1 tablespoons Tropeaka Chocolate Lean Protein
1 tablespoons Tropeaka Cacao
METHOD:
Preheat the oven to 180*C or 350*F.
Add the agave, almond milk, coconut oil and apple cider vinegar into a bowl and whisk well. Set aside.
In a separate bowl, add in the flour, baking powder, baking soda and salt and stir together.
Pour the wet ingredients into the dry ingredients and mix until just combined.
Transfer half of the batter into another bowl and stir through the Salted Caramel Lean Protein.
Add the Chocolate Lean Protein and Cacao to the remaining half of the batter and mix until smooth.
Add dollops of each mix into cupcake moulds and swirl using a skewer.
Bake for 12-15 minutes until risen and cooked through.
Cool completely before removing from moulds. Decorate and enjoy!
For more recipes, check-out Tropeaka's Instagram and website!