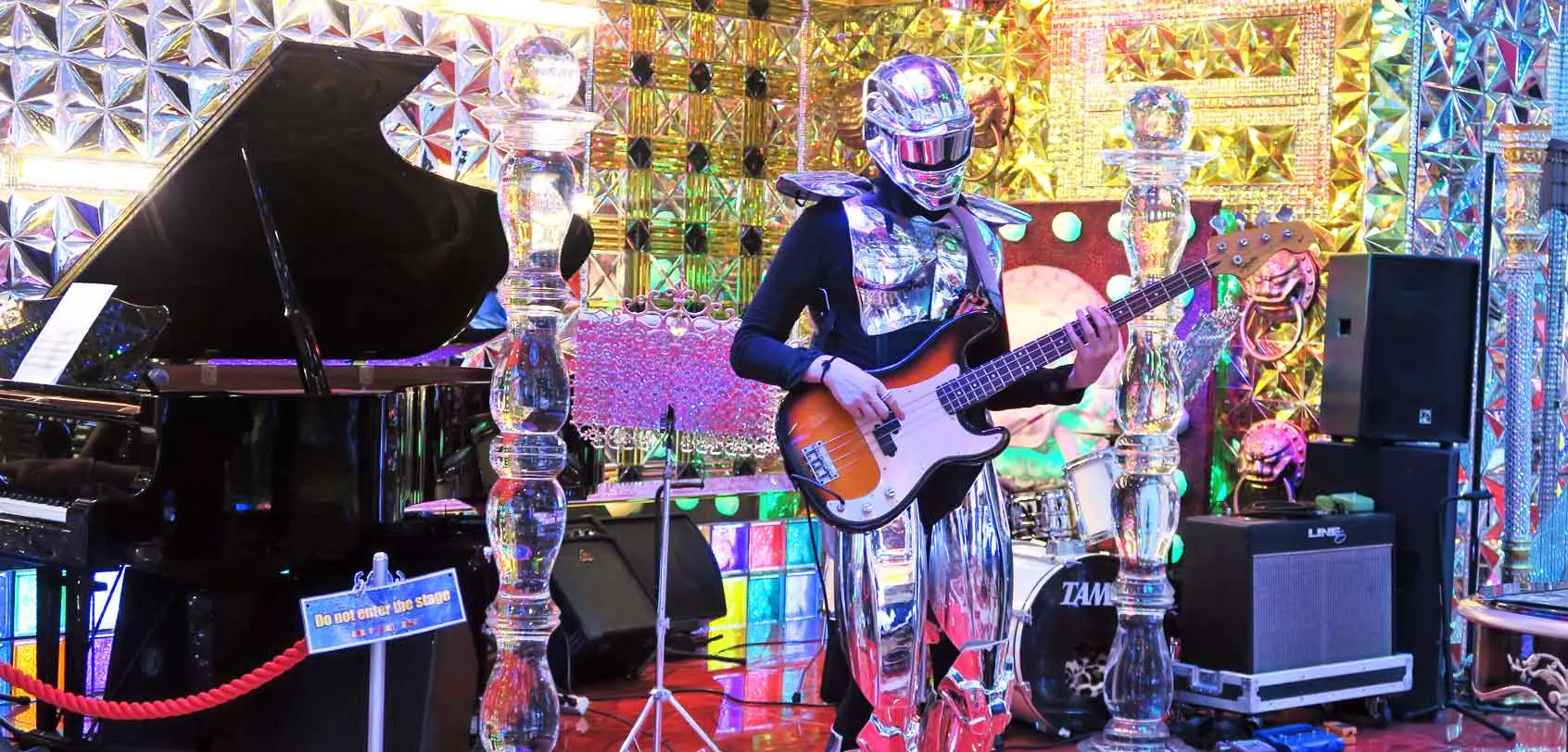 8 Of Tokyo's Wackiest Themed Restaurants To Add To Your Bucket List
The best of themed treats and foods from fantasy films? Where else but in Tokyo!
By Guest Styler | 19th October 2018

Explore the several novelty-crazed and kooky kawaii joints dotted around the main prefectures of Tokyo. From the Alice's Fantasy Restaurant, to the Robot Restaurant, we've got the ultimate line-up for your Tokyo travels.
1. Alice's Fantasy Restaurant
If you're an adoring fan of the fictitious fairytale, or a fantasy loving foodie with a curious crave for the weird and whimsical, Alice's Fantasy Restaurant is the rabbit hole you're sure to roam into, and roll out of. Grab your Mad-hatter main squeeze and explore all six rooms of this magical playground, each decorated according to different scenes and settings in the classic animated film. Munch your way through the mystical realms of the timeless tale, from a lopsided labyrinth of obscure illusions, to the Red Queen's royal castle of crystal chandeliers and darling drapes. Best of all, come Halloween, the ghouls and ghosts of Wonderland will pay a visit to this already fantastical fantasia of silly sweets and treats, deranged and dreamy decals, and boggling adventure, straight from the picture and paperback. Don't be late, no not late, for this very important date!
2. Vampire Cafe
Speaking of Halloween, if you're in Tokyo this October, the Vampire Cafe is a total must. Sink your teeth into the most delectable dishes, and delight in the supernatural surprises of this Gothic and ghostly hotspot. Experience relaxed and riveting dining in this dark dungeon, smeared in rouge red and oozing with an anomalous aura. It's bloody good cuisine, straight from the catacombs. Oh, and there's no need to wait for Halloween or a full-moon, friends. After all, creepy cuisine is a craze all year round!
3. Kawaii Monster Cafe
Set on showcasing the crazy and colourful culture of Harajuku, the Kawaii Monster Cafe embodies the best of all things brilliant and bizarre. This bedazzled and bold funland of lolita dolls and cutesie cosplayers is the self-proclaimed "new Tokyo" that we're bonkers for. A pink and pastel playground by day, and a sexy cabaret showground by night, the Kawaii Monster Cafe boasts of a number of signature fixtures, features in entertainment, and funky chow. Snap a pic at the cake style 'Sweets Go-Round' ferris wheel, or float through the four fabulous zones of dining and dancing at your leisure. From the Mushroom Disco to the Milk Stand, you'll be endlessly entertained, sugar-crazed, and downright mad for their melting-moment pancakes.
4. Robot Restaurant
At Tokyo's Robot Restaurant, it's all about the tunes, techno vibes and dinner with a show. Sounds like our kind of party! Grab a bento box of your choice, stacked with fried finger foods and traditional treats, before basking in the lights and luxe experience of a J-Pop chorus and dexterous dance crew. This groovy jungle of mechanic giants, neon lights, absurd costumes, dazzling dancers, and sublime singers is the escapade you certainly want to tick off on your Tokyo travels itinerary. Did we mention the restaurant's terrific twist on Halloween? All throughout October, celebrate the themes of Mexico's Day of the Dead, and jig and jive with both droid and deceased. We're already rehearsing our robo-rock routine with a zombie zest that's sure to wow!
5. Shirohige's Cream Puff Factory
Calling all pastry pundits with a passion for all things Studio Ghibli, specifically Totoro, everyone's favourite nextdoor playmate with a nifty umbrella to share. Shirohige's Cream Puff Factory is the quaint but quirky establishment with a whole lot of heart for Hayao Miyazaki's animated tales. Follow the modest signpost out front, venture in, and nibble your way through pastries filled with various sweet centers. From vanilla custard, to mango and peach creams, there's plenty to choose from. We recommend trying one of each – best way to avoid the dramas of decision making! If you find your eyes stretching bigger than your belly, take a peek at their assortment of delicious cookies and detailed cakes. Now is not the time for a guilty conscience, only thoughtless indulgence.
6. PomPomPurin Cafe
PomPomPurin Cafe is the pastel yellow palace of the pudding-loving pooch from Sanrio, the legend label behind Hello Kitty. To all the adamant anime and novelty devotees among you, this peaceful and picturesque cafe is well worth the coin. Browse bentos and bowls of rice, filled with all kinds of nummy nosh, flaunting the famous canine's comical expressions. Whether you decide on their classic ramen, or their roast beef mountain bowl (yes, indeed it is a mountain of roast beef), you'll surely be burly bellied and brightly beaming till day's end. Don't forget to pop a pose and pic beside PomPom himself before setting course to your next cafe!
7. HARRY Hedgehog Cafe
The Harry Hedgehog Cafe insists their prickly pals have the power to heal and steal your heart. We don't doubt this for one moment. Unlike the other eateries we've raved over, this critter crazed cafe is all about bevvies straight from their vending machine, and picnic-packed lunches straight from your own abode. Upon arrival, you'll set your sights on a selection of petite and pastel painted doll houses, each with a handful of huggable, dear and dinky residents. Once you've settled in your seat, and snagged a salad sanger from your sack, you'll have the chance to encounter Hedgehogs up close and personal. Though the cafe is all for a pat and pet, we advise that you still respect the rights and boundaries of these mini mites, however irresistible and sweet they may be. No doubt, your experience will be far more real, raw and memorable.
8. Owl Village Cafe and Bar
Here's your chance to channel your inner Harry Potter with your very own Hedwig encounter. In the heart of Harajuku, Owl Village Cafe and Bar houses almost 20 different beady-eyed birdies for you to bear on arm. With their sociable and curious personalities, you'll find plenty to talk about about over a hot cuppa' and cake of your choosing. Fear not, a professional guide will be with you at all times, ensuring the proper care of owls is adhered to. If this doesn't quite tickle your feathers, there's also an opportunity to feed the winged wonders, lounge with a casual read from their modest library, or skim their souvenir shop for some quality memorabilia. Just imagine the bliss of a friendship, and unforgettable banter with one of these beaked and big-hearted beauts! We're already on cloud nine.
Liked this? You'll love these! 1. 8 Of Tokyo's Wackiest Themed Restaurants To Add To Your Bucket List 2. Cut 'Em Up, Don't Cut 'Em Out: 6 Strawberry Farms to Visit This Weekend 3. Why Africa Should Be Your Next Holiday Destination Hit List