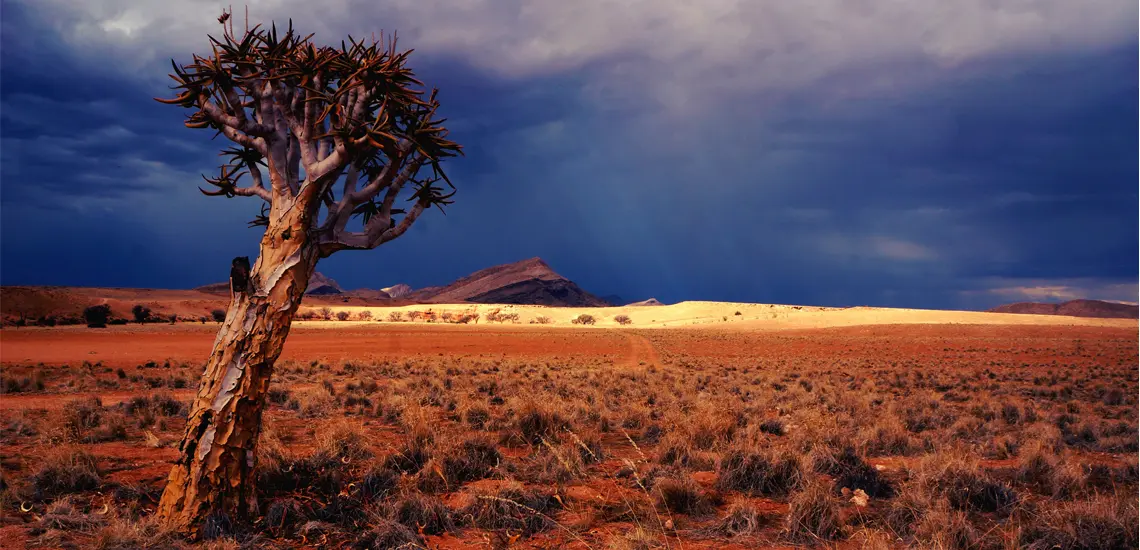 The Ultimate Road Trip in the Australian Outback
Car packed, route mapped. See you in the Outback.
By Sian Carrington | 23rd February 2017

You might've had that European adventure or a cruise in the Pacific, but how many Aussies have actually visited the Australian Outback? How many of you can say you've ventured as far as the Red Centre?

As a British traveller, I can tell you that your country is outstanding and it deserves to be explored! I've had the chance to backpack in the Outback, and now I'm on a mission to get more Aussies to visit the centre of their gorgeous country.

Why jet off for an overseas holiday when you have some the world's most phenomenal hotspots only down the road? Sure, it's a very, very long road, but it's worth it!

Here are some of the most spectacular (and quite strange) places you should add to your Outback bucket list. Trust me: it'll be the most exhilarating, awesome adventure of your life.
1. Uluru (Ayers Rock) | Northern Territory
Rock and roll to the Red Centre and pay a visit to the breathtaking spiritual hotspot that is Uluru, or Ayers Rock. Rich in Indigenous heritage and culture, Uluru is a fascinating attraction for tourists.
Hop on the back of a camel or take a helicopter tour to see it from a whole new perspective! Wake up at the crack of dawn or wait until sunset to watch how the mesmerising glow of sunlight casts pretty pastel sky colours behind Uluru. You will never experience anything quite like it.
About 20km away from Uluru-Kata Tjuta National Park, in the town of Yulara, you'll find the Ayers Rock Resort. There's cosy and comfortable cabin accommodation available, as well as a spacious campground with ample facilities for tents and motorhomes.
The resort offers heaps of incredible tours ranging from canyon day trips, short Uluru breaks and skydive adventures to grand cultural events – the list goes on!
2. Kata Tjuta (The Olgas) | Northern Territory
Explore the sacred site of Kata Tjuta (also known as the Olgas), a spectacular group of domed rock formations that rests in the same national park as Uluru. Learn all about the history and tradition of the local Anangu people and their land, and take a stroll along the Walpa Gorge Walk, or the more challenging Valley of the Winds.
Alice is a Wonderland. Sizzling with perpetual heat, this thriving town is rich in history and stunning landscapes. Renowned for its traditional arts, natural surroundings and inviting walking trails, it is the heart and soul of the country.
While you're there, check out the Desert Park! There is more to learn about Indigenous culture and the environment, and you can finally get up close and personal with those lizards and snakes you've always wanted to meet!
4. Karlu Karlu Devils Marbles | Northern Territory
The Karlu Karlu Devils Marbles are a collection of large, red boulders in the Northern Territory. They are an iconic delight for travellers and tourists, and they're surrounded by tales from Aboriginal mythology.
It's a free and fascinating place to visit so definitely add it to your road trip list. And don't let the name freak you out, it's not haunted or possessed!
5. Watarrka National Park (Kings Canyon) | Northern Territory
This stunning site has been considered a greater attraction than Uluru and, true to its name, it reigns over the rest of the Australian Outback.
Stay in the heart of Watarrka National Park at the Kings Canyon Resort and enjoy the enchanting views of ancient landscapes. The resort offers plenty of tours, including a helicopter flight over the Garden of Eden, and dawn hikes to help you create an unforgettable outback experience.
6. Coober Pedy | South Australia
I definitely recommend this stop if you're looking for a greater cultural and historical insight into some of the remote outback towns.
Coober Pedy is a little town renowned for its opal mining and its underground homes called "dugouts", which were built to help residents avoid the blistering heat.
My favourite part of Coober Pedy was Faye's Underground Home, which was dug by three women in the 1960s – that's some girl power right there! It now stands as a little museum open to the public. The current owners give you a walk-through tour and share what it's like to live underground in Coober Pedy.
7. Lake Eyre | South Australia
If you love being by the water, you need to see the largest lake in Australia: Lake Eyre. An impressive 144km long and 77km wide, this saltwater lake is a tranquil spot to relax and unwind.
You don't need a huge 4WD to make it here – just determination and wanderlust. If the lake has dried out in summer, you'll see a spectacular expanse of white salt instead, which is just as breathtaking. If you're lucky enough to see a full lake, you can watch it come to life with heaps of waterbirds and wildlife!
8. Wycliffe Well | Northern Territory
There are some weird and wonderful places in Australia and Wyfcliffe Well is one of them.
I stumbled upon this quirky spot while looking for a petrol station along the Stuart Highway. Wycliffe Well has been labelled Australia's UFO capital following many strange sightings and unexplained extraterrestrial activity.
It's worth visiting the local restaurant and reading all the newspaper clippings about alien encounters. I was half-expecting to wander into the toilets and find ET. It'll certainly send a chill down your spine, but it's worth a stop if you're travelling down the Stuart Highway.
9. Any pub in the Australian Outback
While I was working in Outback New South Wales, I frequently ventured to the closest pub (about an hour and a half away from my property). It was always buzzing, and I met many friendly locals who were kind enough to share their tales and some handy Outback survival tips.
If you're ever driving through the Australian Outback, remember to stop, revive, survive. Take a break, find a random pub in the middle of nowhere for a good feed, meet some locals, and sit back for a few hours. Meeting other people makes it a much more fulfilling experience and you never know what you might learn!
Liked this? You'll love these! 1. Things Every Australian Traveller Experiences 2. Outback QLD's Drive Guide Is Here 3. Bring A Jacket! This Is The Only Tasmania Itinerary You Need