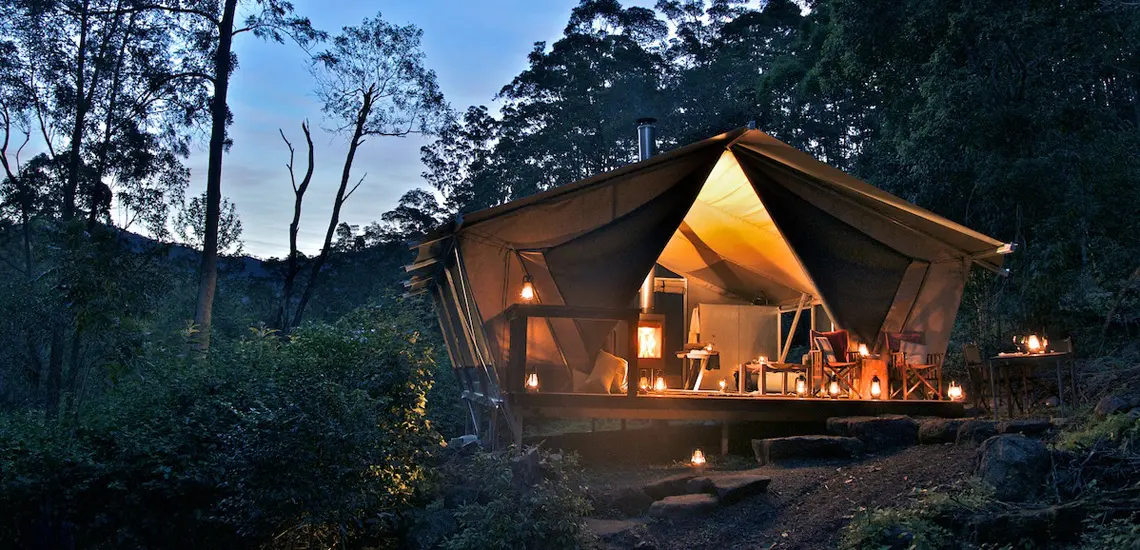 9 wildly unique Australian glamping spots to check out pronto
For the glamp-orous, oh the flossy flossy.
By Guest Styler | 26th October 2015

When you get used to nice things, it gets harder to willingly spend a weekend "roughing it" in the great outdoors. When you were a kid, you didn't mind or peeing behind a bush, but now you're a grown-up some things just seem less enticing. Kind of "Am I really leaving Netflix and my air-conditioning for this?"

So, if you want to experience nature on your terms and without sacrificing your creature comforts, it's time to meet the world of glamorous camping or "glamping". You're welcome.
1 Spicers Canopy Eco Lodge, Queensland
For those who like a bit (or a lot) of adventure with all the luxuries of home, and then some, Spicers Canopy in the heart of Queensland's naturally beautiful Scenic Rim region is perfect. You can book one of their 10 luxurious safari-style tents exclusively or as part of their new four-day walk experience through the breathtaking views and treasures of the Scenic Rim. If you decide to trek the trail (or cycle their new Hidden Peaks Trail), you'll find a welcoming, communal space with a stone fireplace and large central table, custom-made for the sharing of the day's stories and gourmet dishes. Plus, you get your own private bathroom with glorious solar-heated water. Hey, you deserve it.
2 Longitude 131°, Northern Territory
This may just be the best way to experience the Outback. Longitude 131° is the closest accommodation to Uluru and offers epic unrestricted views of the iconic landscape. Each luxury tent has an entirely glass wall to ensure you have an exclusive view come sunset or sunrise, a spacious ensuite bathroom with oversized rain shower features, all specifically designed to remain cool in the desert climate.
3 Paperbark Camp, New South Wales
Which do you prefer? Calm, clear waters with amazing white sand beaches? Or pristine coastal bush landscapes? Decisions are hard, so why not just have both? Paperbark Camp in Jervis Bay services 12 canvas tents within the large elevated eucalypts and paperbarks. The tents come in three separate tiers, which all include wrap-around balconies with deck furniture, full insect screening, open-air private ensuites with solar-heated water, and access to delicious meals in their treetop dining room. If you want more luxury, the deluxe tents offer free-standing baths and romantic furnishings!
4 Gawler Ranges Wilderness Safaris, South Australia
Created using recycled materials and furnishings, the Kangaluna Camp has a tastefully rustic vibe to it that adds a welcoming and harmonious bridge between luxury experiences and rural surrounds. The luxury safari tents get you close to the wildlife while safe in the "swagon", a renovated covered wagon with open-air sides to gaze at the stars. The camp also has an eight-inch computer-controlled telescope at the camp for "swagon" guests to use.
5 Nightfall Wilderness Camp, Queensland
Sometimes less really IS more. Enjoy the simple tranquillity of the rainforest and detox from modern city life with a luxury tent immersed in nature. Each tent has a rotating fireplace, vintage bath and rain-head shower. But if you want ultimate indulgence, we suggest requesting a massage by the creek or forest – so relaxing!
6 Lane Cove Tourist Park Tandara Tent, New South Wales
It's definitely the most exclusive eco tent on this list, with bookings for weekend stays usually requiring nine months' advance notice. While it's a long wait to secure this single bedroom luxury tent within the Lane Cove National Park, it's a premium romantic weekend getaway spot. The Tandara luxury eco tent has a private deck overlooking a secluded patch of the national park, a manicured garden complete with speakers to play your own music, an outdoor barbecue kitchen and double walk-in shower. As part of the Lane Cove National Park, guests can choose to stay inside the comfort of the luxury tent or venture out for a kayak, a wildlife walk, or a leisurely bike ride.
7 Huon Bush Retreats, Tasmania
While this accommodation option is a little smaller than the others, it provides a very close connection to nature at a reduced price range. The deluxe tipees (or teepees) in the Huon Valley bushland have a sofa bed, balcony awning and CD player, with kitchen and bathroom amenities a short two-minute walk from the tipee.
Honourable mentions:
Check out these VERY inner-city glamping locales:
St Jerome's Hotel, Victoria
Breaking new ground for camping, this glamping experience is perched atop the roof of St Jerome's Hotel. Take in the Melbourne skyline from your luxury tent, which includes air-conditioning, a complementary stocked esky and a Samsung tablet loaded with Stan for movie viewing pleasure. www.stjeromesthehotel.com.au
Taronga Zoo Roar & Snore, New South Wales Waking up to the sounds of birds is so last camping season. Stay the night at Taronga Zoo in a purpose-built tent and you could wake up to the sounds of elephants trumpeting instead. www.taronga.org.au