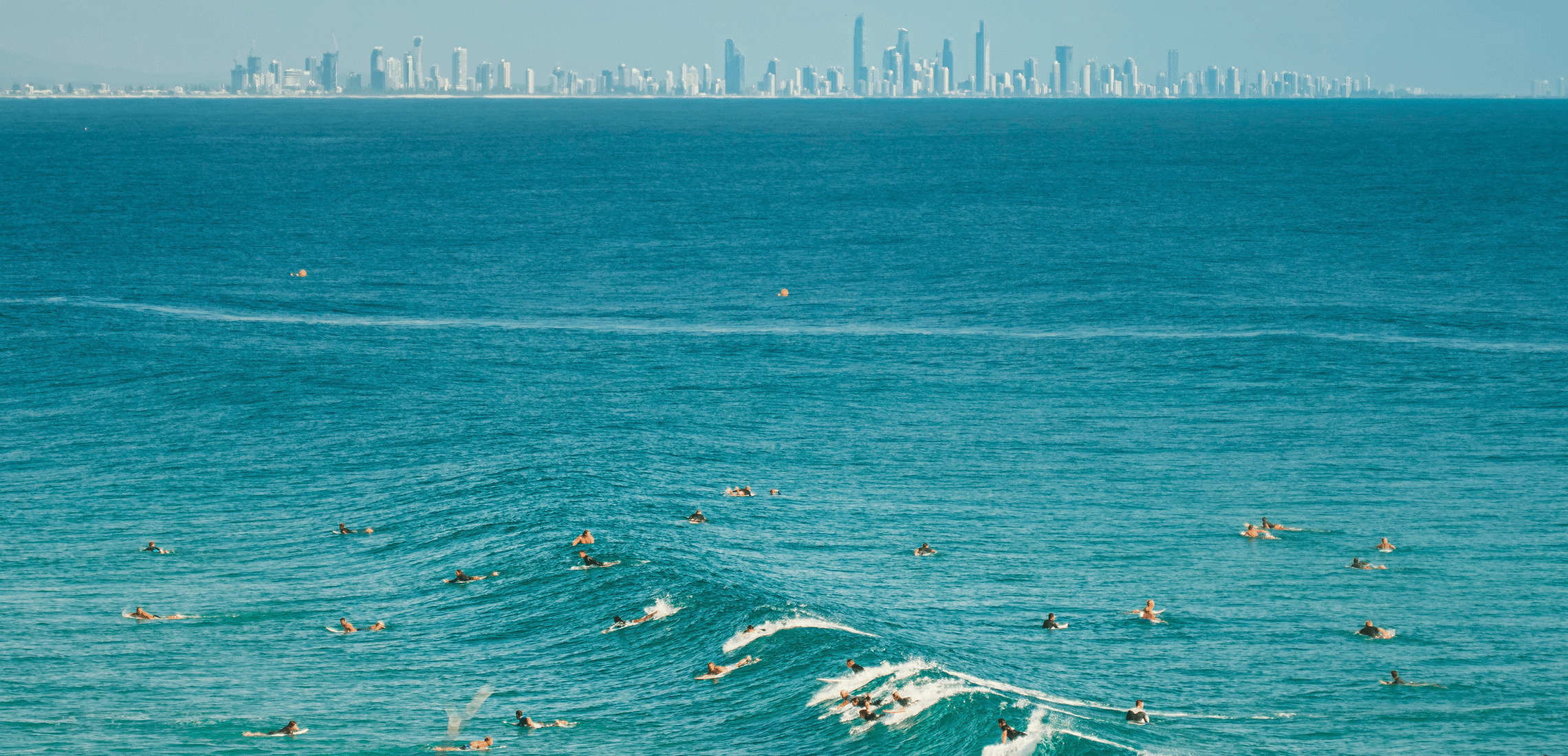 Strap Your Foamy To Your Roof Rack, Here's Where To Surf Near BNE
Surf's up!
By Astrid Taemets | 21st January 2022

It seems that every summer we swear that this is the year we learn how to surf. Whether it's our childhood dreams of becoming Anne Marie from Blue Crush or simply the super cool Aussie locals that are dominating in professional surfing (we're looking at you, Stephanie Gilmore), we've always felt a pull to the crashing waves of our gorgeous Queensland beaches.

Being city slickers, sometimes it's hard to know where to go for a good swell, especially if you're a rookie board rider. But, if you're pining to feel the wash beneath you instead of lazing on the beach in a sarong with a good summer read, we've gathered some of the best places to surf near Brisbane with a special consideration for beginner surfers who are learning how to ride the waves.

Sun's out, boards out! Let's get surfing!
Woorim Beach, Bribie Island
An easy day trip from Brisbane, Woorim Beach is ideal for newcomers to the sport. With Moreton Island in the east, Woorim is protected from south swells, resulting in smaller waves and short rides that will have you finessing your burgeoning surf skills. SC Surf Schools can show you how to read the water (swells from the north can create uncomfortable strong currents) and have you stepping up from beginner to intermediate. With fewer crowds, it's a good spot to take to the waves for the very first time. Then, once you've had your take of dumpers, reward your hard work with a frosty cold one at the newly renovated Bribie Island Hotel. Ahh, ain't life by the sea grand?
Caloundra, Sunshine Coast
Caloundra boasts some of our favourite beaches on the Sunny Coast, and if you're thinking of taking to the board one weekend you won't find a nicer place to learn. The team at Caloundra Surf School are the ultimate teachers, and have taken things a little bit further to make sure you get the most out of your session: they have exclusive council permits to teach lessons at three of the best beaches in Caloundra, including Happy Valley, Dicky Beach, and Currimundi. If you don't want to be thrown headfirst into the deep end, they'll get your footwork mastered, so you can hit the big swells with the locals before you know it.
Coolum Beach, Sunshine Coast
Those keen to dip their toes into the world of surfing, won't find a more welcoming stretch of coast than Coolum Beach. While it's often been regarded as a destination for more experienced surfers (thanks to the likes of local pros such as Julian Wilson), Coolum also offers ideal conditions for apprentice wave riders. Thanks to a series of sheltered bays driving direct onshore winds, the area offers a wide range of surfing conditions across the whole expanse of Coolum's main beach. If you're still learning to read the surf, a lesson with Coolum Surf School will help level up your know-how and have you reading the waves like a fish.
Noosa Heads, Sunshine Coast
If you thought Noosa was only good for their trendy cafés and seaside bars, you obviously haven't seen Noosa Heads on a good surf day. Perfect for beginners and seasonal surfers alike, the swell along Main Beach and as far as the Noosa National Park is famous for being some of the best on the East Coast. Beginners will have a particularly good time as the waves are easy enough to master on a foamy. When in doubt, hit up the team at Noosa Surf Lessons for some pros tips (like how to look cool carrying a board – hey, if you can look the part!).
Burleigh Beach, Gold Coast
Make a U-turn and head down the highway, where you'll find epic rollers just begging for you to ride. Burleigh boasts some of the ultimate street cred, as it's the preferred beach for heaps of pro surfers and surf comps like the Burleigh Pro. If you coast along the main stretch, you can expect long rides and deep barrels, but if you move along to the "Kid's Corner", in front of the Burleigh Pavilion, you find gentler waves and friendlier conditions, perfect for beginners. If you're a beginner the crowds can be intimidating, but Godfathers Of The Ocean can help you make the most of this incredible swell.
Currumbin Beach, Gold Coast
Currumbin is easily one of the best spots for surfing near Brisbane and is a favourite for those with beginner sea legs. If you're willing to get out there and give it a go, there are plenty of local surf schools that can get you on your feet (literally), like Currumbin Valley Surf School. They offer beginner lessons and ladies only classes, as well as an 8-week challenge that will have you shredding like Mick Fanning himself. Well, almost.
Greenmount Beach, Gold Coast
Located in Coolangatta at the southern end of the Gold Coast, Greenmount is an under-the-radar surfing destination that locals have kept secret for good reason. Nestled between Snapper and Kirra beaches, two beaches famous for their breaks, Greenmount is #blessed with the perfect swell for novice surfers. Talk to the team at Walkin' On Water and earn your kudos with the wave-breakers.
Planning on hitting the beach more? Check out our round up of the hottest one piece swimsuits here.