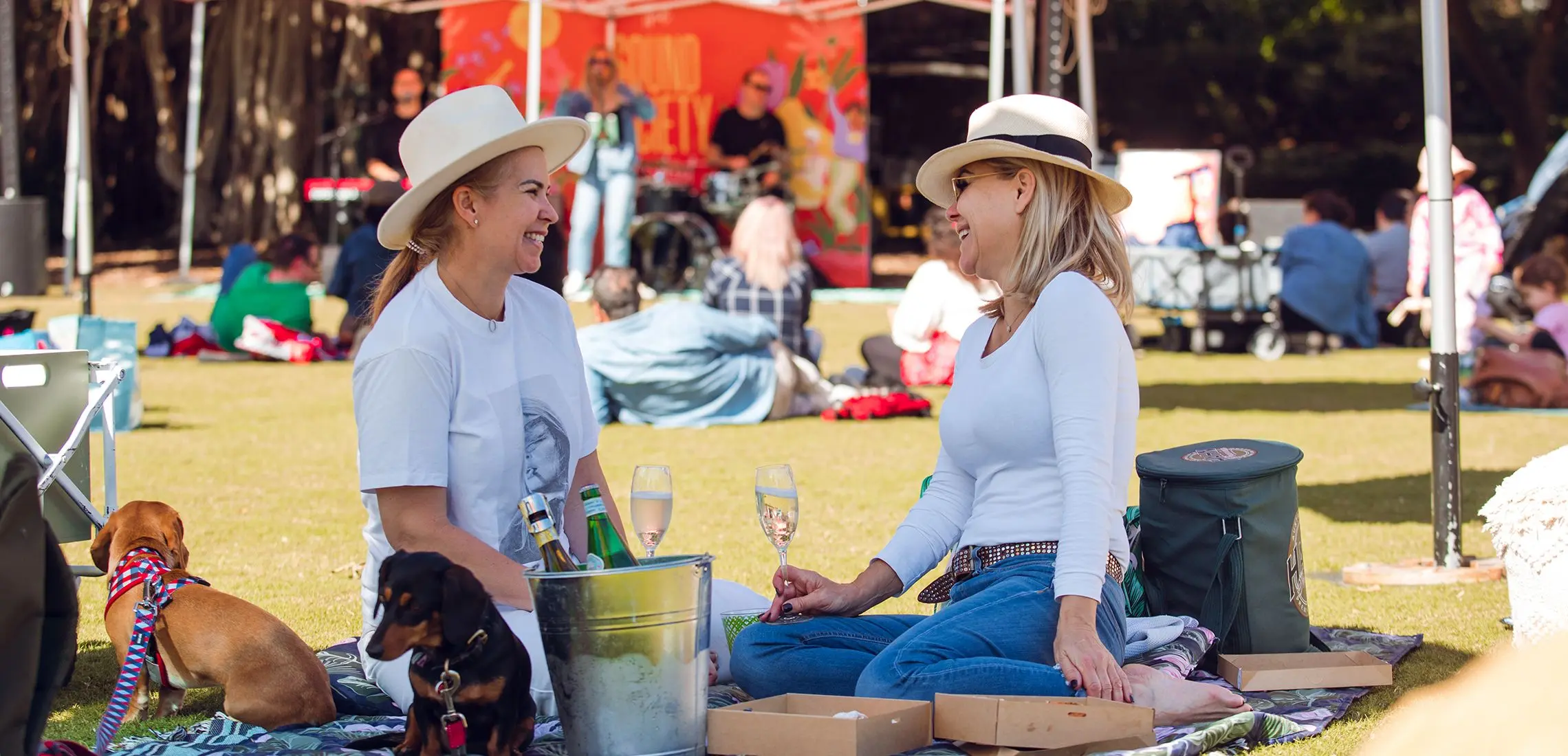 Pinch Your Pennies, Here Are 5 Free Things To Do In BNE
Get that pep in your step
By Astrid Taemets | 22nd August 2022

For those who haven't spent a stint of our winter gallivanting across the seas chasing an endless summer, your time out of hibernation has finally come. 

So, kick off the Ugg boots, get off the couch, and prep yourself for a month-long program of sunny, spring-filled fun in Roma Street Parkland – the home of good times that won't break the bank. 

Whether you're a lover of picnics, market stalls, live tunes, or gardens in bloom, there's plenty of reasons to enjoy the great outdoors with friends and family in our stunning river city. 

Save your bucks with these five fabulous warm weather events. 
The Sound Society
When: 4 September, 11am to 4pm
Kick back and chill out at this relaxed backyard gig that's putting on quite the show thanks to a slew of incredible local acts. Whether you're looking for an outing for two, your crew, or a day out with the kids, let The Sound Society be your laidback start to spring. Pack your snacks, roll out your rug, and enjoy the lush surrounds and sounds. Or, level up your picnic game with a pre-ordered hamper from the on-site Garden Room Cafe. 
Blooms & Tunes
When: 10 – 11 September, 11.30am to 5pm
Bring the good vibes all weekend long when you summon the squad and settle in to soak up the sounds at Blooms & Tunes on the Celebration Lawn. Roll out a DIY feast for your friends or stock up on tasty bites between sets from participating food trucks and vendors as you raise a glass to spring (yes, BYO is permitted!) while you groove along to live tunes. What a way to welcome the new season! Get all the deets you need and more here. 
When: 18 September, 10am to 5pm
For a party to remember, head on down to Roma Street Parkland and celebrate our city's cultural diversity at MOSAIC Festival as part of the Brisbane Festival program. Through dance, music, poetry and storytelling, visual arts and crafts, family activities, and delectable food and cooking demonstrations, plus plenty more, salute to the rich cultural contributions we all bring to the multicultural city we all call home. Plan your day here.
Plant Market Presented By BrisStyle
When: 24 September, 9am to 2pm
Can't seem to keep that fiddle leaf fig alive? Make your way down to Roma Street Parkland's Plant Market and pick up some handy tips, fresh greens, and prepare to get a lil' dirty with interactive workshops. With over 20 stallholders selling plants, pots, and accessories, transform your home into a thriving sanctuary. 
Guided Tours
When: Every day
Get that step count up surrounded by lush lawns, new shoots, and blooming bulbs as you explore Roma Street Parkland with their free guided tours. Take your pick from six different tours led by expert volunteers who'll share stories and trivia about our inner-city haven. From bush tucker tours where you can sample the native food growing here to a behind-the-scenes peek into rarely-seen parts of the Parkland, each tour offers something different. Curious? You're not alone! The tours are wildly popular, so you'll need to book your spot here. 
A good weekend doesn't have to hurt your wallet. Roma Street Parkland has you covered here.