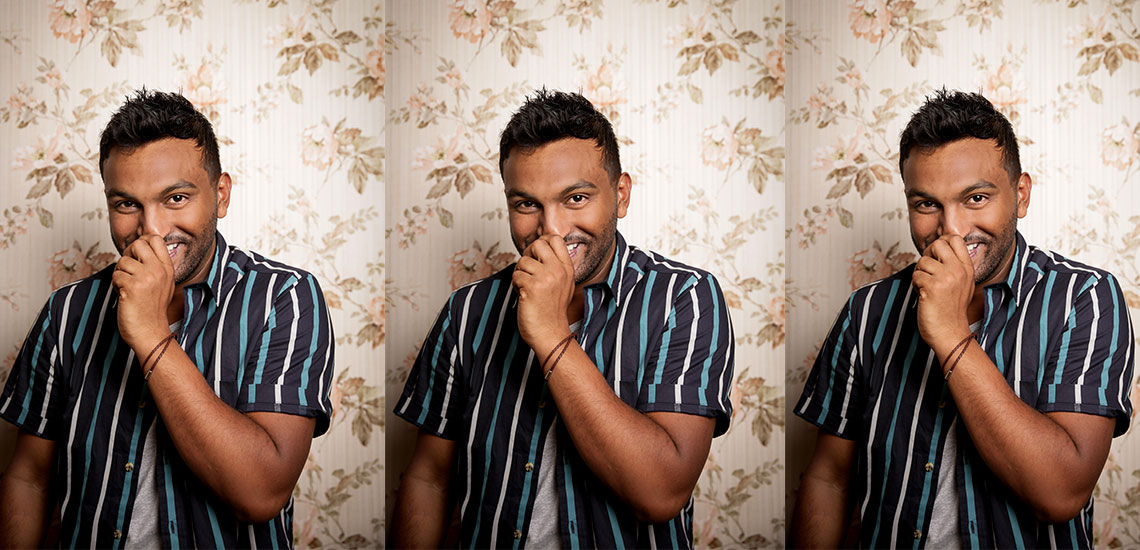 We Stop Nazeem Hussain For A Laugh 
Hussain that?
---
Maybe you saw Nazeem on his Netflix special Nazeem Hussain: Public Frenemy. Maybe you saw him on Channel 7 in his sketch series Orange Is The New Brown. Or, maybe you saw him forging a lifelong (?) friendship with Lindsay Lohan on The Masked Singer. Whatever it was, you can definitely see him at Brisbane Comedy Festival on March 21 and 22. Ahead of his show, Hussain That?, we stopped him for a chat and it's safe to say, he's the guy you want to have a kebab with (and you may actually get the chance).
Hi Nazeem, tell us how you're feeling about your upcoming show for Brisbane Comedy Festival? 
I'm incredibly excited. I love Brisbane audiences – they're so nuts (in a good way). I feel really lucky to be able to perform in the main room of the Powerhouse. It's one of the most beautiful venues in the country.
When did you first start comedy as a career and why?
I entered Raw Comedy (the Melbourne Comedy Festival open mic competition) in 2007 after only ever mucking around 'performing' to Muslims in mosques since I was young. Doing the Raw heats in a pub full of Muslims was so much fun and I was immediately hooked. I feel bad for the pub though; they probably didn't make much money from Muslims who ordered soft drink.
What inspires your shows?
My shows are a series of stories from my life. I get shit off my chest and make fun of people who I hope aren't at the shows. It's basically a form of therapy for me.
What's been the biggest challenge of your career? 
Trying to not spend the entire show talking to a One Nation supporter who also bought tickets to my show and is somehow a fan of mine.
Best onstage moment?
Performing as the opening act for Dave Chappelle. He's my comedy hero and I can basically quit now that I've done that. I don't have anything else to achieve in life.
What's your pre-show prep?  
Energy drink, loud music and trying not to get caught perving on the audience from behind the curtain.
If you weren't doing comedy, what was the plan? 
Umm… probably an Uber Eats driver. Or still doing my office job: tax consultant. So yeah, comedy HAS to work.
How is your friendship flourishing with Lindsay Lohan? 
Look, it's been better. Currently it's dead in the water. No missed Facetime calls in about four months.
Besides yourself, who's the funniest Australian? 
Matt Okine. Becky Lucas. Joel Creasey. My younger sister.
[Editor's Note: speaking of, we spoke to Matt Okine here and Becky Lucas here ]
What are you most looking forward to about coming to Brisbane?
The sun and, the proximity to Pauline. Also, going out for kebabs afterwards with random audience members. It seems that's become a tradition.
With permission to go full Mariah Carey, what are your green room must haves? 
Energy drinks. Chocolate – any brand will do, even home-brand. And a masseuse.
QUICK GIGGLE:
Worst knock knock joke? 
Knock knock. Who's there? Arch. Arch who? COVER YOUR MOUTH WHEN YOU SNEEZE! HAVEN'T YOU HEARD OF CORONAVIRUS?!
Describe your laugh…
One of my laughs sounds like a hyena, I'm told.
Mic stand or hand-held? 
Hand-held.
Best recovery tactics when a joke falls flat? 
Acknowledge, and then freak out.
Favourite comedian? 
Dave Chappelle.
Stage or screen? 
STAGE a million times.
Pineapple on pizza: yes/no? 
Yes. Duh.
Header Image: Nicole Cleary