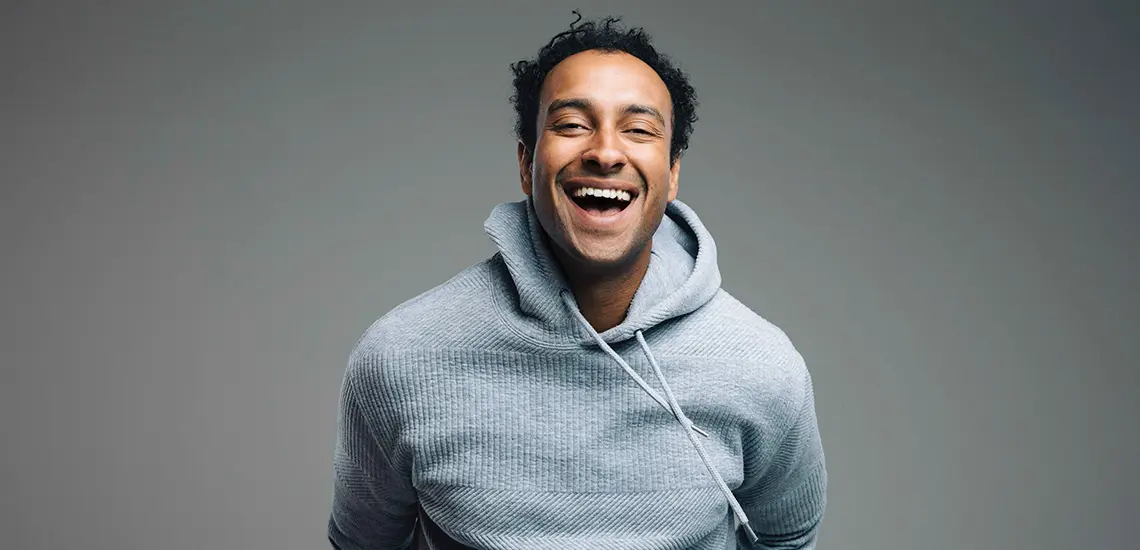 Our Moment With Matt Okine
Loved The Other Guy? We've got the inside info on season 2…
By Dinushka Gunasekara | 20th February 2020

With Brisbane Comedy Festival just about to kick-off, we thought we should warm-up for the laughs and get into the spirit of things.

So, who better to chat to than Matt Okine? Headlining on Tuesday with his award-winning show 'Solo Diner', he returns to Brisbane with a brand new hour of stand-up after a huge year filming season two of his TV show The Other Guy, as well as writing his debut novel and having a baby.

Here's our one on one with Matt who answered our q's while sitting in a Spotlight carpark.

Hi Matt, how you're feeling about the upcoming Brisbane Comedy Festival?

I can't wait! There's nothing better than sitting out on the balcony at Brisbane Powerhouse, having a drink, and looking across the river at all the houses that I will never be able to afford. I grew up in Brisbane so I get to see lots of family and friends whenever I'm home. It really is a great city, and the food and wine scene (and craft beer) scene is punching well above its weight at the moment.

Thoughts on this year's Triple J hottest 100?

My 11-month-old daughter, Sofia, always starts dancing whenever Flume plays, so she was pretty stoked when it rolled in at number two. I really enjoyed the day as a whole, and I'm looking forward to the Hottest 100 of the Decade next month. I had no idea how tough voting was going to be! I threw some love to some Brisbane faves, Ball Park Music and Violent Soho.

If you had your own radio show, what would it be called?

4068 FM. It would be a pirate radio station broadcasting from underneath Indooroopilly Train Station. Everything I know about pirate radio, I learnt off Zeke from Neighbours.

What was the inspiration behind the name for your show "Solo Diner"?

We had our daughter through the public health system, so I wasn't allowed to stay in the hospital the night she was born, and it was late when I left so I went and sat in this crappy late-night diner by myself. The food was terrible, but it was the best meal of my life. The show basically looks at the two years leading up to that point. It's about so many different things: bad first dates, underground ramen dens, stripping firefighters, bird seed thieves, etc.

When did you first discover you were funnier than the average Joe?

When I entered the RAW comedy competition when I was 18. I entered more as a joke than anything else, but I ended up winning my heat, and then ended up in the national final at Melbourne Town Hall in front of 1500 people. It was a wild ride, considering the first time I'd ever gone to watch a stand-up show was a few months before.

Where are you and what are you doing right now?

I think our apartment is haunted. My daughter always does weird things that makes me think she's talking to ghosts. Also, I came home yesterday arvo and a picture frame had fallen off the wall and had smashed all over the floor. So today, I just drove across the city to a Spotlight store to find a very specific frame that my partner wanted me to replace it with. When I got to the store, they had sold out of them all. So right now, I'm sitting in my car, seething.

If you won Sunrise cash cow today, what would you do with the money?

I would build a big farm so that all the future cash cows could roam free.

What do you love about visiting Brisbane?

I always drive around UQ, past my old primary school (Ironside), and up around Mount Coot-Tha. It stirs up lots of nice memories from growing up, but it's also a good way to sit in air-conditioning on a hot afternoon.

Favourite one-liner?

"Complimentary food and drinks will be provided…" – it's not a joke, I just love hearing that one line.
QUICK GIGGLE:
What's your go-to joke to fall back on when things go sour?
"What's a shitzu? A really bad zoo…"
Hidden talent?
Origami.
What's your dance-off winning move?
I once found myself in a dance-off at the Stock Exchange Hotel very late on a Tuesday night, and I ended up sliding through the other guy's legs. Literally brought the house down.
What's the most random app on your phone?
I have this baby-naming app that's like Tinder. You and your partner both swipe right or left on names, and any names you agree on get saved in a folder. It didn't actually help us name our daughter though, we used our brains for that – the original app.