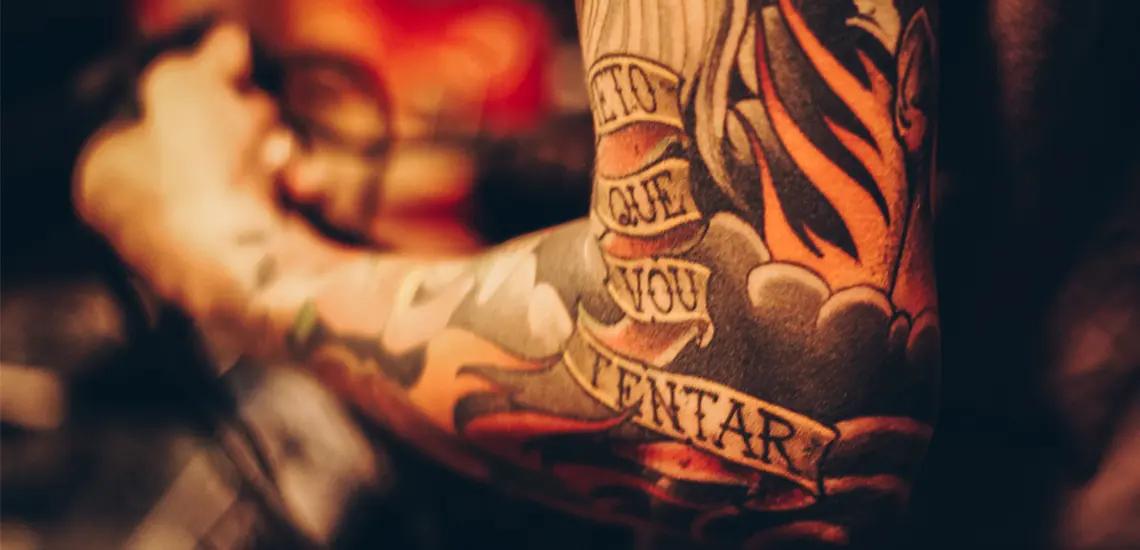 What You Need To Know Before Getting Your First Tattoo
No Ragrets…
By Elena Barton | 7th September 2017

Getting your first tattoo is exciting, but there are a lot of things to consider and it definitely pays to think before you ink and do your research. Coming from someone who has five tattoos and who is currently looking to add a full sleeve to her collection, I can tell you first-hand there are a lot of things that you don't necessarily factor in when you ink for the first time. So here's our list of the top things you should know before getting your first tattoo and how to book that appointment.
1. DO YOUR RESEARCH
Research EVERYTHING! I cannot stress this enough. You should research the artists, shops, your design ideas, whether you have any allergies to pigments – if you react to makeup or hair dye you may react to the pigments used in some tattoo inks, how to look after a tattoo and worst case scenario how and where to get your tattoo removed if you're really unhappy with it.
2. YES IT WILL HURT
There's no such thing as a totally painless tattoo but depending on where you put it and your own personal pain tolerance levels, most tattoos are bearable. Personally I liken the pain to that of a burning itch – you want to scratch at it. The pain however doesn't tend to linger afterwards but your new ink may be a little tender to the touch for a week and it will scab like a sore as it heals. With the pain in mind don't be afraid to start small so you can figure out your pain tolerance.
3. BE ORIGINAL
Google and Pinterest are great places to start planning your design or if you're arty draw up your own ideas, but be aware most tattooists like to create bespoke artwork so do communicate to your artist what is and isn't negotiable about your design. Also be realistic you can't fit a whole lot of detail in a tiny space so consider how readable your design will be. You should be able to tell from a decent distance what your tattoo is and tattoos do spread/bleed somewhat with age and the skill of the artist so keep this in mind if you want a really detailed piece, you may want to consider sizing up.
4. THINK ABOUT PLACEMENT
This brings us to placement. Different areas of the body take ink better than others, hurt more or less and also the design itself may determine where it can or should go. You want the final product to look great so consider if it is going to wrap around a body part and look distorted or if in the future any weight loss, weight gain or even pregnancy will distort the image. Think about whether or not you want your tattoo on show all the time or whether it is a more personal piece of art that's just for you.
5. THINK ABOUT YOUR WORK/POTENTIAL CAREER
Does your workplace allow visible tattoos? Will your future career be accepting? I know it's a bit of a buzz kill but there are still a significant number of workplaces and careers that require no visible tattoos even though roughly one in five Aussies have ink. Also hand, neck and face tattoos are basically impossible to cover up and a lot of venues such as pubs and clubs have restrictions on people with such tattoos and can and do deny them entry, so it pays to really think about what you want and where you want it in terms of your future.
6. YOU GET WHAT YOU PAY FOR
There's a saying that goes "a good tattoo isn't cheap and a cheap tattoo isn't good" this is a fact. Think about it – this is going to be a permanent piece of art on your body; you want the best artist possible who also aligns with your designs aesthetic to do the work. Yes, you're paying for the work but the work isn't just the needle to skin part, it takes time to design, draw up and place the tattoo plus the time actually tattooing, the experience and quality of the artist and the costs of sterile equipment and the inks used. You are a living canvas, you want someone who respects this and creates an incredible customised piece of art for you, plus if you get a bad tattoo and want it covered up or removed you're up for more pain and more money so you may as well invest wisely the first time.
7. CONSIDER TIMING
If you're a beach bum who lives in the surf and the sun come summer be aware that your new ink cannot be submerged in water for long periods of time for the first two weeks, that salt water is a drawing agent so your tattoo will lose colour and that excessive sun will fade your tattoo significantly whilst its healing and even after it has healed. Clothing can also cause irritation and for your tattoo to "bleed" colour if constantly rubbing against fabric so the depths of winter isn't the best time to get tattooed either.
8. CHOOSE WISELY
The artist, the timing, the placement and the design all require careful and considered thought. Whilst it seems like a great idea to get a matching tattoo with a bestie or your partner's name, if the relationships go south you're stuck with a painful reminder or a tattoo you may no longer love. You need to consider all these things so you end up with a meaningful and beautiful piece of art. Sleep on it once you think you've found your design, look online as multiple places do custom temporary tattoos so you can try before you commit. And again research, research research!
9. IF IT'S ON SHOW, KNOW THAT PEOPLE WILL CONSTANTLY ASK ABOUT IT
Are you ok to constantly explain your choice or design or its significance? Some tattoos are quite intimate or emotional such as a portrait of a passed loved one or a quote that you may find inspirational and it can be hard or even annoying to constantly explain why you got a certain design. Be prepared for both compliments and negative comments if your tattoos are on display. Thankfully though I've personally received more positive feedback than negative on my visible tattoos, so don't let it put you off just be aware that not everyone will love your choice like you do.
10. FAMOUS/POPULAR ARTISTS WILL HAVE A WAITING LIST
Thinking you're going to walk in, off the street and nab a session with Jonboy in New York, guess again. Famous artists and artists renowned for specialising in specific types/ styles of tattooing will most often come with a wait-list. Make an inquiry early and book ahead if you have a specific date and artist in mind for your tattoo. Tattoos, especially large or detailed pieces also take time – a lot of time, so be mindful that your full sleeve will not be completed in one sitting as just the outline may take 5 hours or more and there is only so much the body can take.
11. HAVE A CONSULTATION WITH YOUR ARTIST BEFORE YOU COMMIT
Discuss everything pertaining to your design. The best tattoos are collaborative efforts between client and tattooist. Ask every question you have about the time it will take to execute the design, costs, any preparation that needs to be done before your tattoo and aftercare. This allows for everyone to be on the same page so you end up with a great piece.
12. BE ON TIME FOR YOUR APPOINTMENT AND EAT BEFORE YOU GO
Treat your artist with the same respect you want to be treated with and be on time. Tattooing is a time consuming business and most artists only allow for specific periods of time to complete a clients work, much like beauticians and hairdressers, so be respectful and if you're running late let them know. Also its super important to get a good nights sleep and eat before your appointment as you are essentially giving your body a minor injury by tattooing it, so your blood sugar levels can drop and you can feel dizzy and nauseated if you haven't had a decent meal prior. Just don't take aspirin or paracetamol or drink alcohol before your tattoo as they thin the blood slightly and can cause more bleeding during tattooing, effecting how the ink takes to the skin.
13. KNOW HOW TO LOOK AFTER IT WHILST IT HEALS
Its going to weep, scab and omg will it itch! Make sure you ask your tattooist how to take the best care of your new tattoo immediately after you've been tattooed and whilst it is healing. Most tattooists will give you aftercare cream but if they don't, Bepanthen cream from the chemist will be your lifesaver. It helps the tattoo to heal quicker whilst helping to stop the itchy feeling you get as the tattoo scabs. Try not to wear clothing that will be constantly rubbing your new ink and keep it as dry as possible and away from salt water and excessive amounts of direct sunlight as this will fade your new art.
Now you're all set to book in your first inking but beware as this Styler found out, tattoos are addictive and once you have one you will be so tempted to keep adding to your collection – hence the plans for my new full sleeve…sorry mum.
Liked this? You'll love these!  1. Brisbane's Best Tattoo Studios 2. Neat, Sweet And Petitie Tattoo Ideas 3. I Got My Eyebrows Tattooed An This Is What I Learned