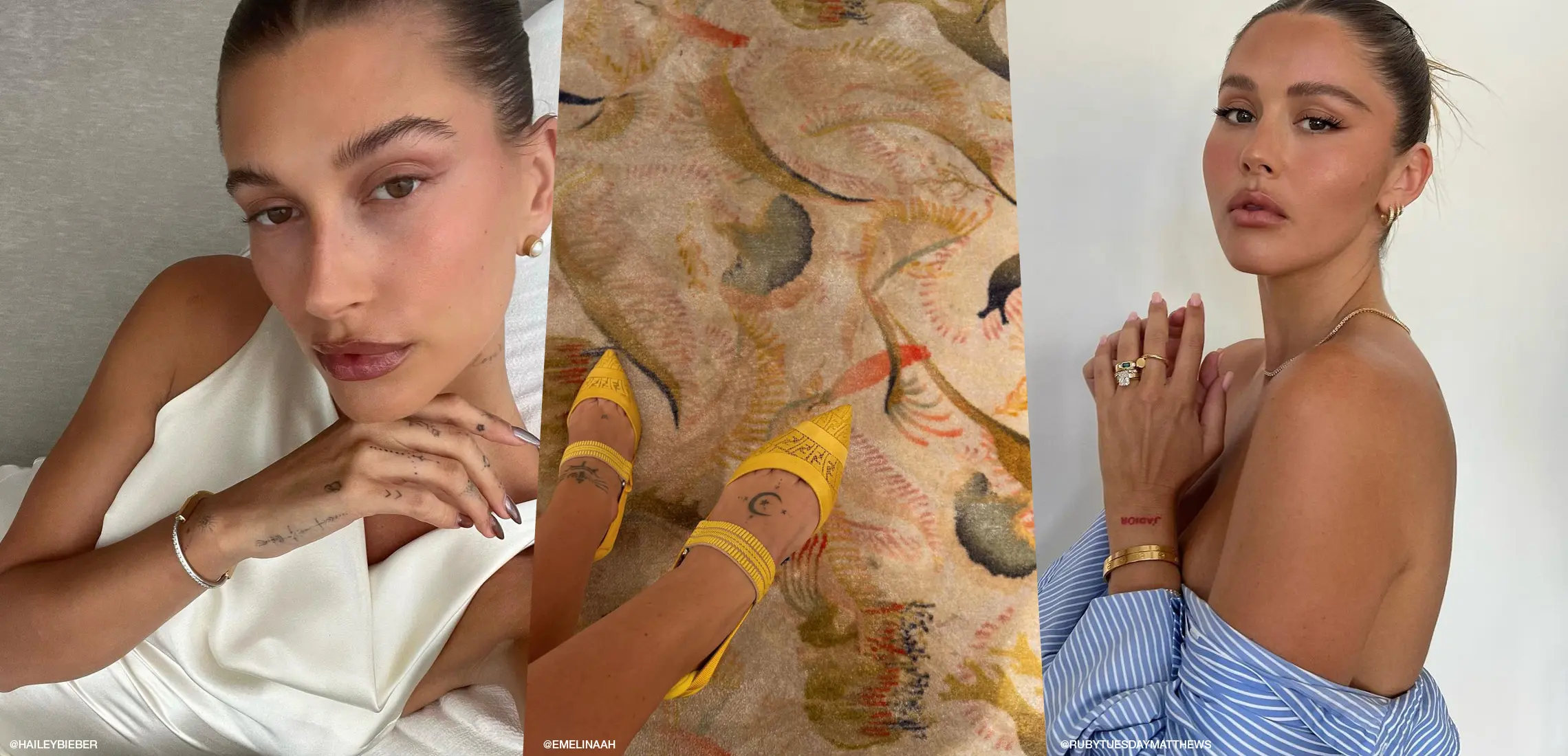 Get Inked With Brisbane's Best Tattoo Studios And Artists
Ready to make this permanent?
By Style Journos | 3rd March 2023

Whether it's a classic butterfly or a custom piece that currently only exists in your imagination, getting a tattoo is serious business. Anyone who's rocking ink will tell you that the trust between you and your tattooist is crucial to loving your piece for a lifetime, unless you're prepared for laser tattoo removal, this is not a decision that can be made by flipping a coin.

That doesn't mean you have to resort to stick-ons! We've found the best Brisbane tattoo studios and artists that are sure to you covered (literally, in ink). From dainty designs to neo-traditional masterpieces, even commitment-phobes will want to get inked with these incredible tattooists.

By the way, we consider everyone in this list the best of the best! To make finding your next favourite that much easier, we've ordered the list alphabetically by suburb and also have filtering tabs for your convenience. Did we miss someone from the list? Let us know here! Hide the form

FILTER BY

All
All
Brisbane CBD
North Brisbane
East Brisbane
South Brisbane
West Brisbane
Gold Coast
Noosa
Sunshine Coast
Hailey Blossom Tattoo Studio
Spring Hill
Oh so sweet and infinitely talented, the tattooists here are renowned for their delicate, fineline, dotwork, and trendy tattooing. Whether you're after a tiny piece that's still full of detail or a sprawling design weaved with intricacy that will have you enjoying it for a lifetime, it's easy to see why so many find Hailey Blossom Tattoo Studio one of the best Brisbane tattoo studios. With a practically obsessed following, an appointment is well worth the wait!
View this post on Instagram
Fox & Moon Tattoo
Windsor
Known for its pastel pink boutique studio, Fox and Moon feels more like a day spa than a tattoo studio. The inclusive and creative space plays host to a talented bunch of resident and guest artists offering a unique style and experience, while all focusing on quality tattooing. Taking the plunge can be a daunting step, which is why Fox and Moon offer free consultations with their artists so you can nail your concept before your appointment. They're also completely cruelty-free, offering a range of vegan tattoo aftercare products, allowing you to rock your new ink knowing it's good for the environment too!
View this post on Instagram
Celebrity Ink
Multiple Locations
As arguably the world's biggest tattoo studio, Celebrity Ink's reputation speaks for itself. Creating a space for self expression and individualism, the award-winning tattoo artists at these studios specialise in all sorts of tattoos, pumping out masterpieces of every size, colour, and style on the daily. The collaborative and empowering experience here is also completely non-judgemental, so you can feel as comfortable as can be every step of the way.
View this post on Instagram
City Body Art
Brisbane City
Nestled in the heart of Brisbane City, this cosy tattoo studio has all your design dreams sorted. From clean, minimalist works to eye-catching colourful pieces, you can be confident they'll understand your vision and even offer budget-friendly, quality pieces with their apprentices. Want a tattoo on a whim? Walk-ins are welcome every day from 10am to 5pm.
View this post on Instagram
Shinko Tattoo
Albion
With a combined 50+ years of experience, Shinko Tattoo's team of expert artists makes this easily one of the best Brisbane tattoo studios. Specialising in a range of tattoo styles including Japanese, blackwork, neo-traditional, and Americana, Shinko Tattoo is continually fostering the skills of its artists. You bring the idea, they'll bring the talent! 
View this post on Instagram
Trailer Trash Tattoo
Annerley
Don't let the name confuse you – Trailer Trash tattoos are seriously some of the best in town! The diverse team of experienced tattooists here each have their own specialty, meaning even your wildest design dreams can come to life until their talented hands. Covering a range of styles and genres, book an appointment or just rock up and have a chat before getting inked with a gloriously vibrant and intricate design.
View this post on Instagram
Ink Embassy
Bulimba
Oxford Street's resident boutique and vintage tattoo studio is home to experienced tattoo artists who create beautiful custom design work you need to see to believe. From stunning black and grey realism to the slickest line art, it's no wonder Ink Embassy has developed quite the loyal following. The charismatic crew are passionate about all things tattoo, so book an appointment ASAP to nab your very own masterpiece.
View this post on Instagram
Seventh Circle Tattoo
Woolloongabba
Originality is the trademark of this private tattoo studio, which continues to grow from strength to strength. What began as a small four-person operation, now houses nine talented and insightful artists in the heritage-listed Moreton Rubber Building, who all deliver nothing less than amazing tattoos. Starting with a consultation to establish a solid design, kick back in the comfy environment and be at ease as the team works their creative magic.
View this post on Instagram
Valley Ink
Fortitude Valley
From jaw-dropping colour pieces that look like they've jumped right off the screen to gorgeously shaded designs sure to catch eyes, this team has a reputation for creating some of Brisbane's most inspired and high-quality tattoos. The artists here cater for all genres, bringing your unique ideas to life even better than you imagined. The Valley studio also plays host to guest artists from around the world, so you can always experience something new.
View this post on Instagram
Black Ivy Tattoo
Hamilton
As the best-kept secret on the northside, these enthusiastic and progressive artists are here to help you love the skin you're in. Specialising in a wide range of tattoo styles and applications, custom pieces are their bread and butter, creating ink masterpieces inspired by you. Plus, to make sure they absolutely nail your design, they don't charge you for the first draw up. Honourable mention to their cosmetic tattoo services, which deliver the dreamiest brows.
View this post on Instagram
Temple Tattoo
Carseldine
A wealth of knowledge and experience guides the hands of these talented tattooists, who have a standout reputation for their stunning artwork and friendly service. From custom designs, to traditional, black and grey, portraits, and everything in between, your design will be carefully crafted to ensure you're proud to wear them for life. No task is too small or too big here!
View this post on Instagram
Parliament House Studio
Kangaroo Point
Tucked under the Story Bridge, the gorgeously dainty and cute-as-pie tattoos at Parliament House Studio will have you obsessed. If you thought tattoo studios were intimidating, think again, because this welcoming space will feel like a home away from home, as the three artists present you with a piece of ink you won't be able to get enough of. Scroll on down their Instagram and let your eyes feast on the cherubs, puppies, and more, before experiencing the tattoo love for yourself.
View this post on Instagram
Tradition Tattoo
Fortitude Valley
If traditional, neo-traditional or Japanese styles are your thing, this is the place to go. Not only will your tattoo be a permanent masterpiece, but your experience will be a memorable one, as the specialist tattooists here nail your design, whether you're a collector or first-timer. With a plethora of talent to choose from, the choice is all yours!
View this post on Instagram