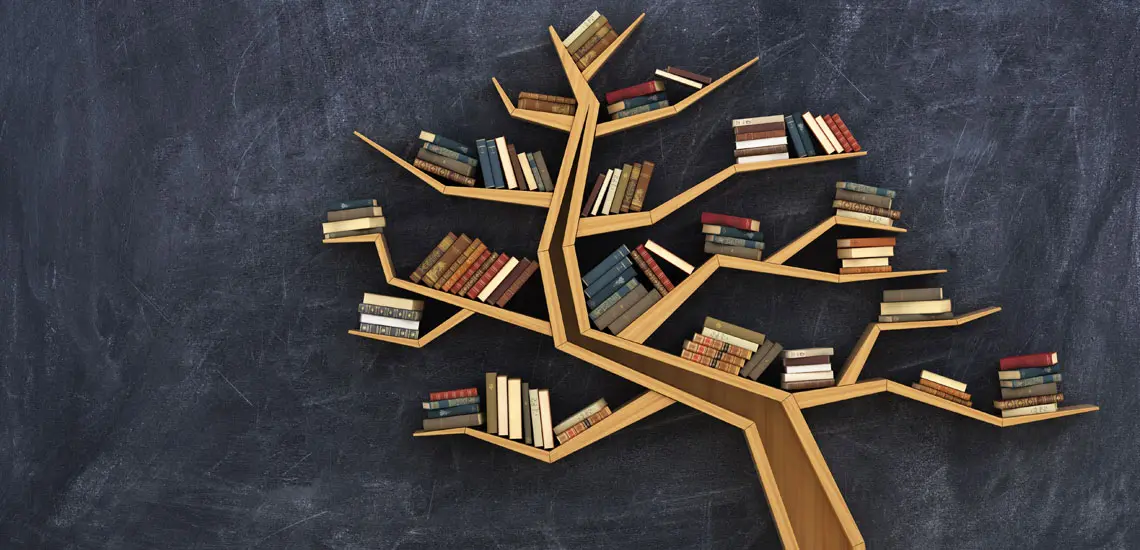 How To Style A Pinterest-Worthy Bookshelf
When your personal library isn't up to scratch, you only have your shelf to blame.
By Guest Styler | 29th March 2016

Whether you're weeping about lack of shelf space or you just want to make your bookshelves look totally Insta-worthy, there's a bookshelf styling method for you.
Stacking
This method could be your new best friend if you're short on space. It's easiest to stack by size and type – paperbacks with paperbacks, hardbacks with hardbacks, etc. The stacks can also make a great bookend for the rest of your standing books. Experiment with different heights and intersperse with standing books for a more interesting visual element.
Rainbow shelves
Now, this can be a somewhat controversial shelving method. If you love keeping your authors/series together, organising by colour might make you a little twitchy. But if you just want to make everything look as pretty as possible, rainbow shelves are the way to go. Worried you don't have enough different colours to pull off this style? Try incorporating some other items such as plants, cookbooks or even DVDs for a fuller look.
Decorative objects
Incorporating plants, artwork or little knick-knacks can look great and lend a new dimension to the otherwise stock-standard method of shelving. Make sure any objects are easy to move so you're not struggling to grab your next read. We all know the books are the real stars here.
Cover love
They say not to judge a book by its cover, but who are we kidding? We're all drawn to beautiful covers. Choose the most beautiful covers in your collection and show them off. This technique works best with sturdy hardbacks, but gently splaying the pages of your paperbacks will help them stand up easily for display.
When in doubt, turn to some unique shelves to make the most of your personal library. Incorporate your love of nature and art, or go for a hypnotic spiral to best express your shelf. Here are some of my favourites:
Floating bookshelves
Bigger on the inside
Branching out
Audiobooks
Industrial
Throne
Fashionable
Like This? Then Head On Over To These Beauties!
How To Style Your House For An Open Home
23 Books Every Woman Should Read