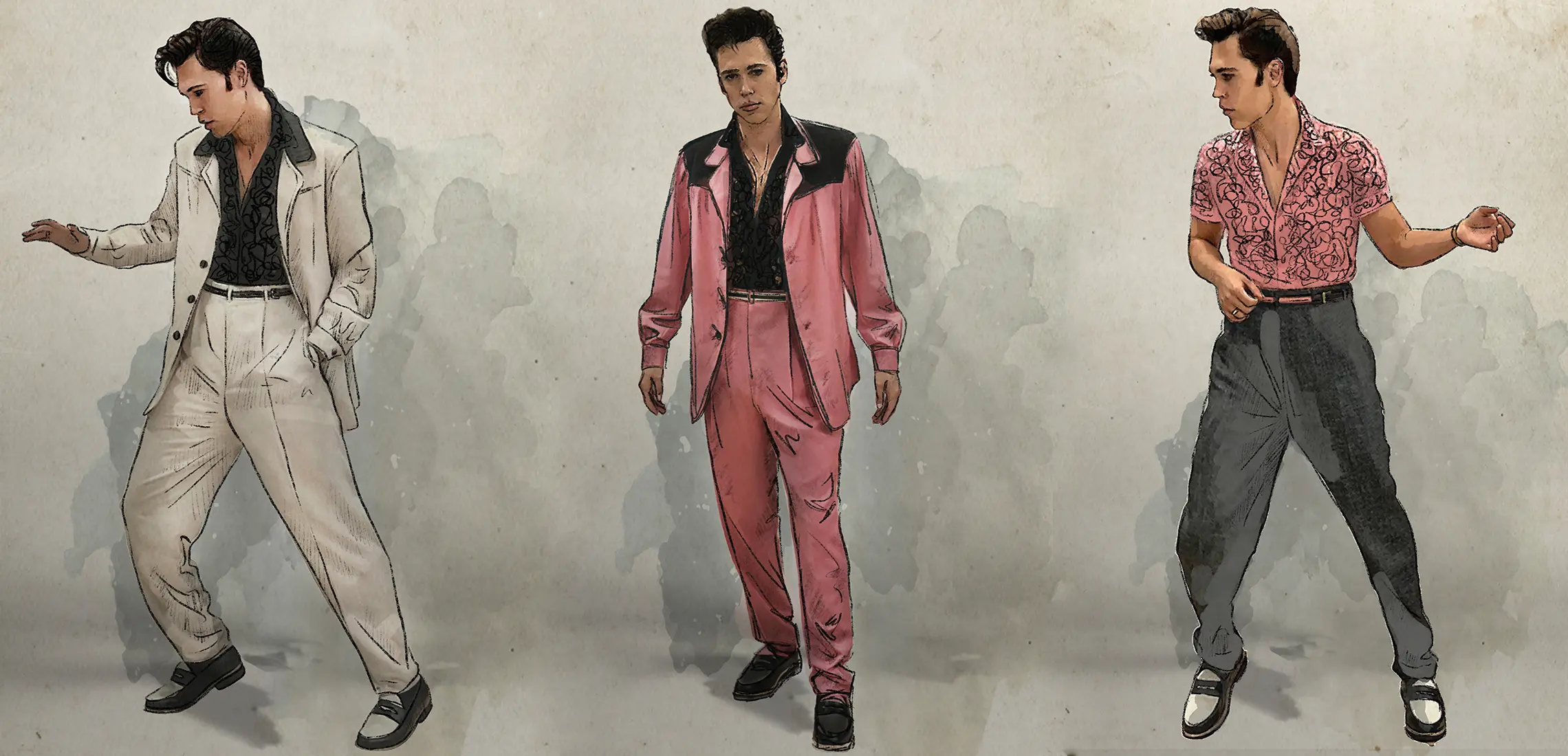 All Shook Up: Discovering The Meaning Behind The King With Catherine Martin
A little more conversation
By Guest Styler | 27th July 2022

She tackled the gowns and tights of the competitive ballroom scene, the tailoring of the 1920s elite, and now acclaimed costume and production designer Catherine Martin turns to the lace shirts and jumpsuits of one of music's most iconic performers – Elvis Presley. 

If anyone is up to the task, it's the most decorated Australian in Oscars history. Collaborating since their university days, Catherine and her filmmaker husband Baz Luhrmann are no strangers to a larger-than-life production. After watching the Elvis movie there's one thing for sure: this is not your average biopic. In classic Luhrmann style, the film takes on a bombastic, almost operatic portrayal of the singer's life that is a visual feast for the viewer, guaranteed to have your toes tapping in your seat.  

Sitting across from Catherine, it's a warm Gold Coast day with blue skies and tall palm trees swaying outside the window from where we sit at The Darling at The Star Gold Coast. I'm captivated by her signature thick black frames, choppy blonde pixie cut, and big smile. Not to mention a dress so colourful and bedazzled, it looks like it would be right at home in the King's very own wardrobe. We sit down to discuss Catherine's costuming of the movie and how Elvis became an icon in more ways than one.

Elvis' stardom hit fever-pitch not only for the new sound of music he brought to the country music scene – widely credited to his unusual connection with the ground-breaking artists of the African American community – but also for his rule-breaking fashion style. Catherine chats to me about the complexity of "finding a way through the 50s where we could express Elvis's sexuality, cutting edge style, the fact that he was an iconoclast that broke all these taboos," she says. Although these days the likes of a man donning a bubble gum pink suit, lashings of mascara and a voluminous hairdo may not seem that daring, however running out on a 1950s Memphis stage, it was surely incendiary then. As a self-confessed history nerd, watching Elvis' journey with fashion through the 50s, 60s and 70s, the movie had me in awe as you watch this case study in gender fluidity unfold. 

As I witnessed Elvis's pioneering fashion throughout the movie, it's not hard to see the parallels to today's mega stars. "When you think about what young girls like in terms of a pop star, whether it's Harry Styles or Justin Bieber or any of the K-Pop groups, there's a kind of intersection of masculine and feminine – a kind of synthesis of the two and a lack of fear of crossing boundaries," Catherine says. Through each decade of his career, you can see that Elvis' fearlessness, and his daring to be different only further increased his appeal to the audience. She talks about how the impact of Elvis' status as a fashion renegade was not lost on her. "I was conscious of the lace shirt and wearing pink… the strange thing about him is that he is so innately masculine as a character that the contrast between the two just felt right." She continues, discussing the challenges of "finding a way of taking historical costumes and picking the ones that expressed his punk-ness, his difference, his sexuality. All the things that were shocking about Elvis. Because now, when we think about Elvis, we just think about him as being this handsome, classic figure. It's not provocative anymore."

After watching the movie, seeing Austin Butler's portrayal coupled with Catherine's artistry and Baz's signature filmmaking, you have the perfect melting pot for a story as fantastical as this. It becomes clear how Elvis' fashion was as much a rebellion as his music was. Revolting against the social norms in his style of music, his stage presence – as well as his outfits – blazed a path for all those who followed him. After shaking Catherine's hand and exiting the elegant hotel room, I gained a true understanding of the craftsmanship and devotion that was stitched into each and every costume that brought the King of Rock and Roll to life on screen. 

Read here about the Australian fashion brand putting fluidity on the runway.