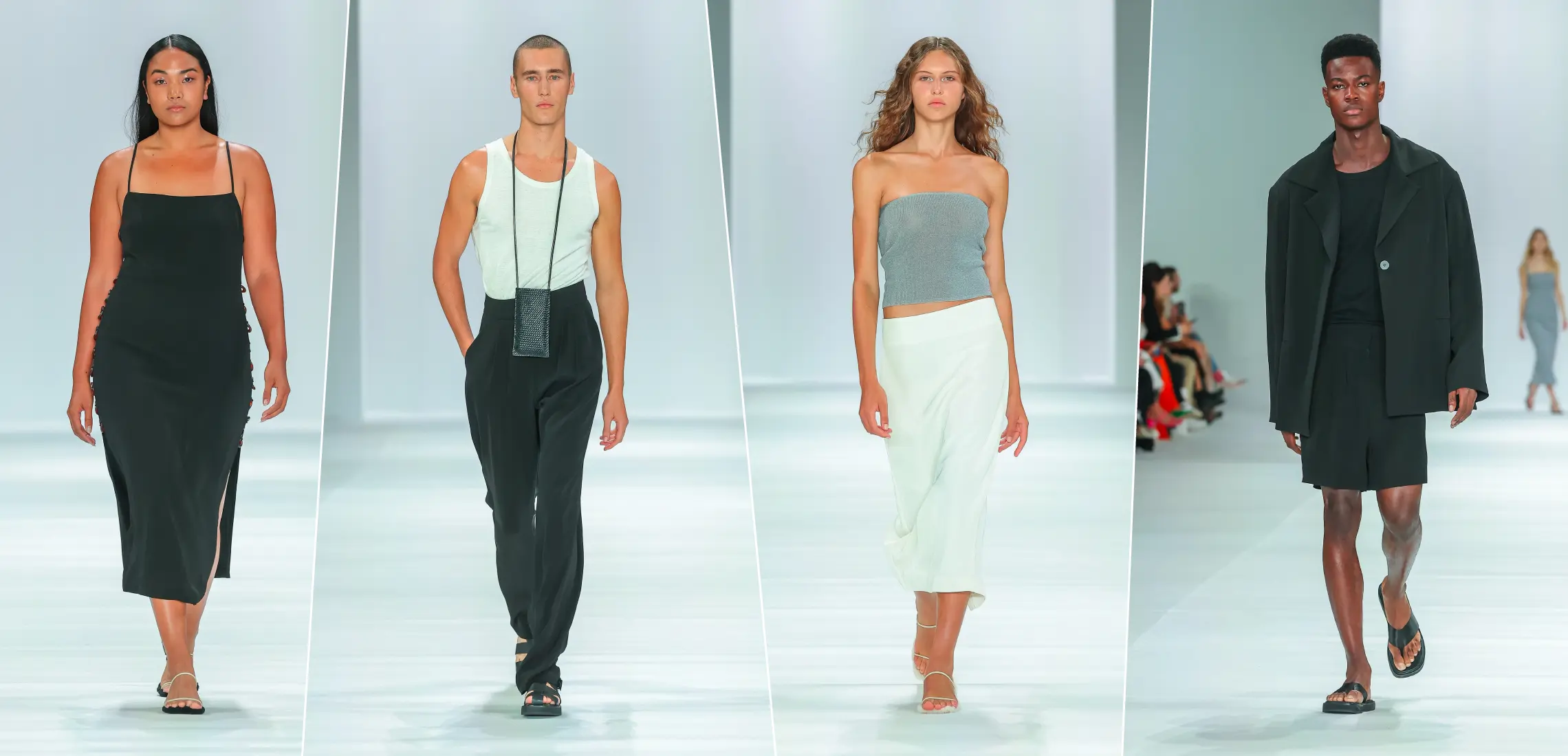 The A-List Brand Bringing Fluidity And 90s Back In Fashion
90s supermodel vibes all 2022
By Astrid Taemets | 22nd June 2022

Few brands are as synonymous with east coast Australian fashion as St. Agni, and it's not hard to see why. Founded by Matt and Lara Fells, St. Agni is enriched with simple silhouettes and classic dressing as its core, cementing itself as a wardrobe staple for all seasons, occasions, and lifestyles.

Heralding monochrome and minimalism, St. Agni has helped shape Aussie style into what it is today – classic, coveted, and comfortable – steering away from bright colours and clashing patterns, ensuring international recognition for their timeless pieces.

Their latest collection, Resort '23, is flirting with a new era of fashion, where fluid dressing – men borrowing clothing pieces from women – is being brought to the forefront, alongside 90s inspired pieces featuring mesh fabrics, subtle contrasts, and fleshy shapes.

A womenswear collection transcending genders through carefully considered silhouettes designed with fluidity in mind, this latest crop is reshaping and normalising borrowed clothing in a refined, elevated way.

We recently spoke to co-founder and creative designer Lara about the process of what led St. Agni here, and the beliefs that run deep throughout it.
Hi Lara! We're longtime fans of St. Agni over at Style. Can you walk us through the early days?
My husband Matt and I started St. Agni back in 2014. We didn't have a structural business plan, experience, or much money to invest, but we did notice a gap in the market for simple leather goods: well-made pieces without the fuss.
We launched our first collection in June of 2014. I think we had designed four different styles of leather tote bags and we had about three pieces in each style. A friend of ours created a website, I started an Instagram account, and we just went for it! I think about a month in we got our first stockist who purchased the entirety, and that's where it all started.
For the first two years of St. Agni, we treated it like a side hustle and maintained working in our full-time jobs managing retail stores. We would reply to emails and post orders in our lunch breaks, and stay up late together working on the brand.
In 2016 we found a warehouse in the Byron Bay industrial estate and opened our first bricks-and-mortar store. Both coming from retail backgrounds, this came so naturally to us.
How did you make the transition from leather goods to apparel?
The transition happened organically as we grew, feeling the need to explore new areas and offer the complete head-to-toe look. Today, apparel makes up about 60% of our business. I imagine customers that have been with us from the beginning would identify St. Agni as an accessories brand that does apparel, and our newer customers would see it the other way around.
What's the core philosophy behind starting a brand that's renowned for its simplicity, elegant lines, and casual tailoring?
We started St. Agni with handbags because at the time it seemed everything was so over-embellished. I found myself searching for pieces that were more minimal and I guess it flowed from there.  I love minimal dressing and feel that St. Agni is an extension of this.
Who or what inspires you?
I am inspired by so many different things – my friends who own their own businesses and are working hard, and the mums who are balancing it all. As far as style goes, it's currently runway shoes with masculine cut tailoring from the 90s.
What does your dream wardrobe include?
A well-cut pair of jeans, a white tee, and a black blazer.
Ok, let's chat Resort '23. This was a very different collection for you. From the Kate Moss 90s model era-inspired pieces down to the message that a wardrobe should be shared. Can you elaborate on that?
We always try to give each collection its own identity. Sometimes it could be so subtle that you wouldn't pick up on it, but Resort '23 was quite obvious. The focus for the collection was 90s inspired sharp cuts, details, and colour palette, while still staying true to our core aesthetic. I'm having a 90s moment and you can really see it in this latest collection.
A wardrobe should celebrate the intimacy of sharing clothes – this came from seeing this happen around us. Partners of the women in the team started borrowing their St. Agni pieces. Similarly, the men in the team started dressing in St. Agni. We've always been very organic in the way we approach business, and this just seemed like a natural progression to what was happening right in front of us.
It's a bold and exciting move to offer fluid dressing in the way of men borrowing from women. Will this continue in your future collections?
I think that men are always borrowing from their partners; it's just not as commonly talked about. I love that we are in an era where people feel empowered to wear whatever they like regardless of their gender.
Do you have a hero piece from the collection?
My favourite look from Resort '23 would be the opening look: the low-waisted skirt with the grey strapless knit.
You have expanded the brand into multiple businesses (a Byron Bay apartment, swimwear label, and concept space). Can you tell us about these projects?
We have always approached business very organically. As the business grew, we needed to find a bigger space. We ended up finding the perfect old warehouse that had an apartment attached to the front of it and some extra space that we sublet to the cafe, florist, and gallery known as Soko Space. We decided to renovate the apartment as we were already renovating the remainder of the building, and turned it into a little side business.
Ziah is a swimwear label that was created by St. Agni head designer, Erika. We've been working with her for a few years and decided to become business partners in Ziah. It's been fun working on something that's completely different to St. Agni.
Sustainability is a core component of every collection you create. Tell us more about the sustainable practices you make, and why it's so integral to the brand…
It's important to us that our core values flow through to our business. I believe in investing in a few well-made pieces that you can wear for a long time and mix with multiple pieces in your wardrobe. Natural fabrications are important to me – I prefer how they feel on my skin. We try to use natural fabrications or recycled synthetic fabrications as much as possible. 'Sustainability' is a very broad term and we try to be transparent in this area by carefully considering both the environmental and social impacts our business has on the world we live in. Last year we started working with 1% for the Planet, and we donate 1% of sales exclusively to the preservation and restoration of the environment.
How has St. Agni propelled you into these other ventures?
I really enjoy that exciting beginning phase of starting a business, and I tend to get a bit restless when I don't have a lot on my plate. All of the above are extensions of St. Agni, so they all work together quite harmoniously.
How do you balance work and home life?
Up until now I have been going into the office with my nine-month old son, Jean, in tow. He's a very chilled baby and happily naps while I work. Now that he's a bit older (he was born September 2021), we have a nanny at home with him two days a week. Matt and I juggle the other days between us. I try to be present when I'm at home with my boys (Jean, 9 months, Jude, 4), and if I need to get anything done, I will wait til they are in bed. On the weekend, we always try to do activities as a family.
What exciting plans have you got in store for the rest of 2022?
To be honest, trying to take it slow for the rest of the year. I want to focus on the precious early moments with Jean. That being said, we may have a little Resort pop-up on the cards…
Love local? Dive into the world of a Byron Bay swimwear label here.