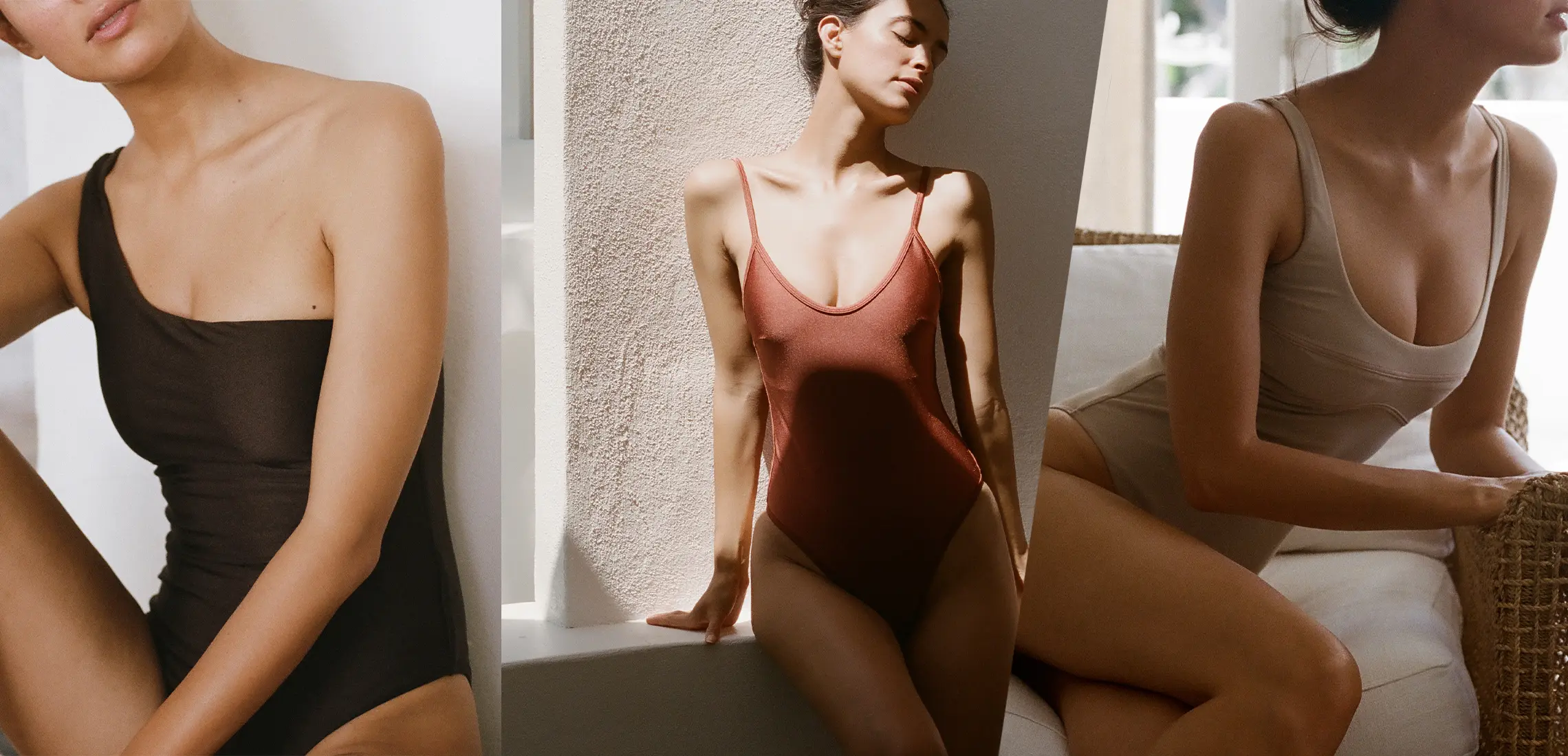 Dive Into The World Of This Timeless Aussie Sustainable Swimwear Brand
Swim stylishly
By Astrid Taemets | 20th April 2022

Though summer may be behind us for another year, those who crave the ocean are always hunting for exotic seaside places to visit.

And that's just the kind of ethos Australian-made sustainable swimwear label Innes Lauren is built around.

Feminine, sophisticated, understated, and alluring, each piece is an ode to timelessness, consciously created to flatter, with longevity in mind and designed to stand the test of time.

Founded by Innes Heywood, her eponymous label captures the art of detail in each silhouette, with every item designed to be worn with ease for the woman who takes an enduringly chic and considered approach to her style.

Released in small capsule collections and bi-annually, the latest collection is an insight into Innes' dedication to creating with purpose. The current range consists of seven styles available in five colours, each a part of the warm, earthy colour palette synonymous with the brand.

We took five minutes to talk with Innes about all the things that inspire her to produce these beautiful, classic, and quality pieces.
What was the spark that started Innes Lauren?
Innes Lauren was born from a passion for slow living. I wanted to create a brand synonymous to myself – an ode to my childhood as a little girl running around in a swimsuit in and out of the ocean. It's a story that ties timeless destinations, travel, patience, growth, and the ocean together.
How would you describe the brand's philosophy?
To embrace a slow pace, to discover, and travel. To feel all the sensory experiences, and to discover the pleasures of connecting. To reconsider the meaning of 'home'. To be sustainable and conscious, and, above all, to be present in your life.
What inspires your creativity?
Architecture, sunsets, and sensory experiences from places that feel like home.
What motivates you?
Taking in the heat of the morning, sitting in silence, and watching the world go by. A good playlist, a rich conversation, being barefoot on the sand, and a sunset surf.
Who is the Innes Lauren woman?
She is a wanderer, seeking out the beauty in life. She makes conscious choices, invests in quality over quantity, and lives with intention.
Your childhood story is a fascinating, whimsical one. Can you tell us what it was like to grow up living in a luxury hotel in Bali?
Innes means 'island dweller', and innately I am still this girl today. I spent so much of my childhood in a swimsuit and not much else. With hotelieres for parents, I'd spend my days roaming freely around Amankila Resort, taking in my surroundings. I'd spend my days collecting shells on the black sand beach, and have afternoon tea with the local Indonesian girls. The smell of tuberose and the sea remind me so much of that time.
Walk us through your career and what ultimately led to launching your own brand…
I have always loved connecting and creating special moments, as well as designing garments, but I wasn't sure if I would end up following my hospitality background as a child or pursue my love of design. After a few years of studying fashion design in Melbourne, and somewhere along my pursuit for purpose, I realised I could combine the two with Innes Lauren. My ethos for slow living, architectural integrity, and yearning for timeless destinations are encapsulated in what I do.
What does an average day look like for you?
I like to start my day sitting in silence before a surf. I also take pleasure in sitting in a cafe in the early morning, sipping on a coffee while listening to the soft chatter around me. I write a list everyday – this helps me visualise what needs to get done. In the afternoon, once the work day is done, an afternoon yoga session or another surf sets me up for the evening. I love a simple home cooked meal, or indulging in a pizza and negroni at my favourite restaurant.
How would you describe your own style, and would you say it's reflected in the design choices of your label?
My personal style is simple yet considered. Neutral tones with touches of texture. A cotton poplin dress or an oversized linen shirt with a swimsuit underneath, a vintage pair of jeans and a cotton singlet. I also live in sarongs with Indonesian-style batik prints for nostalgia. My personal style definitely weaves into Innes Lauren colours and design choices. Each collection is a reflection of myself and what I love to wear.
How has the brand evolved?
Just as I have evolved personally, the brand has followed with it. It was a swimwear brand without a story to begin with, but as I have grown and become more aware of myself, the story behind my brand really started to feel whole, like it all finally made sense.
What's your favourite piece you've designed?
I loved designing the Contrast One Piece. It was originally inspired by an old 70s piece of fabric that I loved. It was also the first time I explored contrast colour stitching which was really enjoyable.
What's next in store for you?
I am going back home to Bali this year to connect to my childhood and design my next collection. I'm also going to spend some time in Europe where I gain a lot of inspiration. For the first time in a while I am excited for the journey, to echo the importance of self.
For those who love to shop sustainably, check out our edit of 12 must-have pieces made of natural fibres here.