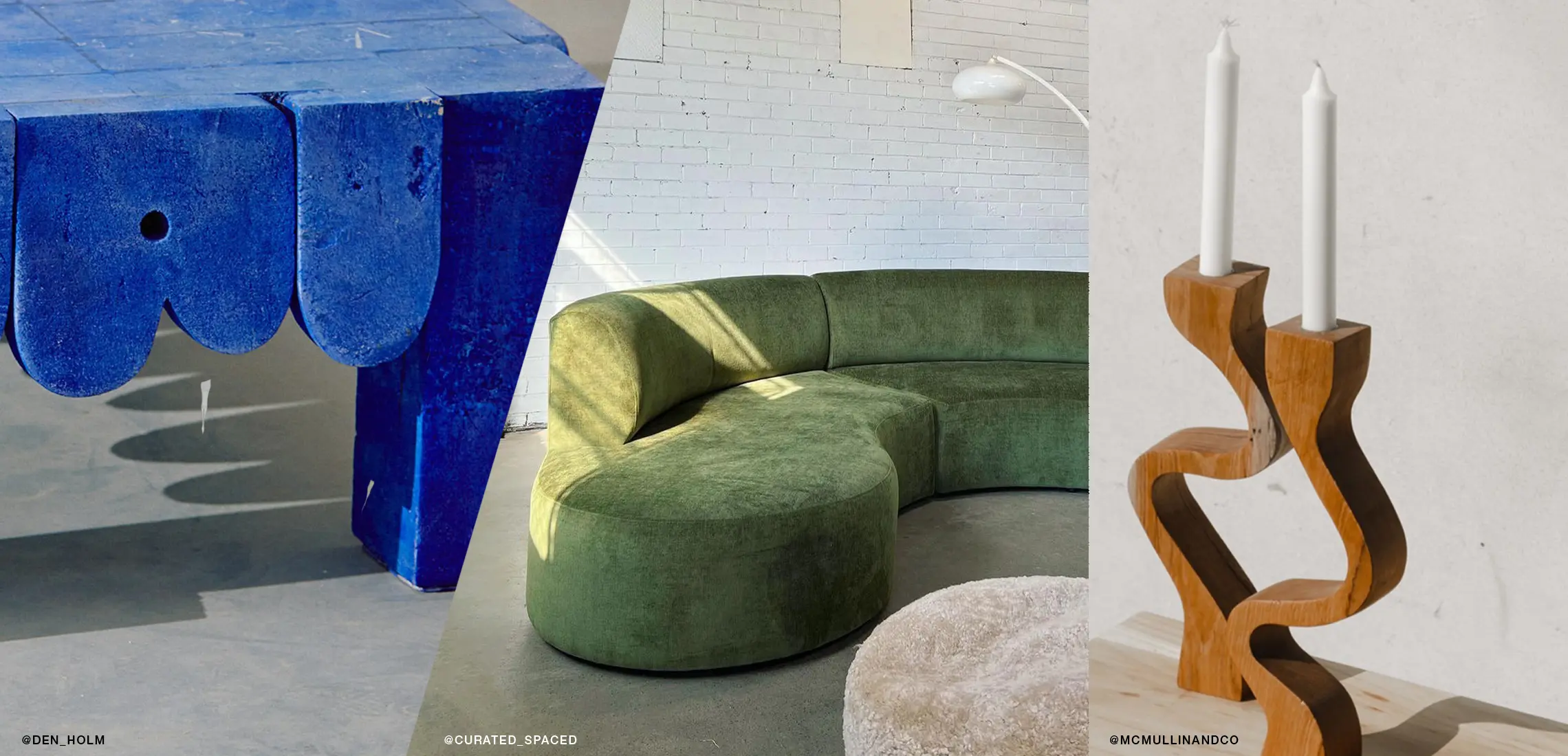 Elevate Your Interiors: A Masterclass In Sourcing Vintage And Bespoke Furniture
*dream home loading…*
By Alexandra Harris | 1st April 2022

When it comes to curating pieces for your abode, sourcing vintage or bespoke one-offs can instantly add dream home vibes to any space. As well as being more sustainable, there's something extra special about owning unique items with individual stories to tell.

Sourcing the right pieces to surround yourself with can be daunting, so whether you're looking for a little design inspo or an expert interior team to do the work for you, we've found our fave vintage and custom furniture Insta accounts to inspire you to transform your space into the Pinterest-worthy home you've always dreamed of.

Inspired by the natural shapes and aesthetic of the Mediterranean, Gesso House creates bespoke plaster objects, bringing European vibes to your everyday! Specialising in artistry and functionality, this expert design team creates beautiful consoles and custom tables guaranteed to suit any space. With over a decade in the building industry under their belt, the creation of your dream piece is in good hands. Expertly crafted from beginning to end, Gesso House brings forever objects to life using durable materials like plaster, cement resin, and timber.

We are lusting over Fourth St. Home's incredible edit of covetable antique and hand-crafted home objects. Renowned for their curation of pieces mixing fine materials with luxurious textures (think: curved iron candlesticks to impress at your next dinner party, or a brass egg paperweight to add that whimsical touch to your work-from-home space), Fourth St.'s enviable feed is filled with timeless treasures sure to transform any and all spaces. Sneak a peek here…

Having amassed a cult Insta following, Curated Spaces is the new vintage furniture find for every It Girl. This upcycled, vintage marketplace offers a vast range of antique and covetable furnishings from mid-century Cesca dining chairs to retro Chubb side tables in colours ranging from clay to lilac. Consider Curated Spaces the purveyors of statement vintage. PSA: new collections drop every Tuesday, so be sure to keep an eye on their IG for your next find!

If hours spent scrolling Instagram for that perfect vintage armchair isn't your idea of fun, why not let the expert design team at Good Space source it for you? With sustainability so close to our hearts, we couldn't think of anything better than giving vintage beauties a second home. Love the thrill of the hunt? Good Space offers a collection of pieces from mid-century circular dining tables to chequerboard rugs, and is run entirely through Instagram, so snapping up that armchair is as easy as sending a DM!

https://www.instagram.com/p/CROAD96J9EK/

Haven't you heard? It's time to move away from mass produced furniture. Founded by design duo Alice McMullin and Matt Ogilvie, McMullin & Co. evolved from a shared desire to curate timeless furnishings with a sustainable design ethos. We love their focus on small drops of considered pieces, encouraging us all to be that little bit more thoughtful when it comes to selecting our treasures for the home. Take your pick from handcrafted dark oak dining chairs to one-of-a-kind luxuriously curved floor lamps. It's the little things that can transform a house into a home – so be sure to check out McMullin & Co.'s epic collections.

Live out all your Emily in Paris dreams with Cleo Collects – a European-inspired collection and antique sourcing service, coveting the most exquisite furnishings for the home. Growing up in Paris sparked founder Bronte Taton's desire to share the unique stories told through vintage furniture. Sourcing globally from artisanal tapestry designers to Murano dealers and antique collectors, Cleo Collects brings French provenance to Australian shores. Favouriting both French and Greek design principles for an effortlessly trendy aesthetic, this is perfect for both the interior designers and designers-at-heart.

What began as a project to furnish their warehouse apartment in Collingwood ended as a successful online retail venture for CCSS Home founders Clare and Sonam, and vintage-lovers alike! This antique mecca procures modernist, mid-century, and retro pieces (their bouclé tube chair is a definite fave), but, if bouclé doesn't tickle your fancy, not to worry! CCSS Home has custom re-upholstering and colour services on a selection of their pre-loved pieces.
Yours Furniture
Get into the groove with a custom plaster piece from Yours Furniture. Each commission piece is uniquely crafted, hand-painted, and finished, so you can be certain no two will ever be the same. Specialising in gorgeously curved consoles and dreamy coffee tables, these perfect little plaster pieces can be added seamlessly to any space. Local pick up is available from the Sunshine Coast, or you need your piece shipped, send the team a quick email for a quote.
Elevate your interiors with a truly beautiful furnishing experience. En Gold's striking pieces are a masterclass in slow, considered interiors. Scrolling their feed, you'll soon discover their incredible Estrella Heritage Collection, filled with stunning, handcrafted fossil stone vessels, oval, dining tables, and consoles. Every piece in this collection has been commissioned through En Gold's partnership with Filipino artisans skilled in this ancient craft. Be sure to check out En Gold's Origins IG highlight for more information on the artisans who created this beautiful collection.
From the wares of Parisian flea markets to one-off bespoke pieces, Merci Maison are the ultimate purveyors of furniture, with a distinct flair for the beautiful and sustainable. Encouraging considered curation with natural materials and a minimalistic aesthetic, Merci Maison offers a less-is-more, timeless approach to their interior design services and collection of pre-loved furnishings. Check out their artist-in-residence program, which supports local creatives for a unique one-off piece to finish your space.
Born out of a love of vintage and sourcing unique, covetable objects for the home, LW Vintage Home developed as a creative venture after its founder returned home to Australia during the pandemic. Sourcing and re-homing beautiful pre-loved items on a budget is a passion that echoes throughout each piece. Our picks are the epic impressionist-inspired green marble dining table or the intricately detailed cane vanity for an understated yet artful addition to your home.
An ode to beautiful design principles, Inventory is a curation of furnishings as collectables and room-defining objects that double as art pieces. Rachel's design philosophy is echoed through every select item: take your pick from vintage furnishings such as striking Murano wall sconces, to gilded French mirrors plucked straight from the 50s. Whether your interior aesthetic yearns for marbled antiques or you're more inclined to sway towards contemporary waved-iron chairs, Inventory is a trove unlike any other.
A self-proclaimed departure from uniformity, we love denHolm's unique take on custom designed furniture. If you are looking to add quirky, modern pieces to your home, take a deep dive into their unique collection of handmade items. Intrigued? Check out the denHolm gazette for an epic (and entertaining!) deep dive into the processes behind these striking pieces from this cheeky brand.
Expect the unexpected with Hark Interior's distinct approach to procuring authentic pieces with thoughtful design principles. Offering interior design services to bring your dream home to life, Hark Interiors creates the perfect balance between functionality and beauty in the home. Guiding you every step of the way from the initial meeting, discussing your design dreams, and installing the final product, Hark Interiors will take care of everything from delivery to artwork, even spending the day styling the finished product, so you won't need to lift a finger!
If you're not already familiar with this global store, get set to be! Founded upon considered and sustainable design choices, Tigmi Trading curate and create unique rugs and objects for the modern home. With a dreamy Moroccan-inspired space in Byron Bay where you can shop your fave IG posts IRL, Tigmi will have you spending every dollar you earn on stunning home furnishings.
Located in our very own BNE, Oh Paddi is the home of funky tables. From marshmallow pink tones to consoles with scalloped edges, every piece designed is made with love, and custom-created to fit whatever space you need it to. Slide into their DM's and request your dream piece and they'll make it happen!
Love interior design? Discover our latest artist crush, Gabrielle Penfold, here.