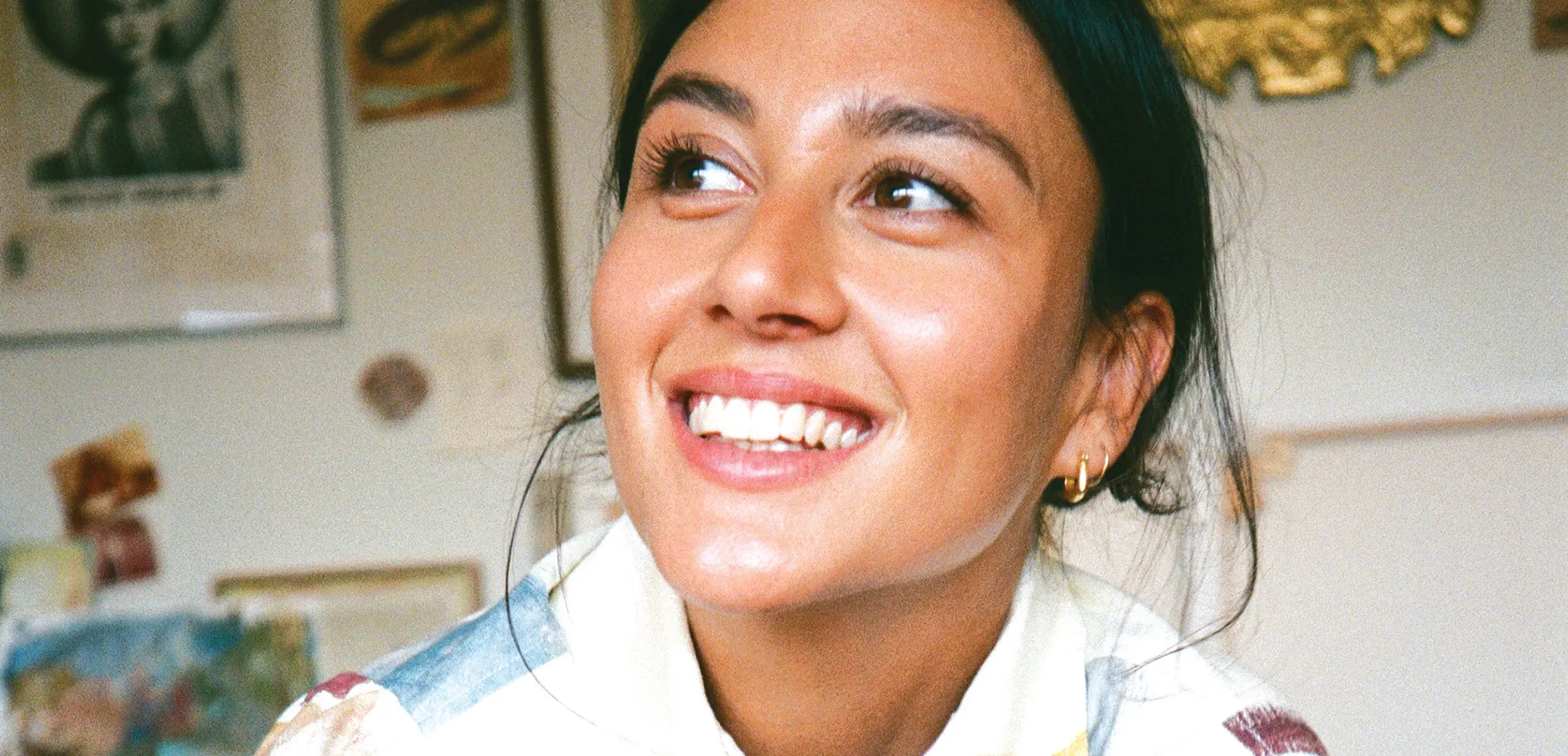 Life In Colour: Behind The Brush With Aussie Artist Gab Penfold
Passionate about paint
By Astrid Taemets | 2nd March 2022

When Sydney artist Gabrielle Penfold paints, it comes from a place of total immersion.

Be it the recollection of a recent meal, the memory of a place from her travels, or a conversation with a friend, Gab paints her life in colour. A wash of memories brought together by a mix of colours in rich, complementary tones of browns, blues and pinks, it is this hunger for life's most simple pleasures that defines her artworks – a bounce between sensuous landscapes and intimate table settings, and the desire to live a life fulfilled by experiences over riches. 

She is as warm as her brushstrokes, talking of her overseas adventures and family home in the same breath – both being equally integral to her artistic process. 

"I am really inspired by so many things, and the happiness they bring to my life translates in my work," says Gab. "There are so many pleasures in life to paint – I never struggle for inspiration. In fact, I often feel overwhelmed, like I can't keep up with the ideas churning over in my head."

Happiness is the driving force behind Gab's work, her need to play and experiment with shades and texture are at the core of her subject matter. 

"I am so attracted to the feeling of joy, and that's what colour does to me. It makes me feel emotional, I am always so happy when I am in the studio playing with different paint tones. Often, I will choose the colours I want to use in a painting before settling on the matter. My strength is mixing colours. In fact, I'm not that good at accurately drawing, so I create using different colours, blurring the lines and blending them into each other in a hazy, dream-like way," she says.

Last year, Gab displayed her most recent collection, Oyster Oyster – a series of works portraying the natural beauty and culinary delights of the Australian east coastline –  was exhibited in Noosa's Clo Studios. The 59-piece sold-out show catapulted Gab into the art scene as one-to-watch, and, like most promising young artists after a successful exhibit, she's found herself in hot demand. 

These days, you'll spot her paintings proudly hung in exquisite bars and restaurants around Sydney, featured on packaging for beauty brands such as Emma Lewisham, and printed on scarves as a limited edition production with Oroton. With all that in the works, plus preparation for a big exhibition in late 2022, and more, it's safe to say this once-upon-a-time hobby painter is destined for great things. 

And, if like me, you're hoping to one day own a commissioned Penfold piece, expect to be waiting a while…

Ready to spruce up your home with artworks that speak to you? Find out how to respectfully style Indigenous artwork here.