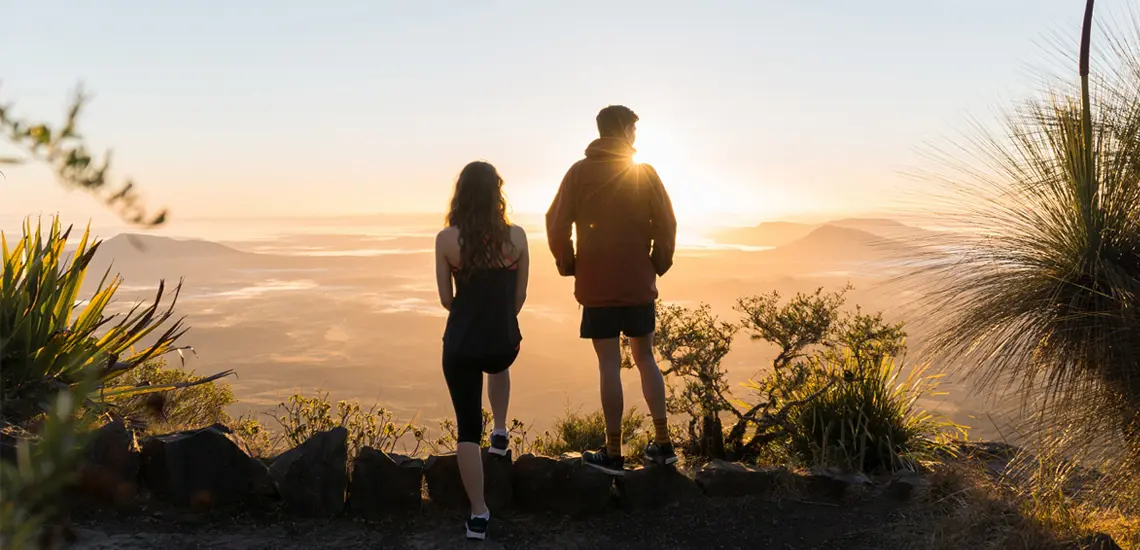 No Cash To Splash? Here's 10 Ways To Do Date Night In Brisbane On A Budget
Love don't cost a thing, baby.
By Guest Styler | 21st January 2019

There's a high likelihood that at some stage during your relationship, you've had a conversation with your significant other that goes a little something like this:

You: "We should have a date night"

Partner: "Good idea! Where should we go?"

You: "I dunno?"

Partner: "Me either"

You: "Wait, we don't have any money"

Partner: "Oh, that's right"

Never fear, because we're here to save date night with these fun thrifty date ideas to help spark the romance again. Just call us the finance fairies, and thank us later.
The $10 Date Challenge
Allow yourselves $10 each and let loose in aisle four of your local supermarket. Challenge each other to get the most bang for your buck and, like trick-or-treaters after a big night of door knocking, compare your goodie bags afterwards. Whoever snags the most snacks for less, is the winner and winners get foot massages.
Game Night
Do you consider yourself a little competitive? Then this old-school date night is right up your alley. One word: Jenga. Is there anything more heart-stopping than narrowing in on a block and, little-by-little, gently edging it out of the stack? We held our breath just writing this.
Movie Ticket Deals
There's no need to break the bank to watch the latest blockbuster movie. Brisbane is peppered with boutique cinemas for a fraction of the price. Think Bulimba or Hawthorne Cineplex, Dendy Cinemas or The Elizabeth Picture Theatre. You could also turn the evening into a road trip to the Yatala Drive-In Cinema for a night under the stars.
The Sweet Spot
Bake a dessert, of course. What did you think we meant? Even for the couples with less culinary prowess than a poodle, baking a dessert that you get to devour afterwards sweetens the deal. Dessert for dinner, anyone?
Take A Hike
Lace up the runners and get those feel-good endorphins pumping people. There is something to be said for taking a moment to go off the grid and breathing in some fresh air with your significant other.
Bowling
Okay, admittedly we nearly dropped this idea like a hot pie thinking about the shoes, BUT bowling is a cheap date night idea that never goes out of style.
Become A Local Tourist
When thinking of public transport, visions of bustling buses and crowds come to mind but, we're here to tell you that Brisbane has some of the comfiest public transport in the country. Take a romantic cruise upstream on the CityCat and take in the River City sites, for the cost of a coffee.
Hidden Treasures
Rekindle your romance and reminisce on your childhood memories for a date night at your local antique store. There's bound to be at least a few trinkets that remind you of that time at G'ma's house. You could also pick up a thrifty, hidden treasure for a pretty penny.
Mansion Gazing
A leisurely date night drive through affluent neighbourhoods with ridiculously big mansions and daydreaming, sounds a little stalker-ish but it's a fun way to pick out your favourite house and plan for the future (because you'll live there one day – duh). You and your partner may get a few funny looks as you slowly cruise past with starry eyes though.
Liked this? You'll love these!
9 Secret Swimming Holes To Escape Brisbane's Heat 7 Out-Of-The-Box Dates Ideas You Need To Try With Your S.O This Month Everything You Need To Know About The Pop-Up Cinema That Has Landed In The CBD
? VIA @scottypass