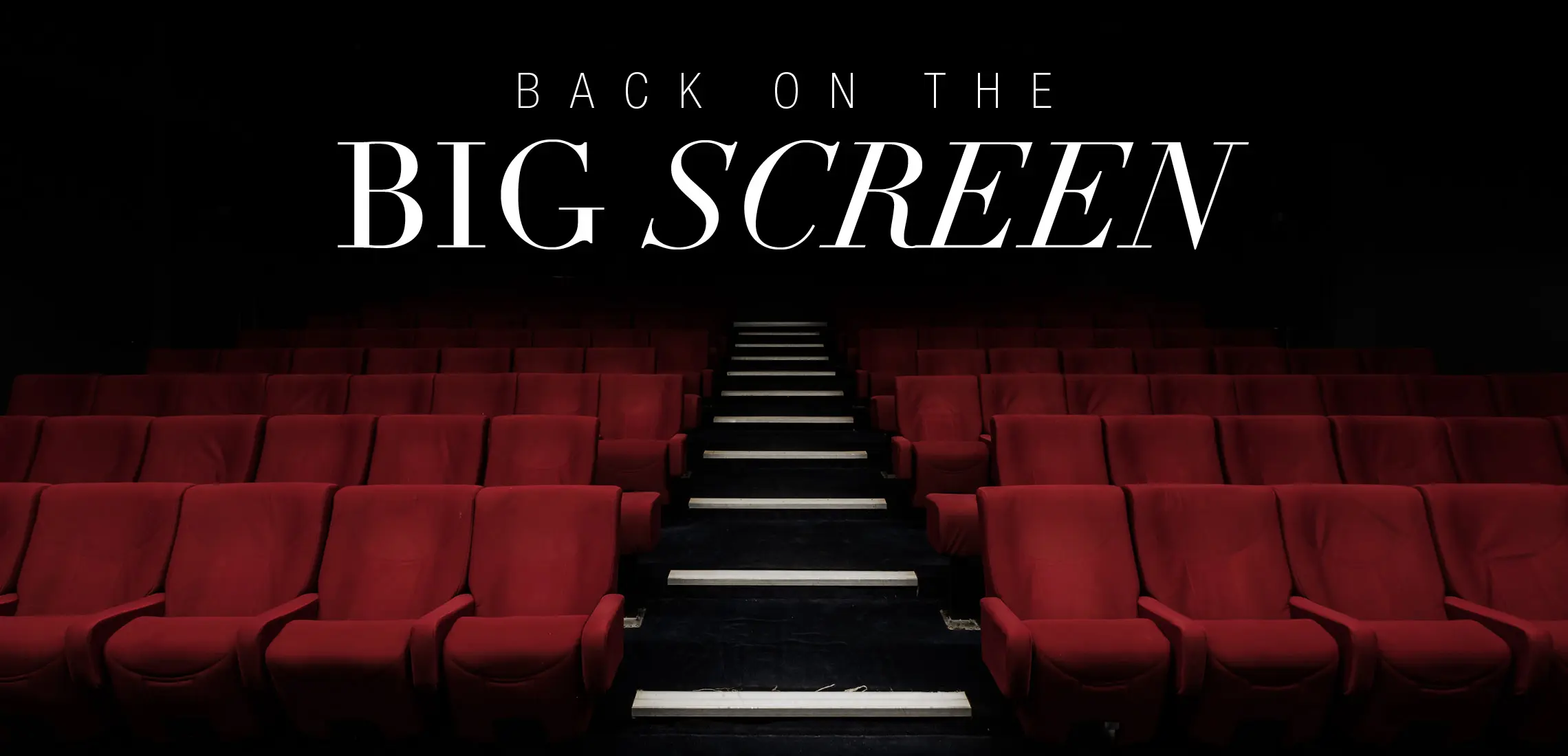 Get Back To The Big Screen! Here's What Movies Are Coming This Month
Drum roll please
By Guest Styler | 25th June 2020

NOTE: Check with government regulations and guidelines regularly to ensure a trip to the cinemas abides by the COVID-19 rules.

If we keep keepin' on Brisbane, we'll be front and centre of the big screen before we know it!

With so many blockbusters postponed and others delayed, screens have been turned off leaving movie buffs and screening amateurs alike in the lurch. However, we're finally ready to hit play as the film industry is feeling the excitement and warming up with announcements and release dates revealed for July and August flicks!

With that (drum roll please), here's what flicks will be coming to a screen near you this July!
LOVE SARAH | 2 JULY
A good one for the girls, Sarah wants to fulfil her mother's dream of opening a bakery in Notting Hill and when the opportunity arises, she ropes in help from an old friend and her grandmother to get the job done. But, of course, it's not always smooth sailing and a love interest becomes apparent. A feel-good flick for sure!
WAVES | 9 JULY
With an ensemble cast of both award-winning actors and breakout stars, Waves follows the story of an African American family living in the suburbs of South Florida who are battling the challenges of losing a loved one. The story explores the role of the well-intentioned but domineering father through the themes of love, forgiveness, compassion and growth.
NEVER TOO LATE | 12 JULY
Aptly titled, this flick shows it's never too late to give anything a crack. Four grumpy and old Vietnam vet friends are ready to re-enact The Great Escape from a nursing home when it comes to a 50-year courtship. Although they may not be as agile, speedy or sharp as they used to be, the boys show it's never too late for a crazy adventure. Throw in a love interest and estranged son and you have yourself a feel-good movie for the fam. Starring James Cromwell, Jacki Weaver and our own Shane Jacobson, the line-up speaks for itself!
THE KING OF STATEN ISLAND | 16 JULY
Although you would expect a complete comedy with Pete Davidson as the front man, The King of Staten Island follows the adult turmoil his character, Scott, is forced to face. His firefighter father died when he was just seven and now Scott is in his mid-twenties with no direction other than the aspiration of becoming a tattoo artist. In comparison, his younger sister has her life sorted and is off to college while he remains stagnant at home with his busy-working mother, dabbling with the law and spending his days hanging out. Now, Scott's mum is dating a bold firefighter, Ray, which sets off a chain reaction of events for Scott who now has to deal with built up grief, emotional baggage and a whole heap of adulting. Will he take the plunge and follow in his dad's footsteps or finally become a tattoo artist?
WHERE'D YOU GO, BERNADETTE | 16 JULY
Cate Blanchett is back on screen alongside Billy Crudup and Kristen Wiig for this inspiring comedy. Based on the New York Times best-selling book by Maria Semple, the storyline reflects the life of a loving mum who becomes reconnected with her creative passion from days past. After years of compromising and sacrificing this desire, she kicks-off on an epic adventure finding hope and faith along the way. Plus, some neighbourhood rivalry and a trip to Antarctica!
THE BROKEN HEART GALLERY | 16 JULY
We've all been there – the broken hearts club –  but have you been to The Broken Hearts Gallery? Lucy is a 20-something gallery assistant in the Big Apple who's an emotional hoarder, saving a souvenir from each relationships past, but her latest break up was the last straw. Lucy decides enough is enough and creates a pop-up gallery with her broken heart souvenirs on display and when word gets out, she finds she has quite the following which kickstarts a city-wide movement.
UNHINGED | 16 JULY
Russell Crowe graces our screens once again but this time, you may not be a fan of his character. This psychological thriller follows the teetering balance of social pressures and what happens when someone finally breaks. We've all endured road rage, but this is taken to a whole other level as Rachel becomes the target of a stranger (Crowe) following a traffic mishap. Rachel and the 'stranger' become entangled in a game of cat and mouse as she is faced with multiple deadly and dangerous situations she's forced to escape and navigate. Will she eventually find sanctuary?
BABYTEETH | 23 JULY
Ready for an emotional roller coaster? Teenager, Milla falls in love with a small time, naughty boy drug dealer which, like many, is her parents' worst nightmare. Milla's not the average teen though – she's seriously ill and after her first brush with love reinvigorates her life, everything else gets messy. Although things aren't looking good for Milla and her family, she faces life head on with an enviable attitude, teaching those around her a thing or two.
MULAN | 23 JULY
You may know the story line, but this remake of Mulan brings about a whole new feeling of positive feminism. While China prepares their Imperial Army to defend the country, the Emperor enforces the decree that one man per family must serve. Hua Mulan is the eldest daughter who decides to step up to the task to replace her ailing father. Masquerading as a man, Hua is faced with challenge after challenge which eventually transforms her into the ultimate warrior.