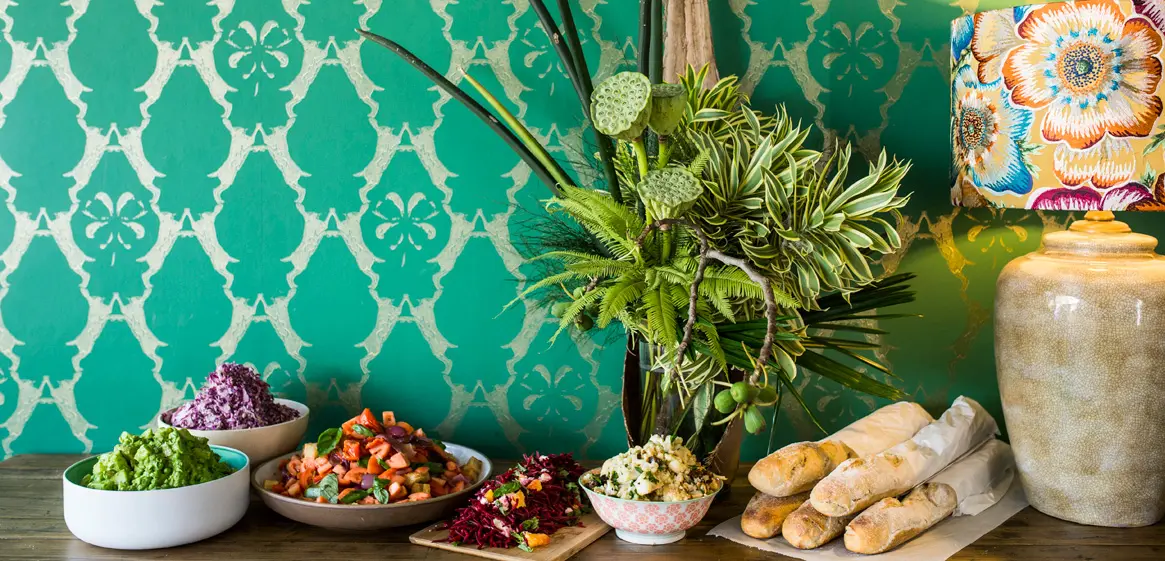 Quickie Lunch Guide
Running late on your lunch break? We've put together a helpful guide to the best takeout options for a quickie lunch in Brisbane.
By Guest Styler | 3rd March 2015

By Amber Lowther and Lucy Stephens

Unless you're the sort of super-organised person who cooks all your lunches for the week ahead on a Sunday night, planning lunches for the week ahead can be a challenge. Tasty, quick feeds that don't cost an arm and a leg are hard to come by if you're not taking the fast food route (and generally speaking, they're not actually that tasty).

So for the rest of us mere mortals, here's where to go for a convenient, quickie lunch that's fresh, tasty and pretty cheap – delivery and takeaway (and a couple of dine in options).
Ooh Mami
Inspired by their mother's tasty, comfort-food style cooking, the Ooh Mami brothers have managed to devise a menu of ready-to-go feasts that are hearty but also healthy. If there's a dish that requires some preparing, simply give Ooh Mami a call prior to arrival, and you can have your hands on some delicious and healthy meals such as grilled prawns, vegetable skewers, a wagyu steak toasted sandwich or a baby beetroot salad ready when you get there.  With many meals to choose from, this could be your lunch-break saving grace!
210 Oxford St, Bulimba
Botanica
If you're in a hurry but don't want to break your clean eating, Botanica is on your side. Here it's healthy (if you keep your eyes off the freshly baked sweets) and takeaway only. Salads are freshly prepared daily, and they make enough to last the day so you don't have to wait around while they make it. Their salads include a mixture of ingredients such as raw broccoli, dehydrated cranberries, cashew cream, brown rice, kale and many more.
9/1 Enoggera Tce, Red Hill
Lennon's Restaurant
Express isn't just for takeaway options. If you'd like your quickie lunch with a side of air con and plush surrounds, Lennons Restaurant and Bar has launched their 60 minute 'Timed Lunch' where they guarantee a sumptuous three-course feed in less than 6o minutes from the time you order. You'll receive a set entree, a choice of three mains, and a set dessert. But the best bit is it'll only set you back 35 bucks (we guarantee it's delicious too!)
Lvl 2, 72 Queen St, City
Kookaburra Café
Paddington's much-loved Kookaburra Café has been a staple of locals for many years. They offer an impressive menu full of entrees, main and desserts, with popular items including pizzas and pastas. Kookaburra Café also delivers to your home (yes – that's at lunch time) so you don't have to wait for the working week to get that delicious creamy tortellini.
280 Given Tce, Paddington
Jak + Hill
Quick takeaway options are offered at Jak + Hill such as salads, muesli with maple spiked yoghurt, baguettes and fruit salads. Offers change daily and they're all under $10. Not to mention your meal comes in a cute takeaway box too! Based in Spring Hill, it's only a short stroll from the CBD.
40 Astor Tce, Spring Hill
Mr. Wongs Chinese Restaurant
Located on the busy Kedron Brook Road in Wilston, Mr. Wongs offers a variety of Chinese cuisine for your convenience. Split the bill with your colleagues and order a jumbo or party pack. Offering delivery and pickup options, there's a large variety of dishes to choose from so you won't be disappointed! Also, every 10th order is free so it's a win-win.
74 Kedron Brook Rd, Wilston
Yumm Box
Vegetarians – say goodbye to your traditional lunches because after you get food from Yumm Box, you will never look back. With tasty vegetarian, gluten free organic lunched delivered to your door in the CBD and surrounding areas, Yumm Box is a revolutionary way to eat lunch, and may even just convince a few carnivores to jump on the vegetarian bandwagon. Just order online the day before, your lunch will arrive fresh and on your desk before you can even say 'yum'.
P 0412 243 244
Pasta Pantry
Pasta Pantry is the perfect place to make your quick dash for lunch, just outside of the hustle and bustle of the CBD. Wether you are popping in for a coffee a cake or want a big, satisfying meal, this place has it all. Literally. With fresh salads, dips, gourmet sandwiches, soups and more, what else could you ask for?
5/155 Baroona Rd, Rosalie P 3162 2573
The Lunch Box Kiosk
Have no food in your house? Forget to pack your lunch? The guys at Lunch Box Kiosk is an initiative of food business incubator Wandering Cooks to dish up freshly and locally made food from Brisbane's best up and coming foodie ventures. All food is under $10 (cash only), and it's only available Thursdays from 11am to 2pm. Check what's being served on the blackboard, or follow them on Twitter for updates.
Corner of Fish Lane and Cordelia St, South Brisbane P 3844 6000
FantAsia
Serving up a modern spin on Asian food (and the stuff you'd normally associate with the food court), FantAsia have a focus on using healthy, seasonal ingredients to produce tasty meals – freshly prepared every day. With locations in MacArthur Square, Wintergarden, Myer Centre, Hyperdome, Toowong, and Westfield Garden City, Westfield Chermside, Westfield Northlakes, you'll be sure to find a tasty, quick feed close by.
P 3221 8881
Rush Bar
With a brand new menu, Rush Bar lets you customise your meal, your way, whether it's a starter, pasta, salad, or dessert. Brisbane diners can even match an entrée with a main for as little as $26. Rush lets you mix'n'match your meal, from starters to sauces, desserts to drinks, and they'll match it for you in a rush, Monday to Friday.
300 Queen St, Brisbane P 3211 9511