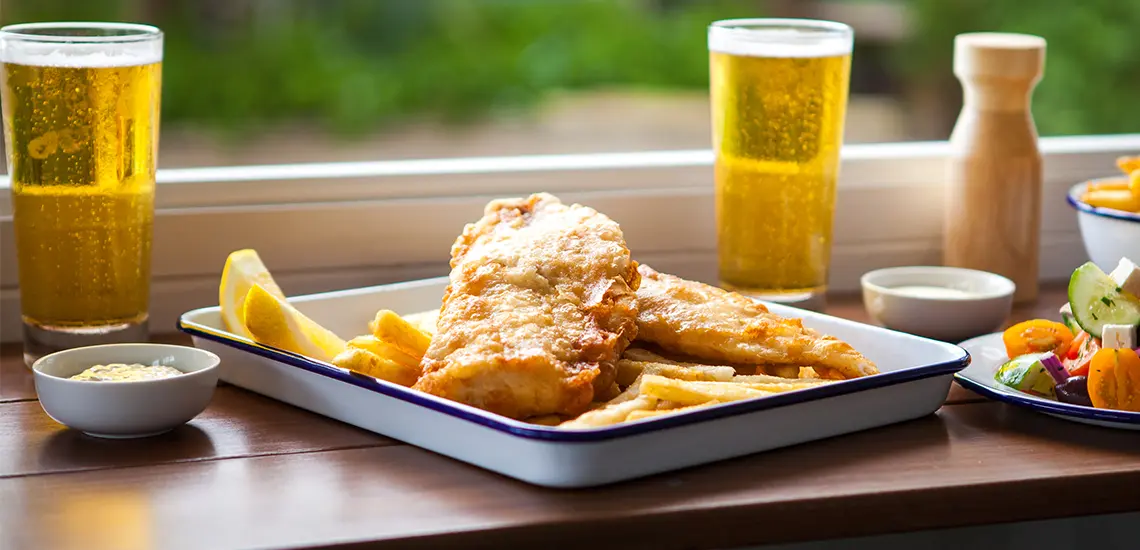 Droooool. Where To Find Brisbane's Best Fish And Chip Restaurants!
For your next Saturday night takeaway.
By Isabella Stephan | 26th July 2019

Guys, we need to talk about the fish & chip resurgence that is taking over the streets of Brisbane. Fish & chips are an Aussie institution in their own right and while we've always maintained the credo "the danker the store the better the chip", we're seriously loving the gourmet joints that are popping up around town.

Slightly more refined and noticeably less greasy than your cornerstore local, these boutique fish & chipperies are bringing a new level of class and gloss to our fave takeaway meal. If you're craving a crisp chippie or a flaky fish that goes above and beyond, we've rounded up our pick of the Brisbane venues that are levelling up our favourite post-beach eats with their own bougie twist. Read on!
Ol' School | South Brisbane
Ol' School is one of the newer additions to Brisbane's F&C scene having only opened their doors in January this year. From the same team behind the kitschy-cute Hello Please, Ol' School boasts a super charming décor that makes us never want to leave. This is perfect because their dine-in menu is well worth sitting down and enjoying. Think crisp potato scallops, tangy fish tacos, creamy chip butties and the best damn flake you've ever had. Their chips are definitely contenders for Brisbane's best – skin on, fried three times for good measure – knocking even KFC chips off their pedestal. They also have a full drinks menu, meaning you can get delightfully sloshed if you so desire. And let's be honest, isn't that always what we desire?
Okay, we know these guys aren't technically in Brisbane but this Hampton's style chippery is well-worth the drive north. Heck, it's the ultimate post-surf feed! Occupying a truly stunning slice of real estate on the Mooloolaba river, this gem is a casual seafood restaurant that offers everything you could want, from cheap cornerstore-style eats (helloooo, chip butty!) to bistro-style dishes like South Australian black mussel risotto with tomato sugo, chilli, garlic and lemon. Droooool. Combining seriously good seafood and chippies with a stunning vantage point of the Mooloolaba River, this is how the Kardashians would do fish & chips if they decided they were sick of those vitamin gummies.
Word around the north side of town is that this waterfront chippery is one of Brisbane's very best. Some (e.g the chef's mother) claim that they prepare the best calamari in Australia – crispy, fresh, and just the right amount of tenderness – and honestly, we have to agree that they are definitely something special. They also offer a 'salad of the day', and we have on good authority that these aren't like regular salads – these are cool salads. Think roasted vegetables, sweet corn and halloumi, all topped off with a fresh house-made dressing. And, if you have any friends with particular dietary requirements, let them know that Sandgate Fishmonger has plenty of gluten-free options! Because after all, good fish & chips should be for everyone.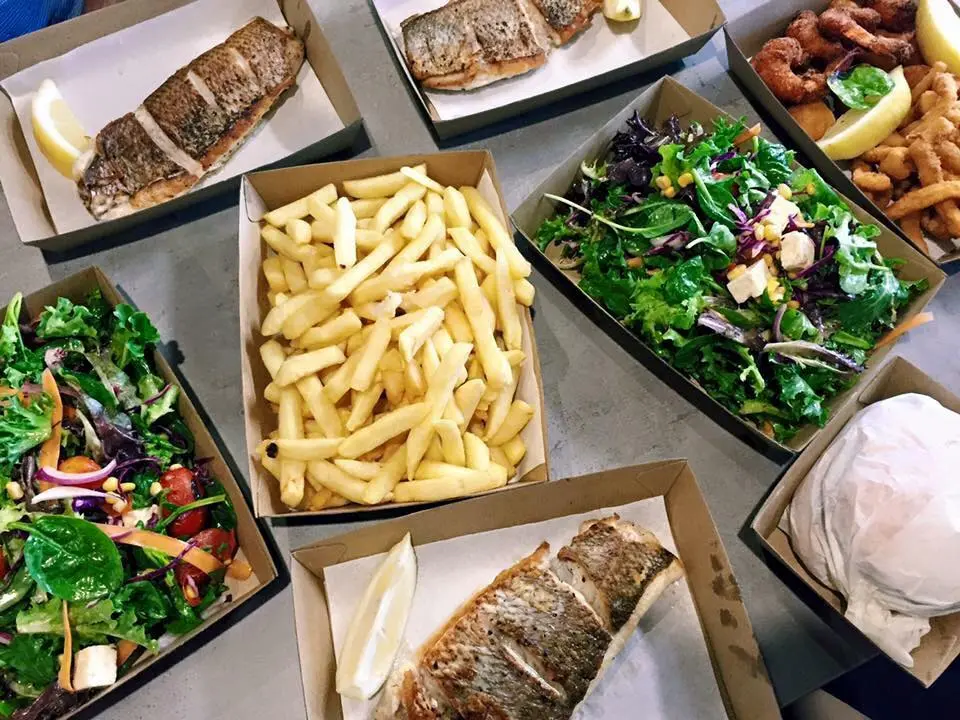 Reimagine the classic fish and chips at Kangaroo Point's newest lunch and dinner spot. Tuck in to all of your seafood favourites that you know and love, plus Amalfi-inspired seafood risotto or their signature Quarter Flounder burger, plus enjoy pumping 80s tunes, cold drinks, and the perfect laid-back atmosphere to help you ease into your afternoon.
Sutton's Beach Pavillion | Redcliffe
This local-gem is one of the few Brisbane venues (well, almost Brisbane) that can actually boast seaside views. A local favourite for a while now, they've recently placed two-hatted chef Michael Harris at the helm of their kitchen! Having worked in prestigious establishments across England and alongside the likes of Jamie Oliver and Heston Blumenthal (heard of them?), he made his way to our sunny shores a few years ago and hasn't looked back. Michael brings his quintessentially-British background to the table, as well as some Australian influence, for a fish & chip experience that we'll return for again and again.
West End is home to a lot of stellar Brisbane joints and this fish and chippery is definitely one of them. With a gnarly 30+ years of F&C experience, these guys have turned the art of the chip into a science. With free-flowing craft beer, ice-cold ciders and a wine list that could tempt Bacchus himself, they've really nailed the whole she-bang. And of course, it goes without saying that their range of seafood and nibbles is pretty damn spectacular.
With the Boatshed being located on one of the busiest streets in Brisbane – Coronation Drive, no wonder it's always filled with people and loved to death. Though that might seem too noisy and hectic for some, the Boatshed assures guests that the restaurant is soundproofed from the traffic outside. Positioned in the Regatta Hotel it provides guests with scenic river views where customers can watch from a comfy and warm restaurant. The Boatshed is perfect for those who love feeling relaxed and welcomed as the infrastructure and furniture consists of wood and has an earthy atmosphere.
If you want to find a casual place to eat fish and chips in the park after Saturday sport with the family, the Seafood Markets are perfect for this! With the takeaway menu and Uber eats option this is a quick and easy option that caters to all Brisbane locals who want freshly cooked fish and chips on the go.
Jellyfish | Eagle Street Brisbane
If you're looking for a new place to drink and dine with an Instagram worthy background Jellyfish is a must. With the Story Bridge located directly behind the restaurant this gives all customers a perfect view – and photo! With the sophisticated dining, Jellyfish is perfect for a special occasion or a Saturday night. With long lists of the wine and fish menus, Jellyfish is a restaurant you could spend hours drinking, eating fish and chips and catching up with friends!
Suttons Beach Pavilion | Redcliffe
Suttons Beach Pavilion is located right next to Redcliffe's beach where customers get the perfect view of the sea while eating fresh fish and chips. Who wouldn't want to sit and dine while overlooking the ocean? With the view of sailboats and locals swimming this restaurant will make you want to spend more time in Redcliffe. The menu consists of fresh seafood, meats and vegetables and is all sourced very close to Redcliffe.
If you guys are wanting to branch out of Brisbane for the day, I must suggest the new Burleigh Pavilion, which is situated on the beach at the Gold Coast. This restaurant has found much success since only opening late last year as it provides a large menu and is very spacious inside. The options range from burgers, pizzas and of course seafood so you can eat the regular tasty fish and chips while watching the beachgoers in a new and comfortable setting!
Liked this? You'll love these! 1. Brisbane's Favourite Donut Spot Has Created A Line Of Boozy Cocktails 2. These Brisbane Cafes Are Giving Us Serious New York Vibes 3. We've Rounded Up Brisbane's Best Sustainable Restaurants & Bars