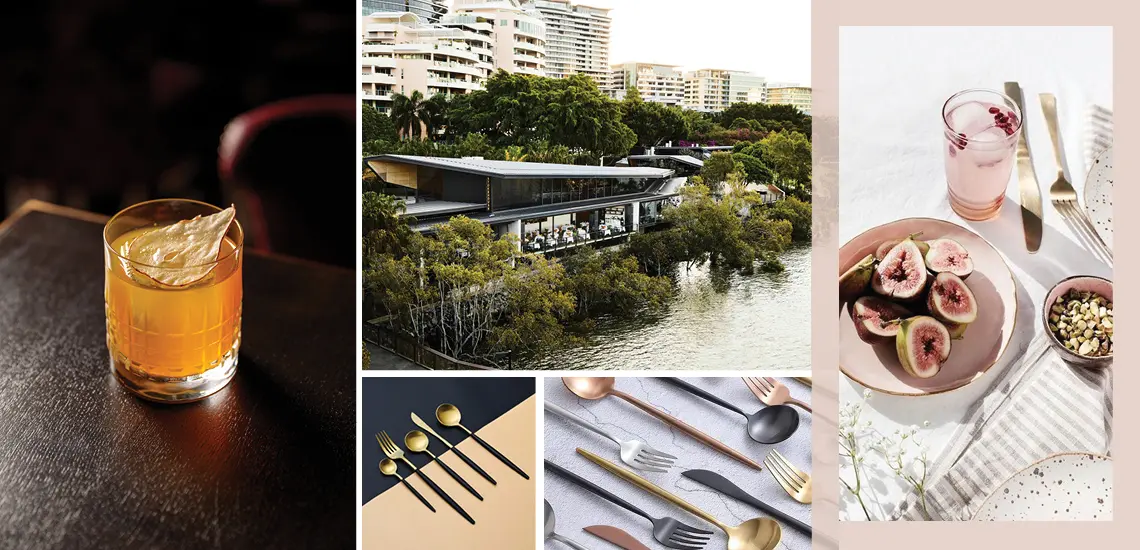 We've Rounded Up Brisbane's Best Sustainable Restaurants and Bars
Eating green doesn't mean just eating greens!
By Dinushka Gunasekara | 25th July 2019

Feeling good about what you eat doesn't just mean ordering a salad instead of fries. To ensure we can keep feasting away for a long time to come, we need to eat sustainably, ethically and consciously, which is a lot to consider when you're feeling peckish, but don't worry! All the hard work is done for you at six of Brisbane's best sustainable restaurants and bars, so all you need to stress about is what gastronomic delight you're going to tantalise your tastebuds with!

Cocktails already make you feel oh-so-good, but do you know what would make you feel even better? Cocktails that Mother Earth would raise a glass to, and thanks to the beverage geniuses at The Boom Boom Room, you can enjoy just that!

Brisbane's best underground cocktail lounge is now serving up an expertly curated beverage menu for winter that is not only delightful for your tastebuds, but for the environment too. The bespoke cocktails are inspired by the eras of blues, soul and jazz, capturing the magic of the music in a single glass. Boogie to the decadent and sweet 'Twist & Shout' with berry and rose kombucha or if a ballad is your karaoke go-to, enjoy the refreshing and crisp 'Unforgettable' with Kaffir leaf Fino Sherry. At The Boom Boom Room, the use of seasonal Australian ingredients and bamboo straws are non-negotiable, and they also ensure everything is either reused or recycled – they even turn unused flat champagne to syrup for use in other drinks!
Stokehouse Q – South Brisbane
There's nothing quite like biting into delicious, juicy beef, but if you're suffering from the horrible affliction of being environmentally conscious, it can be really difficult to look past the harmful effects of the meat industry to enjoy a good burger. If you're sick of pretending you actually like being vegan to save the planet, it's time to rejoice! The North Australian Pastoral Company is launching Australia's first cut of carbon neutral beef, 'Five Founders', at the elegantly relaxed Stokehouse Q. And, trust us – you're going to want to get your serrated knife and fork into the most stylish beef in Brisbane ASAP. The carbon conscious cut is the perfect feed for thoughtful consumers who want a premium meal that is just as good for their bellies as it is for the environment. Plus, it will pair excellently with the unsurpassed river and city views at Brisbane's most photogenic venue!
James Squire is known for many things: a first fleet convict, founding Australia's first commercial brewery and… sustainable practices? The Charming Squire seems to think so, as the delightful bar and restaurant is now also committed to supporting local farmers who operate sustainable farms throughout Queensland and Northern New South Wales. The seasonal menus are crafted around a plethora of local produce and their Executive Chef visits local Brisbane markets every week to source fresh fruit and veggies. The herbs used in their dishes are grown at their own farm in Pullenvale, while all their meat is ethically sourced. The Charming Squire's paddock to plate ethos has been integral since their establishment and has contributed to a heap of darn, delicious food!
Plenty of ambience, plenty of food and plenty of choice is what creates Plenty café in West End. This rustic go-to is all about connecting city diners with regional farmers and since they only use local produce, their menu is entirely dependant on whatever's available in the season. Each morning, the drool-worthy meals on offer are chalked up on their blackboard but if you have a chronic habit of researching the menu before you even step in the restaurant don't fret; you can expect a range of culinary joys like ham and Gruyere on warm Turkish bread, French toast with raspberry rhubarb labneh or potato and kimchi waffles with Korean fried chicken! Plenty also houses their own rooftop apiary where they source their honey, a pantry for pickling and preserving, plus a butcher's bench and smokehouse for their delectable meats. Needless to say, there's plenty going on!
If honest and real food is what you're looking for, then get comfortable because we have found your haven. Founded by a group of mates who are passionate about nourishing the community with authentic, ethical and quality food, Three Blue Ducks serves up scrumptious food with no frills. The Ducks only use organic or spray free produce that has been sustainably farmed to create their menu of delicious eats. Sourcing everything locally, they work with what's available and aim to minimise waste while creating unique dishes banging with flavour. For breakfast indulge on spanner crab scramble with papaya, bean shoot salad and house-made sriracha on sourdough toast. For lunch, peck on fermented chilli glazed chicken with sunchokes, oyster mushrooms, barley and chermoula. And for dinner how does Moreton Bay bugs with charred cavolo nero and XO butter sound? Absolutely splendid, we think!
You can enjoy international cuisines while still supporting your local at Chop Chop Chang's! Their pan-Asian menu comes straight from temple stalls and hawker markets throughout Asia with their extensive range of honest street food. We're talking green curry chicken dumplings, poke bowls, Peking pancakes and Szechuan eggplant just to name a few. And while the flavours will send you flying across the planet, Chop Chop Chang's is all about fresh, local produce so you can take it easy knowing everything you're eating is all home-grown (and tastes so very good, too).
Liked this? You'll love these! 1. Freshen Up At Brisbane's Best Farmers' Markets! 2. Brisbane's Best Cooking Classes To Go From Kitchen Disaster To Culinary Master 3. Ditch The Brain Fog & Keep Your Gut Healthy With These Foods