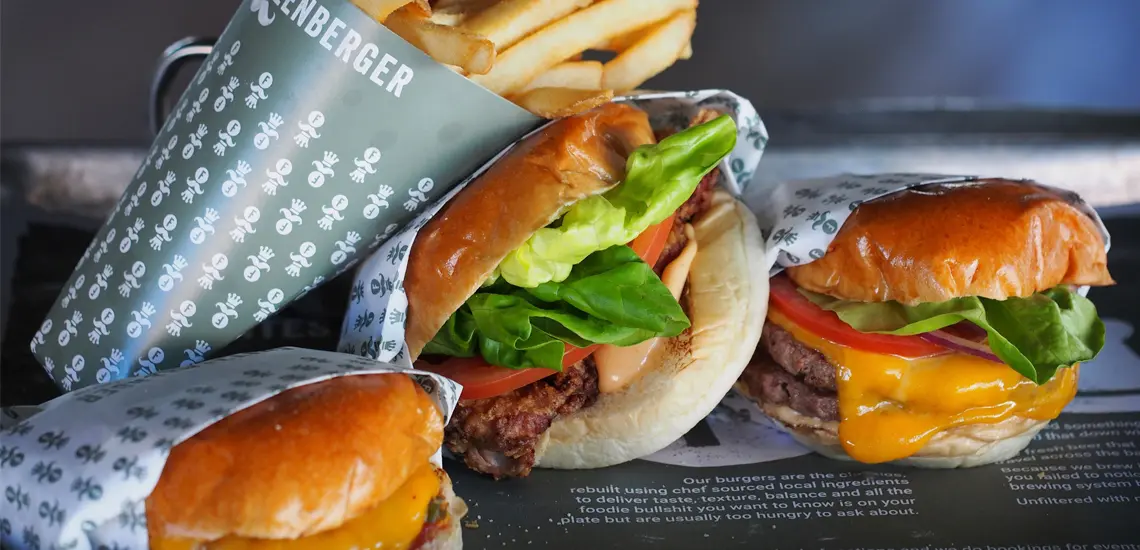 Brisbane's Best Burgers That'll Get You Drooling
Look no further, we have found your new fave burger joint.
By Elly Beard | 19th December 2017

There's nothing better than a good, old-fashioned burger. It is widely thought that the first burger was invented in 1880. A century and a half later, here we are with burgers in our hands, discussing the never-ending chicken vs beef dilemma. Burgers are always evolving and come in many shapes and sizes (we know, we've tasted most of them). We think we've found Brisbane's best burgers, sure to turn into your regular go-to spot. Ready, set, bite!
DA'Burger | New Farm
Burgers are best when they're built on a simple (and DA'licious) foundation. At DA'Burger, they create their famously big old-fashioned Aussie style burgers around three key elements: the bakery bread, the local meat and the market-fresh salad. Think of yourself as a burger connoisseur? The Bus Stop Burger is one menu item that shouldn't be overlooked. The expertly flame-grilled Black Angus beef patty is loaded with smoked streaky bacon, pickled gherkins, lettuce, tomato, red onion, and DA'Burger's signature relish mayo. We're not surprised that the Bus Stop is one of their best sellers. If you get the chance to chat to founder and owner, James, make sure you ask him about the interesting story behind the name! Prefer some finger-lickin' chicken? The Nelson Nasty is the hot, sticky and spicy burger you've been searching for! The burger is packed with fillings such as spice-rubbed chicken, jalapeños and chilli jam, but isn't for the faint-hearted. The best thing about DA'Burger isn't just their mouth-watering menu, but their suspended burger program, which sees their fans buy a suspended burger so they can feed local homeless kids through Brisbane Youth Service.
After opening its doors on Hamilton's Portside Wharf in early 2016, Hello Harry's menu quickly became a smash hit amongst locals who couldn't get enough of the quality burgers and cold craft beers. Using finely crafted cooking techniques to create distinctively different burgers at a great price point, the burgers at Hello Harry are in a league of their own. With Texan Brisket, Louisiana Pulled Pork burgers and the town favourite Aussie Burger with the lot (grass-fed beef patty, BBQ glaze, bacon, eggs, beetroot, lettuce, cheese, tomato, cheese and signature house mayo), if you have a craving for a seriously good burger, Hello Harry should be next on your hit list!  All meats are slow cooked on site, all burger patties handmade in-store and the brioche buns are made exclusively for Hello Harry using a secret house recipe. But trust us when we say you shouldn't just stop at the burgers. A visit to Hello Harry would simply be incomplete without a side of sweet potato fries, onion rings and a shake. No nonsense, no fluff, just delicious burgers and icy cold craft brews served up in a funky, casual dining room from Monday through to Sunday.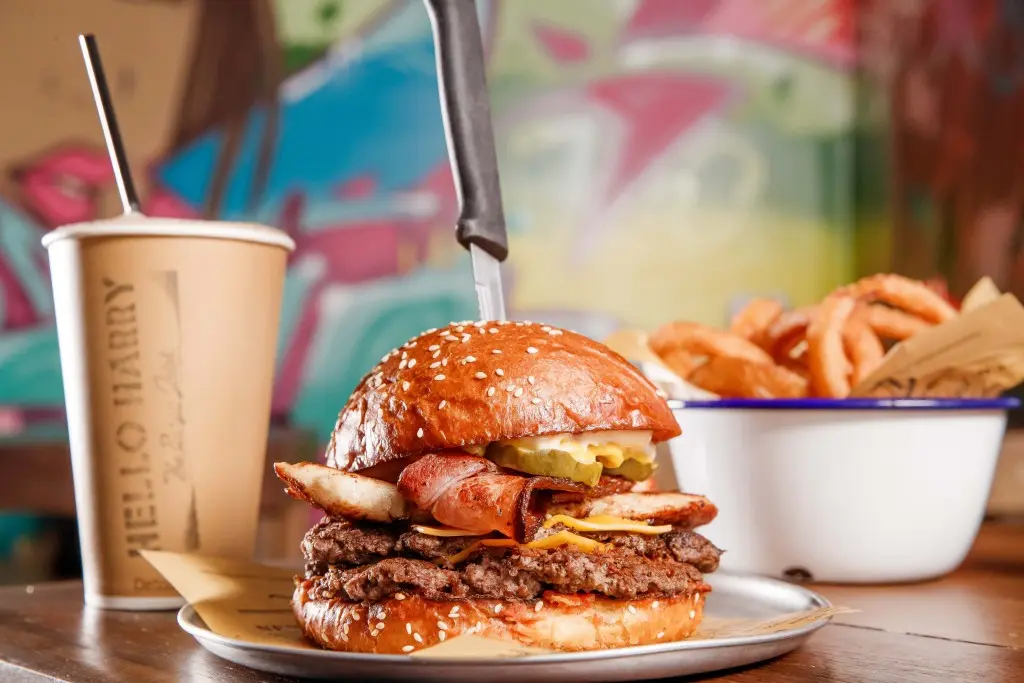 100% premium Aussie beef + local farm fresh produce + daily baked brioche buns = some of the best damn burgers you can get your hands on! We don't know about you, but that's the kind of maths we can get behind, and we swear Johnny Rockets possess some sort of telepathic skills because that is exactly what they offer at their Fortitude Valley store! Focusing on good quality ingredients in mouthwatering combinations, their menu is a celebration of classic American eats with an Australian twist. If you're after something with a kick, the Spicy Houston with spicy jalapeños, cheddar cheese, crisp leaf lettuce, fresh tomato & chipotle ranch sauce will send your tastebuds on a saucy trip to Texas. For something a little more classic, their Southern Crispy Chicken burger with hand-breaded chicken breast, crispy leaf lettuce, fresh tomato & mayo is, if I say so myself, one of the best fried chicken burgers money can buy. Go on, give it a go and see for yourself.
https://www.instagram.com/p/BaprTrPAqMb/
There's only a few select additions capable of making great burgers even greater: beer, live music and sports. These go hand in hand with burgers, and The Defiant Duck is a winner in all these categories. This much-loved Newstead venue is best known for its stand out Sunday sessions, but also takes the cake for some of the most drool-worthy burgers in town. The beef burgers on the menu are definitely the stand out options. With the choice between beef brisket, beef and bacon or a chilli cheeseburger, all cooked to perfection and served on a milk bun, these burgers will remain in your memory long after your last bite. With an epic veggie burger and a charcoal chicken burger rounding out the menu, the non-beef eaters amongst us will be keen to tag along too. Keep your eye out for their regular mid-week burger and beer combo deals!
Hidden away in Winn Lane is Ben's Burgers, serving up American diner-inspired burgers from 7am seven days a week on their breakfast, lunch and dinner menus. While they still feature your trusty bacon & egg roll, live a little by trying their Elvis breakfast burger which has bacon, peanut butter, banana and maple syrup. Choose from take-out, Uber Eats delivery, or dine-in options. Plus, Ben's got your drink requirements sorted to wash down that last bite, too. Did somebody say house-made Cherry Cola with spiced rum?
Opened by Melbourne-raised owners, Hao and Michael, Super Combo isn't just a place for a burger, it's a life experience. This is the duo's second restaurant, opened after the success of their award-winning eatery in Melbourne, NSHRY. Super Combo boasts a multi-cultural inspired menu, specialty sauces, and a Super Nintendo to challenge your pals on. This is the perfect location for hungry gamers, and anyone after a night of entertainment found from more than just food. While you may only need two hands to join in on the Nintendo games, you may need more than that to grab hold of their tasty super-size burgers.
You're out in the city, you're hot, you're hungry, and all you crave is a classic burger. Look no further than Brisbane city's Frites and Burger Brew Pub, Fritzenberger. Their grass-fed beef patties sourced from Byron Bay hinterland or Swiss cheese injected field mushrooms, are encased in toasted milk buns to give the perfect flavour combination. The burgers aren't the only option on the menu either, with Fritzenberger's version of loaded 'frites' that are definitely more than a mere side dish. Make sure you try their forever changing in-house brews, sourced by head brewer, Matthew Glanville.
Miss Kay's | CBD & Woolloongabba
Whatever you've achieved today, you deserve a burger for it. Miss Kay's is another true, American-style joint with not only burgers, but cocktail jugs, beer towers, and old-school spiders. If you're after more than just a burger, ask for 'The Big Kay's Challenge' which comes with five beef patties, five slices of cheese, lettuce, tomato and dirty fries. For those of you wiping the oil from their fingers in under 15 minutes, you'll receive a $30 voucher and a photo on the wall of fame. Challenge accepted.
For New York inspired street food, Red Hook is your destination. Serving up burgers, tacos, wings and much more in Gresham Lane. Open until 11pm on Saturdays and offering specials on their tasty fare from Monday-Thursday after 5pm, this laneway bar is one not to miss. Keep up with their Instagram page to make sure you are the first to know about incredible new menu items. Historically serving the zany Nutella dessert burger and more traditional, but still totes amaze, Jack Daniel's BBQ glazed wings, we can't wait to see what they come up with next.
Everyone needs a great drink to wash down an even better burger, and to that we say: why can't we have both? Ze Pickle just started their new margarita menu to go in hand with their packed burger range. Ze Pickle is an extremely characteristic venue and the perfect location to really test your stomach's abilities. Treat yourself to a burger like 'Ya Mum' or '3am' which features a beef patty, maple bacon, Kanye's Fried Cheeze Sticks, guacamole and sauce. Don't forget to wash it down with a drink. 'Standard White Girl' margarita anyone?
Lucky Egg | Fortitude Valley
If a chicken burger is usually your go-to, then you need to add this one to the list. Try the original or buffalo crispy chicken burger and get ready for the crunch. Mondays at the Lucky Egg mean 50 cent wings, and two for one burger Tuesday's give us another excuse to head down there. If you're still feeling peckish, check out their popcorn chicken or buffalo fried cauliflower to fill you up.
For those of us who are after something completely different, this year saw the birth of Brisbane's first entirely plant-based burger joint. The brainchild of the same pair that brought us Charlie's Raw Squeeze, we are sure the latest Tabet brothers venture will be just as delicious. Don't be fooled by the vegan label, bacon is swapped with 'facon', and their burgers are enough to get meat-eaters putting down the beef. The menu is forever changing, with options ranging from 'Chicken-Licken' with a chicken-less patty to 'Bean there, done that', with you guessed it, beans. If North Lakes is too far to trek, they have restaurants in Redbank Plains and Maroochydore too. Plus, keep your eyes peeled for their Instagram and Facebook posts to find out where they will be taking their burger trucks, which will hit the road in January 2018.
Liked this? You'll love these! 1. 8 of the best excuses to eat cake 2. Where to find the most delicious ice cream in Brisbane 3. Brisbane's best cocktails to try this summer