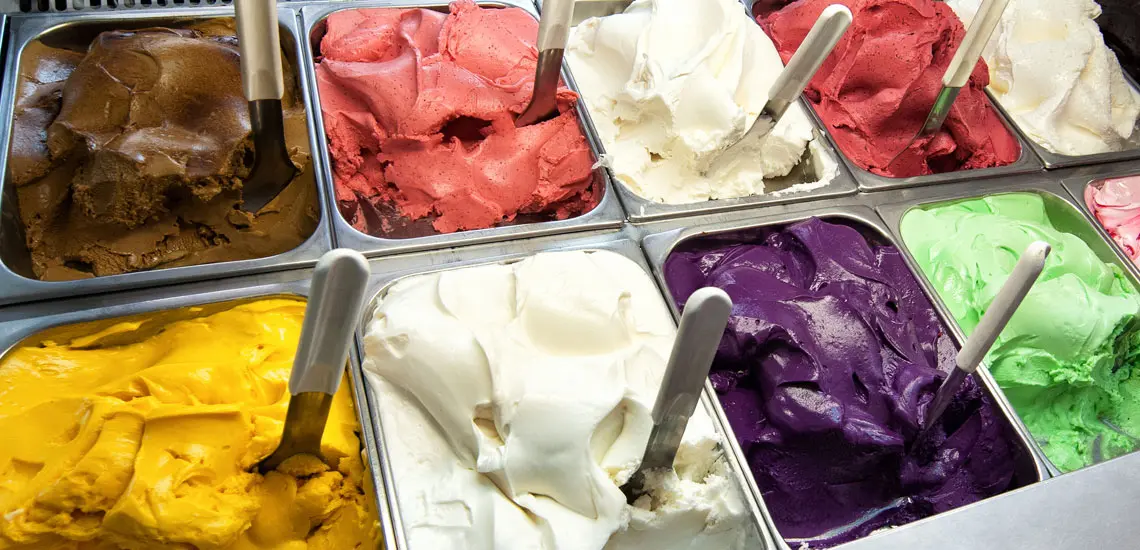 The 32 Best Ice-Creams In Brisbane
We've got the scoop on all the best ice-cream, gelato, frozen yoghurt in town, so that when the Brisbane heatwave comes, you can keep a cool head.
By Brittney Deguara | 20th November 2015

It's that time of year again where the only relief from the heat is a big cone of frozen sugar. We all thought about being healthy this summer by exercising regularly and eating right but we just can't seem to take our minds of that glorious, fluffy, oozing scoop of sweetness.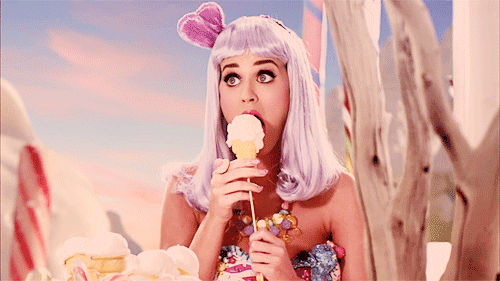 We know that all of you Stylers out there are just like us mere weaklings, who can't turn down a bowl of churned milk or a swirl of yoghurt that's been frozen. So we've put our noggins together and come up with the list to end all lists: the best scoops in Brisbane. For the purposes of deliciousness, we've included all forms of frozen tastiness: ice-cream, sorbet, gelato and even fro-yo. Because when it's this hot, you practically HAVE to grab a scoop so that you don't get heatstroke. People can die from heatstroke. IT'S A MATTER OF LIFE OR DEATH, PEOPLE.
We're so nuts about ice-cream, we've decided not to just settle for places that offer scoops; we've also scoped out the restaurants around town with the best ice-cream creations on their dessert menu. Because ICE-CREAM.
WARNING: We take no responsibility for any intense cravings this article might induce.
NITROGENIE
It's ice-cream from magic. Seriously, it's their tagline so it must be true. Made using liquid nitrogen science magic, all the flavours are created from scratch  from real food ingredients. It's tough for us to explain in detail, but it involves some eggs, some whisking, liquid nitrogen and then voila! With unique and ever changing flavours such as salted-caramel popcorn and lemon meringue pie, this is one futuristic creation you won't wanna miss out on.
Indooroopilly Shopping Centre Shop 30 Stanley St Plaza, South Bank
The geniuses behind the Ekka strawberry sundae flavour opened up their first flagship store in October and we couldn't have been happier. These guys serve up their fresh ice-cream and various sorbet flavours in a cone or with a decadent dessert. If you can't make it to the store, various businesses across town stock tubs, including IGA.
Honor Ave, Graceville
This super-convenient ice-creamery is perfect for those post-Fortitude-Valley-nightclub cravings (or any cravings you have throughout the day). All of the ice-cream is made on site, with no additives or preservatives and they say all scoops are 94 per cent to 100 per cent fat free (hallelujah!). As if we need more convincing.
364 Brunswick St, Fortitude Valley
Not your average ice-cream, this amazing concoction uses a secret formula that contains a higher cream content than most ice-creams meaning it's scientifically more yummy. The word gelare is Italian for "to freeze" or "congeal", which is what happens to be the final step in the making process (coincidence?). The final product is creamier and thicker than gelato, with more flavour than traditional American ice-cream (we're sold).
3 Grey St, South Bank
Have your ice-cream atop a bowl of delicious cinnamon doughnuts soaked in honey syrup and topped with cinnamon, nuts and hot Nutella sauce from one of Eat Street's most popular stalls. Drooooooooool.
Eat Street Markets 221 Macarthur Ave, Hamilton
This isn't really an ice-cream scoop per say, but there are scoops in it (and the scoops are plentiful!). Try one of Milk Café's decadent Shake It Up thickshakes with four lofty scoops of ice-cream per shake. Flavours include choc-caramel to choc-mint or lime.
9/16 Ashgrove Ave, Ashgrove
Known for their next-level, decadent cakes, these guys also take ice-cream to the EXTREME. Feast on one of their rich, majestic ice-cream cakes with friends (or by yourself, there are no rules here) or bite into one of their popular ice-cream sandwiches. SO perfect for braving any Brisbane heat wave.
32A Chester St, Newstead
Skip dinner and go straight to the dessert at this Milton icon. Their chocolate, vanilla, coffee, mango, strawberry and lemon flavoured gelato is so creamy and flavoursome, and can be enjoyed it by itself or with a rich, warm brownie or a caramel, macadamia and coconut pudding. So pretty much all the good things ever.
20 Park Rd, Milton
At last year's Queensland Dairy Awards Sugo Mi took out the title for Best Gelato in the state, and if the dairy awards think that then it must be pretty darn special. The gelato is made from scratch with fresh produce, and the Sugo Mi team is always creating (and tasting) new flavours for us mere mortals to enjoy. But on the down low, you can't go past the classic salted caramel or peanut butter.
4/190 Oxford St, Bulimba
OK so again, this isn't technically an ice-cream, but it's a frozen milky concoction so we say it counts, damnit! Mix things up by ordering Gerard Bar's popular LN2 Frozen Espresso Martini, a liquid nitrogen frozen hazelnut espresso aeration. It's grown-up ice-cream!
13A/23 James St, Fortitude Valley
NOMINOM
Born from the love of tasty treats, choose from fresh flavours with an arrangement of mix-ins (both healthy and, er, non-healthy). Fill your bowl and feed your cravings, knowing that whatever flavours you choose it will be Nomi-licious.
2b/131 Elizabeth St, Brisbane CBD
This fro-yo is 100 per cent natural with a fresh yoghurt base, made in Byron Bay. The store has six flavours on hand at any one time, with new flavours introduced weekly! Mix-ins include things such as nuts, fruit and sweets (hellooooo triple-choc brownie).
Gasworks, Skyring Terrace, Newstead
BERRY ME
This Australian-owned business provides the perfect guilt-free desserts on their own, or smothered with scrumptious toppings alongside lollies, cereal and fruit. Berry Me supports Australian farmers by using local dairy products and fruits (yay for the farmers and yay for us). Try their fresh strawberry or skinny green apple flavours.
Various Locations
CAFFE E GELATO MILANY
Co-owned by Australian Olympian, Tatiana Grigorieva, this award winning gelateria remains a firm crowd favourite. Filled to the brim most nights, they offer takeaway tubs to accommodate (thank god). Also, let's be honest, if an Olympian endorses gelato it must be good for you, right? RIGHT?!
4/53 Racecourse Rd, Hamilton
Owners Gerardo and Lei Deflorian have been delivering this deliciousness since '05. Garardo trained as a gelatio in Italy and Germany to bring you the best product. They claim to use the best ice-cream making machine in the world, the Effe, and it definitely pays off in the taste. Also, they have more than 200 flavours in their repertoire, including honeydew melon and their popular liquorice!
5/151 Baroona Rd, Paddington
As the name suggests, this fine dining restaurant delivers some delicious dessert concoctions straight from the lab. Feast on their espresso brulee with caramel ice-cream or be adventurous with their chocolate and beetroot pudding with Persian fairy floss, mixed berry and pistachio ice cream.
Top of Queen St Mall, Brisbane CBD
GIANNI'S KITCHEN
The desserts at this Italian restaurant are bellissimo! Offering up authentic Italian desserts such as the Trancio di Nutella al Caramello. Now, we don't know Italian but we see the words Nutella and Carammello, so we're on board. (Psst, it's a Nutella and salted caramel flan with vanilla bean ice-cream).
5 Kyabra St, Newstead
This authentic Italian gelataria creates tubs daily from fresh and local ingredients. They find the best ingredients to give their customers the best products and have dairy and gluten-free options available, so everyone can partake in the sugary goodness.
706 Brunswick St, New Farm
Since its inception in the 1960s (how retro!) the team behind the name have been working tirelessly to reach perfection. They want to create a product that gives customers a level of satisfaction that has no equal in the world, and we think they're on the right track. Our flavour picks are the caramelita and pistachio flavours.
Various Locations
Run by two guys, Matteo and Matteo from Bologna in Italy, this is as authentic as it gets. Their dream is to make their gelato a whole expereience for the lucky taster. They make all the traditional flavours and as well as their own special and unique concoctions. We recommend their biscotto and mandorline (hazelnut) scoops.
10/29 Florence St, Teneriffe
European chef Justersen Jepson has 12 years' experience under his belt, as he makes fresh gelato daily from the best quality ingredients. All the fruit flavours contain over a kilo of locally sourced fresh fruit with no artificial additives or preservatives. There are up to 20 flavours on offer (including saffron and dark chocolate chilli) most of which are gluten-free and 95 per cent fat free.
109 Bloomfield Rd, Cleveland
This Eat Street Market favourite serves up a half croissant half muffin creation stuffed with ice cream, they have titled it the suncrodoe (genius).
Eat Street Markets 221 Macarthur Ave, Hamilton
These guys have jumped on the trend train, serving up a big delicious, gluten-free and lactose-free bowl of CocoWhip for dessert. Be sinful while still being pretty healthy with their Tim Tam, Reece's Peanut Butter Cup or pineapple pavlova flavours.
39 Hercules St, Portside Wharf, Hamilton
The dessert game at this dessert bar is next-level. Get your choice of ice-cream with their churros platter, toasted slider buns, Belgian waffles and udder puffs. Or, if you're feeling less fancy, just the ice-cream or frozen yog
2/179 Grey St, South Bank
Selling out of their factory outlet, picking up your favourite Delizia flavours has never been easier. Using Queensland grown macadamias, Kensington Pride mangoes and Australian sugar and dairy, each mouthful reflects the authentic artisan product. The factory uses the very best imported Italian machinery with the traditional artigianale methods used in Europe (wow).
Flavour Picks: Blood Orange Sorbet, Bambino (bubblegum) Gelato and Mango Sorbet
30 Virginia St, Geebung
Another café that jumped aboard the CocoWhip bandwagon, serving it all day everyday, is Paw Paw. Have it by itself with sweet or savoury mix-ins, in a sundae with sweet sauce or in a breakfast bowl with fresh fruit and granola.
Cnr Potts St & Stanley St, Woolloongabba
A restaurant known for their decadent desserts, Ecco always has delicious offerings for their diners to try. We recommend their banana, hazelnut biscuit with toasted meringue and buttermilk ice-cream.
100 Boundary St, Brisbane
STOKEHOUSE
A fave in the Style office, Stokehouse serves up a range of scoop-licious dishes. Literally everything on their dessert menu stars a delicious scoop of ice-cream or sorbet, so it's hard to just pick one. But if we HAD to choose, we'd recommend The Bombe: a frozen white chocolate parfait with strawberry sorbet and toasted meringue. Or the Caramelised apple cannoli with cinnamon ice cream, granny smith mousse and walnut crumble. We genuinely can't pick between the two.
Sidon St, South Bank (under the Goodwill Bridge)
South Bank's American-style diner serves up a super delicious Chocolate Peanut Butter Pie. It has everything in the name, PLUS ice-cream and fudge sauce (yum) or you can go for a classic, with their banana split.
168 Grey St, South Bank
Forget about gambling, go to the casino for dessert! Try Kitchen's Banana Pancakes with caramelized banana and ice-cream or classic ice-cream sundae. This way you're guaranteed to go home a winner.
Top of the Queen St Mall, Brisbane CBD
Another fancy take on dessert, Alchemy has Queensland strawberries served with rum-soaked savarin, marscapone mousse and pistachio ice-cream and modern toasted pavlova with mango sorbet. Alchemy's dessert game is the topping on their already scrummy menu cake.
175 Eagle St, Brisbane
Once again, too many choices on this delicious menu but try their blueberry cobbler with white chocolate ice-cream or their New York-baked cheesecake with burnt honey ice-cream and hazelnut crumb. PS Most of the ice-cream here is homemade, with love, we assume.
Indooroopilly Shopping Centre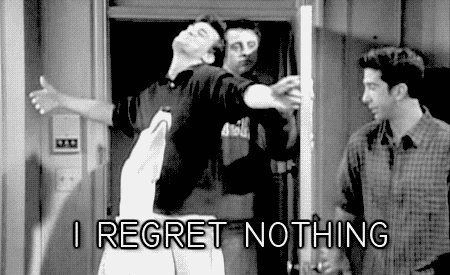 Like this? You'll love these!
Brisbane's Most Drool-Worthy Nutella Dishes
Brisbane's Best Healthy Treats