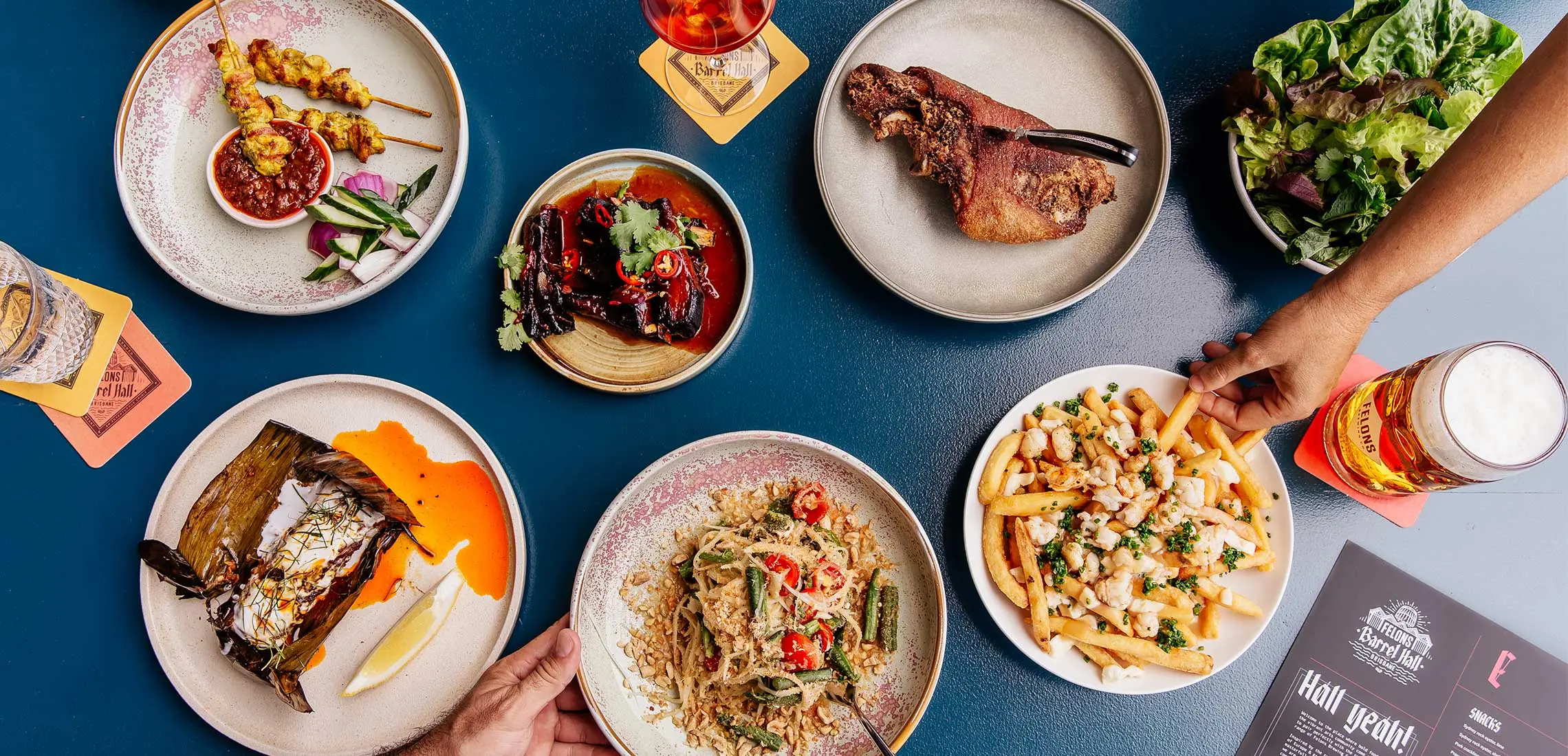 We Tried The Felons Barrel Hall Menu
Sink your teeth into this!
By Astrid Taemets | 19th November 2020

ICYMI, Brisbane's favourite waterfront precinct added a brand-spanking new venue to its portfolio last month with the opening of Felons Barrel Hall.

Taking over the prime square meterage formerly occupied by function space Howard's Hall, the space is an extension of Felons Brewing Co, but vastly different in every which way. The site has been reconfigured into a refined beer and brewery experience – a space where chill Aussie vibes mash with classic German beer hall interiors for a sensory overload that ticks all the boxes, complete with one big whopper of a shiny disco ball.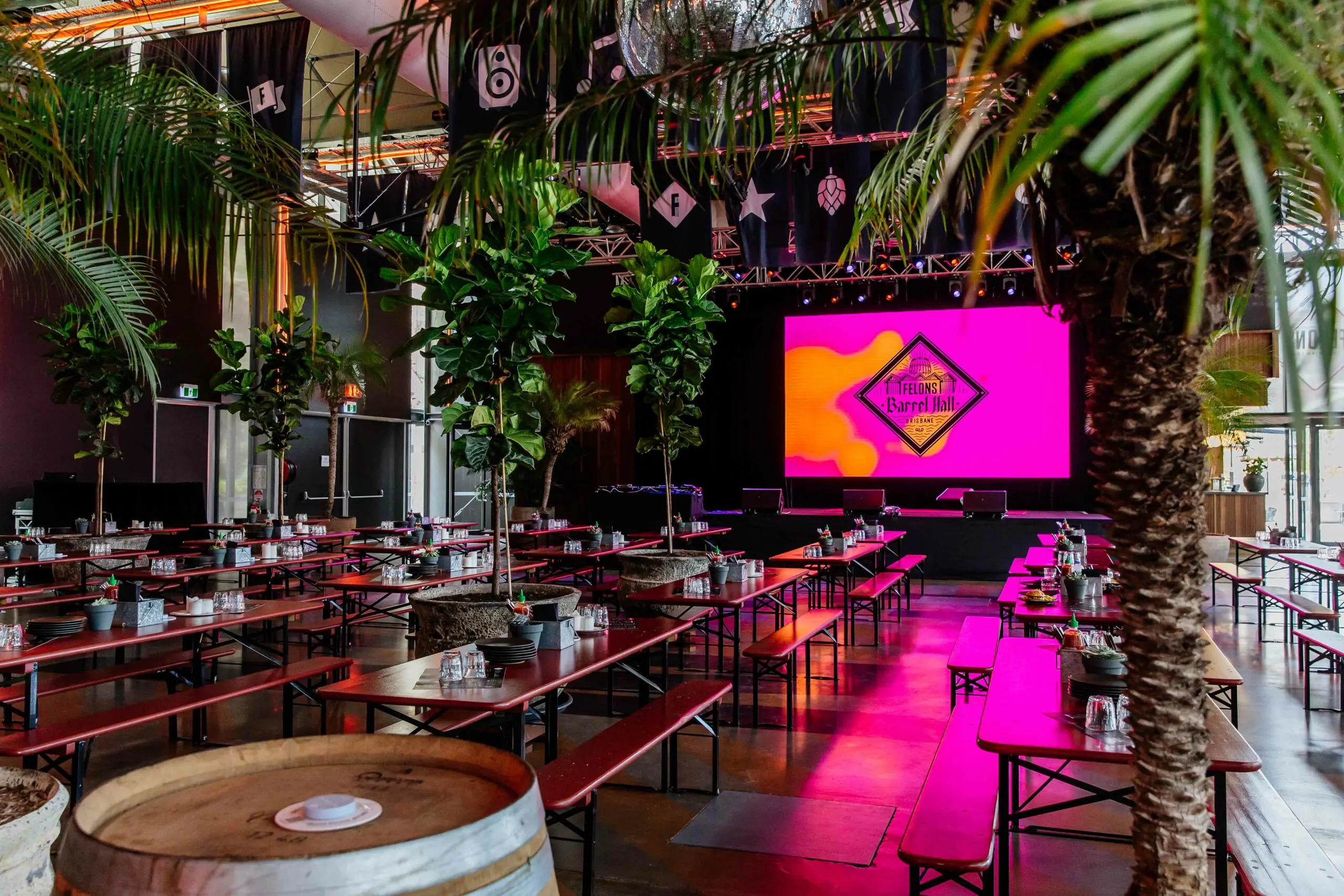 Beyond the impressive new digs, rock n' roll interiors and unrivalled riverfront location, Felons Barrel Hall is a dream hub of live local music, crispy cold ones, punchy flavours and bold bites. It's the melting pot where Aussie produce and south-east Asian tangs are rolled into one to bring you a roaring good time, again and again.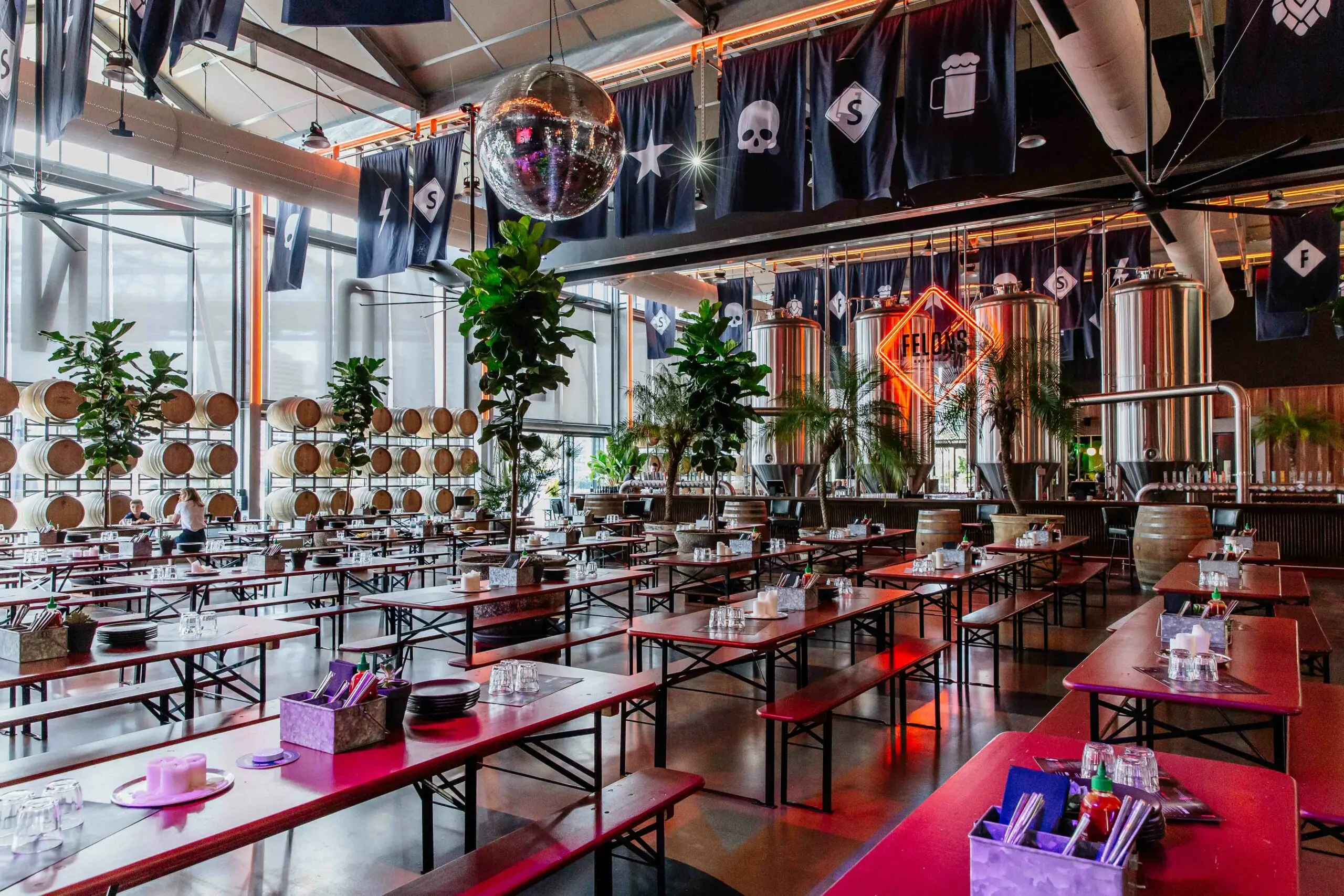 Head Chef Ralph So has crafted the perfect menu to accompany the five different in-house craft-brewed beers (more on this later), where a multitude of tastes explode in the mouth, and spices linger on the tongue in a mouth-wateringly good way.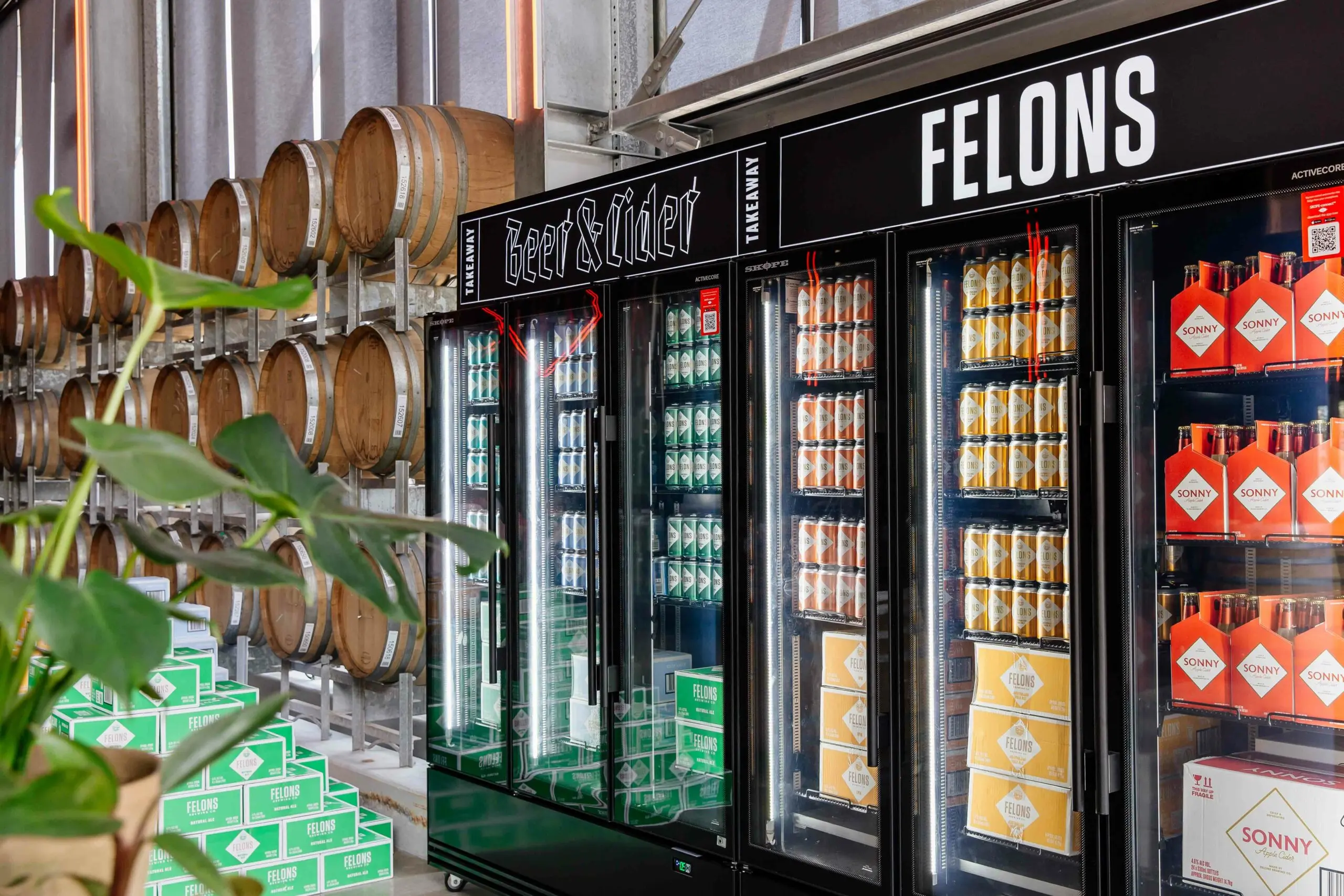 Be warned: the menu is extensive and requires an empty stomach to get through it. Broken into starters, vegetarian dishes, buns and burgers, wings and ribs, lettuce wraps, seafood and desserts, there's loads of heat and freshness in just about every dish option. A special shout-out goes to the fries' section of the menu, where your only problem is which of the loaded fries options you'll choose from (FYI, we inhaled the Moreton Bay bug option – highly recommend).
Putting complete trust in So and his team, we sampled a smorgasbord of their recommended dishes. The feast began with yellowfin tuna sashimi with red nahm jim and blood orange (a personal favourite), Sydney rock oysters, shallot and kaffir lime vinegar, and sweetcorn and lime leaf fritters with fermented chilli mayo.
Next, we devoured more than our fair share of zest across six different plates: chicken satay skewers with red onion and cucumber, green papaya salad, crispy pork knuckle with nahm jim, crispy chicken wings with inferno hot sauce (PSA: this one comes with a warning!), grilled mackerel wrapped in banana leaf, and, of course, the Moreton Bay bug loaded fries.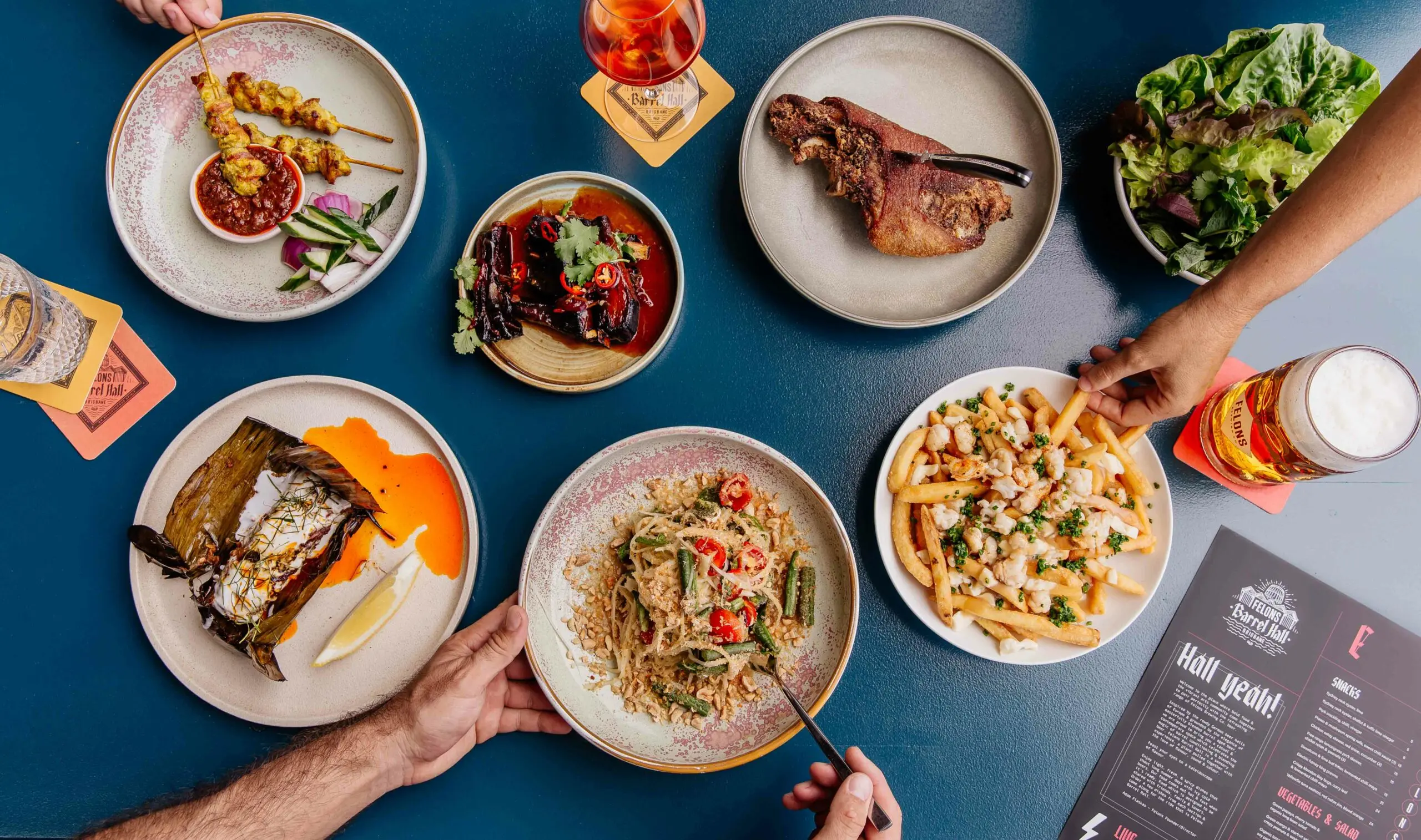 If you can believe we had any room left in our bellies (we admit, buttons were popped), So sent out two of the best desserts I have ever had the pleasure of shovelling into my gob. The first – a panna cotta with salted orange granita and passionfruit – was a cool, refreshing dish that hit the spot after a spicy meal on a sunny summer's day in Brisbane. But, if I had to play favourites, the pandan sago and coconut sorbet that's topped with Queensland mango is my pick of the bunch.
A big mention must go to the complementing Felons' brewed beers that accompanied every portion of our food journey. From refreshing pale ales driven by fruity kicks, to the bitter finishes of their IPA beer, the team have a real knack for knowing just what to hand you to wash down every nibble and bite. Brewed in-house, Felons prides itself on delivering fresh, unique, perfectly tempered and dynamic beer. But if beer isn't your jam, don't fret – there's plenty of other drinks on the board. Their Sonny cider is packed with sparkling sweet apple flavour (and goes down a treat, just FYI), plus there's also gin, vodka and bubbles, as well as red, pink, orange and white wines and cocktails to pick from.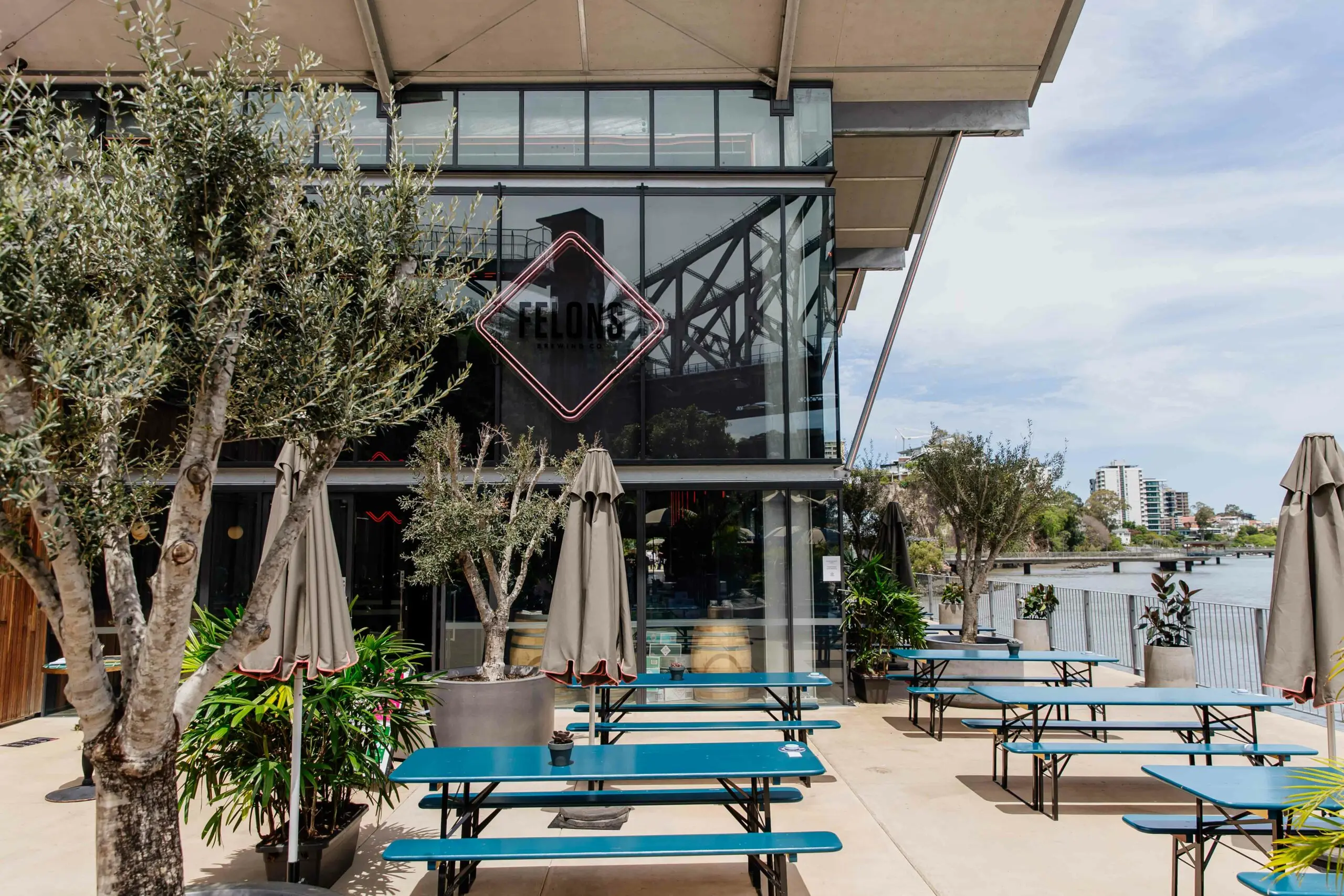 So, are you salivating yet?! Open Thursday to Sunday from 11am 'til late, Felons Barrel Hall is not your average run-of-the mill meal experience – and that's why we're ranking it high on our fave spots to sit back and sip a cold one. Make it your mission to get down to HSW pronto to see what all the hype is about.
As luck would have it, Felons is turning two this Sunday (HB you guys!), and are throwing one helluva party. Grab your mates or book the family in for a Sunday sesh down at Felons Barrel Hall, where kids can eat free, live tunes will be pumping, and Felons' limited Barrel aged cherry harvest sour ale will be flowing well after dark. For more info, head to their Instagram post, here. Meet you there!