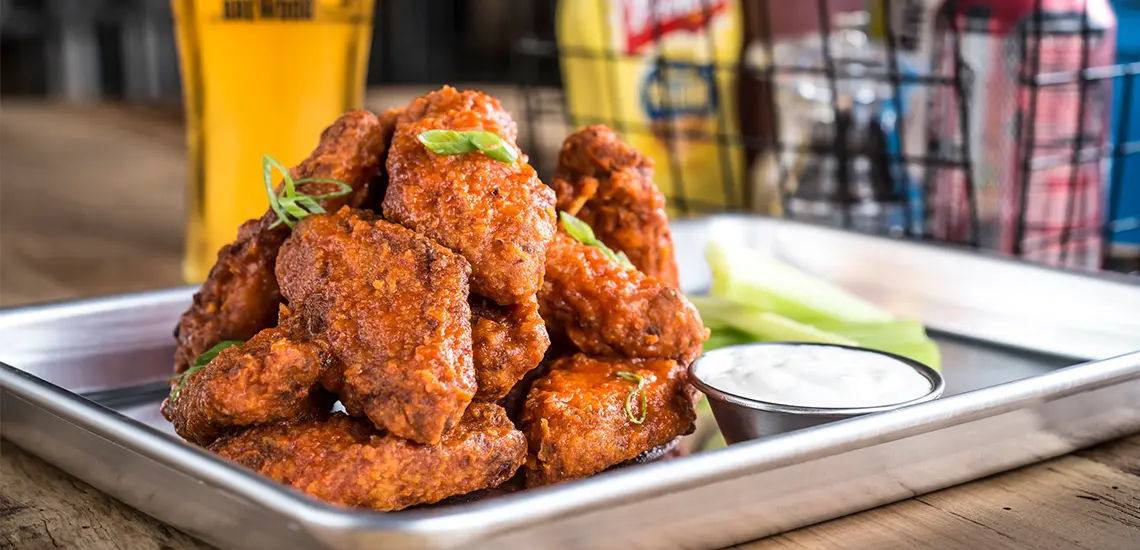 Don't Wing It: We've Found 9 Of Brisbane's Best Wings
Where to find our fave finger food.
By Guest Styler | 22nd May 2018

We are firm believers in the mantra "go big or go home", and this is why it should come as no surprise that we like our finger food of choice served in epic proportions: by the kilo. We've listed our pick of Brisbane's best wings, so that the next time you're fiending for food served by the dozen, you know you'll be tucking into the very best.

When it comes to BBQ, The Smoke is a Brisbane institution. Their authentic American BBQ is slow-smoked in house using hand-cut hickory wood, resulting in tender meat and big flavour. Their crispy chicken wings are tossed in their classi buffalo sauce and come in four different flavours (mild, blue hot, honey soy and 3rd degree). We're not kidding, these are some seriously good wings.

Easily one of Brisbane's most loved food trucks, King Of The Wings churns out some epic chicken wings. Their menu boasts an awesome line-up of flavours; such as their signature Southern Style wings with a crunchy dry rub as well as the Bee Sting wings, dripping in a mouth-watering honey sesame sauce. In 2016 they competed in Buffalo, NY to represent Australia in the New York Wingfest, and they walked away with 1st Place as Best New Competitor. How do you like apples?

https://www.instagram.com/p/Bhn2i5YlxP3/

The Defiant Duck is known around town for their Aussie take on Americana-style fare. While their burgers and sandwiches often steal the spotlight (the Philly cheesesteak roll is incredible), we also think their char-grilled wings are a touchdown. Choose from buffalo sauce, extra spicy or smoked BBQ, and make sure you grab a mac & cheese to dip them in. Trust us.

While we were sad to see Coyotito close their doors, it's safe to say that we are more than thrilled with what Fat Angel brings to the table (literally). Pick from 250g, 500g or 1kg serves, in your choice of original Buffalo, bourbon BBQ or Fat Angel dry rub. While we are partial to Buffalo wings, the Fat Angel dry rub goes down a treat with a frothy Coors.

If your idea of a good time involves tucking into spicy wings with a Budweiser on the side, you need to try the offerings at The Sporting Globe. With 10 flavours to choose from (such as sweet chilli & lime and honey soy), it's hard to pick just one, but it's worth noting that their spicy options are easily some of Brisbane's best. The habanero wings with ranch dip are super fiery and recommended only for those with iron stomachs.
Lucky Egg | Fortitude Valley
Now in their brand new Valley Mall digs, Lucky Egg is a bit of a local fave. Their buttermilk-fried wings are deliciously tender and are served doused in their secret recipe Buffalo sauce. Add some blue cheese sauce and your choice of slaw or fries on the side and you've got a pretty epic combo. Drooooool.
Often considered one of Brisbane's best chicken wing slingers, Yard Bird offer a range of different sticky wings to choose from. Whether you're simply peckish or settling in for an epic feed, you're sure to find something to tickle your fancy. The garlic & parmesan is ridiculously good, but if you're feeling brave try your hand with a plate of Death Sentence wings.
The good folks at Buffalo Bar are aces when it comes to American eats. Alongside a jam-packed menu of burgers, steaks and ribs, they also have 8 different styles of wings on offer. Choose from their selection of dry wings (chipotle & garlic; bacon, cheese & chive; seasoned jerk; and parmesan, garlic & chilli) or wet wings (maple mustard; original Buffalo; siracha, honey & garlic; and the super hot Hell Bound Bad Boys). Go the full nine yards and throw a couple of jalapeno poppers and onion rings on the side!
Image: Brewdog
Liked this? You'll love these! We've Found 15 Weekday Eats Under $20 5 Public Parks In Brisbane That Allow BYO 14 Of Brisbane's Best Restaurants