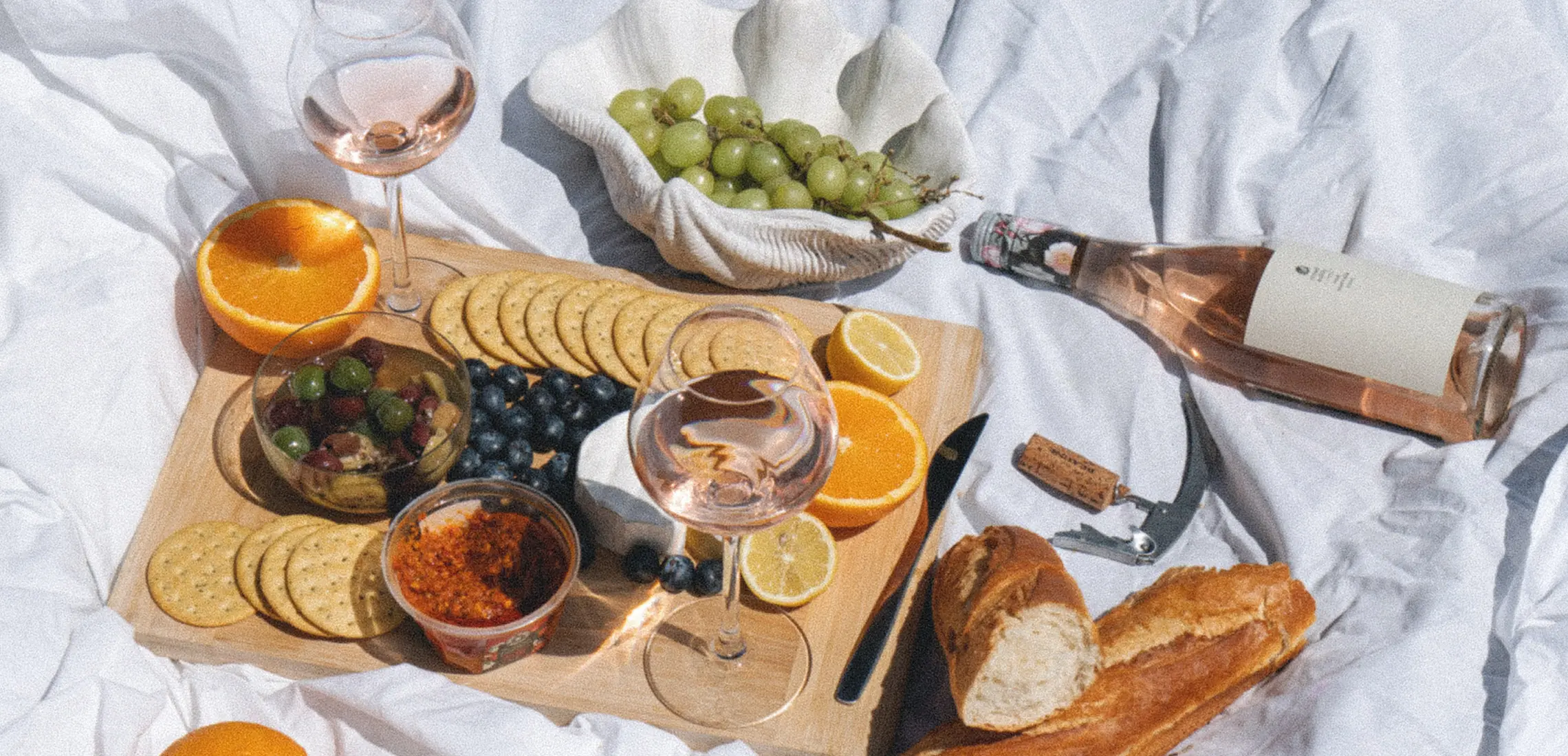 Take Your Cheese And Crackers Outdoors To BNE's Best Picnic Spots
Get your pick on for a picnic
By Stamatina Notaras | 1st September 2022

Pull out your go-to gingham blanket and pack your wicker basket to the brim because it's picnic season, baby! With the fresh air calling your name, it's time to take your cheese and crackers out on an excursion to the array of grassy knolls and flowery fields Brisbane has to offer. To help you live your best Little House On The Prairie life, check out the best picnic spots in and around Brisbane below. 

By the way, we consider everyone in this list the best of the best! To make finding your next favourite that much easier, we've ordered the list alphabetically by suburb and also have filtering tabs for your convenience. Did we miss someone from the list? Let us know here! Hide the form

FILTER BY

All
All
Brisbane CBD
North Brisbane
East Brisbane
South Brisbane
West Brisbane
Gold Coast
Noosa
Sunshine Coast
Kangaroo Point Cliffs
Kangaroo Point
We all adore the comfort of an old classic book, so why would we stop enjoying the comfort of a classic picnic spot? Kangaroo Point Cliffs is no new destination, but it certainly is a timeless gem! Set up your rug at the top of the cliffs for a panoramic view of the city or down by the water for an afternoon of relaxing by the river. Parking is limited at this popular spot, but a few laps around the block are well worth it for the perfect picnic position.
View this post on Instagram
Roma Street Parkland
Brisbane City
Take your pick across sprawling lawns and 16 hectares of designer gardens! Roma Street Parkland is the inner city haven that won't have you feeling you're in the big smoke. It also plays host to a year-round rotation of free and family-friendly events, including the sweet tunes of live music to serenade you during your relaxing escape. 
View this post on Instagram
Brisbane Botanic Gardens
Mount Coot-tha
If lush is your preferred picnic landscape, then how does Queensland's premier subtropical botanic gardens sound? The 56-hectare gardens are open daily with plenty of nooks and crannies for you to set up shop. From the Japanese Garden to the Bamboo Grove, you'll get plenty of fresh excursions here with so much ground to cover. Forgot your basket at home? There's an on-site cafe to keep you covered. 
View this post on Instagram
Enoggera Reservoir
The Gap
Fit a little R&R in on your weekend with a side of bushwalk without journeying too far from Brisbane City. Enoggera Reservoir is a mere 30 minutes from the CBD and perfect for the more adventurous souls. Pack a blanket, sunscreen, and picnic basket with your favourite foods and you're good to go! Fun fact: Enoggera Dam is a heritage-listed water reservoir dating back to 1866.
View this post on Instagram
South Bank Parklands
South Bank
Coined as one of Brisbane's most spectacular riverfront destinations, River Quay Green is easily a local's favourite spot to lay down a blanket and rejuvenate – no barbecue spots necessary. Take your pick from the buffet of dining options on offer or BYO dinner as you crack open a beer on the fresh licensed lawn. Brisbane City is practically on your lap and it only gets better as the sun goes down.
View this post on Instagram
Howard Smith Wharves
Brisbane City
Love a picnic but hate the preparation? This calls for a compromise. Minimalistic picnic enthusiast, meet Howard Smith Wharves. With vantage points aplenty along the public green space, grab a six pack from Felons Brewing Co. paired with takeaway fish and chips, and you'll be spoiled with the best skyline view Brisbane has to offer. Dogs and families welcome, so your furry friend doesn't have to miss out. 
View this post on Instagram
Orleigh Park
West End
West End is ever changing, but Orleigh Park remains its main attraction. Give your mind a break as you lay beneath the cascading Moreton Bay fig trees and take in the ethereal beauty at the fringe of the river. This large space invites endless possibilities, whether it be a birthday celebration, a playful game of touch, or solo time with your favourite novel and takeaway. With toilet facilities, sheltered picnic tables and a playground, (proven very popular amongst kids and on occasion the adults), settle in as you go from lunch to dinner in your new favourite spot. 
View this post on Instagram
City Botanic Gardens
Brisbane City
Need a city break but can't go far? Become immersed in a sea of green while enjoying your favourite snacks at the World Heritage Site, the City Botanic Gardens. Barbecue facilities and an all-inclusive playground with wheelchair access throughout the gardens creates a comfortable environment for everyone to enjoy. The Garden also offers picnic areas with sheltered pavilions for those less inclined for a grassy moment. Grab your pals or have a kids' day out amongst the native plants and unique botanic species.
View this post on Instagram
JC Slaughter Falls
Mount Coot-tha
Although it may not have the most poetic name, Slaughter Falls is a must-visit area part of the Mt Coot-tha Reserve. With plenty of facilities such as barbecues, picnic tables, carparks, toilets, taps, and shelter sheds, you can enjoy the serene surroundings with ease. While you're there, check out the bushy walk trail lined with grassy creek banks or head to the Summit Track for a solid hiking challenge. JC Slaughter Falls is a true representation of our South East Queensland landscape with rainforest, vegetation, and serenity at the plenty.
View this post on Instagram
New Farm Park
New Farm
Want a spot by the river, but might want to kick a ball around later? Feel like sprawling out under some Poinciana trees, but planning a barbecue once lunch-time hits? Luckily enough, New Farm Park has it all, no matter what you've got planned for your day in the sun! With barbecues, cycling tracks, picnic spots, and vast areas for sports, New Farm Park is clearly popular for a reason; so popular, in fact, that it attracts almost 18,000 locals and visitors alike every weekend!
View this post on Instagram
Lower Moora Park & Moora Park
Shorncliffe
Lower Moora Park plays host to a popular playground, with plenty of surrounding areas and shade to have a barbecue while enjoying the ocean views! If you don't want to pack your own picnic for the drive, the cafe that sits at the top of the hill has a range of takeaway options to devour.
View this post on Instagram
Highgate Hill Park
Highgate Hill
With plenty of free parking on the surrounding streets, picnic benches spread out over the hill in both the sun and the shade, and a beautiful gazebo at the peak, Highgate Hill Park is the quiet spot that we've been searching for. The elegant gazebo sits at 62m above sea level where you can relax and gaze out onto the hill, and the skyline view of the city rivals that of Kangaroo Point Cliffs. There's no barbecue facilities available, so pack a cheese platter and we'll see you there!
View this post on Instagram
Daisy Hill Conservation Park
Daisy Hill
Home to both the Daisy Hill Picnic Area and the Daisy Hill Trail Hub, this conservation park is wonderful for a weekend visit. There's plenty of picnic and barbecue facilities, as well as tracks to walk or mountain bike through the eucalyptus forest. If you're lucky, you'll likely spot a dozing koala in one of the trees as the park and surrounds are home to one of Australia's most significant regional koala populations!
View this post on Instagram
Charlish Park
Redcliffe
If you feel like dipping out of the CBD for the weekend, but can't quite commit to making your way to the Sunny Coast or the Gold Coast, Redcliffe has the spot for you that's only 45 minutes from the city: Charlish Park. Located next to the family-friendly Settlement Cove Lagoon, the park offers plenty of green-grassed spaces with barbecues and shelters for public use, as well as views all the way out to Moreton Bay!
View this post on Instagram
Do you love trying new things? Find out what we have on our spring bucket list here.