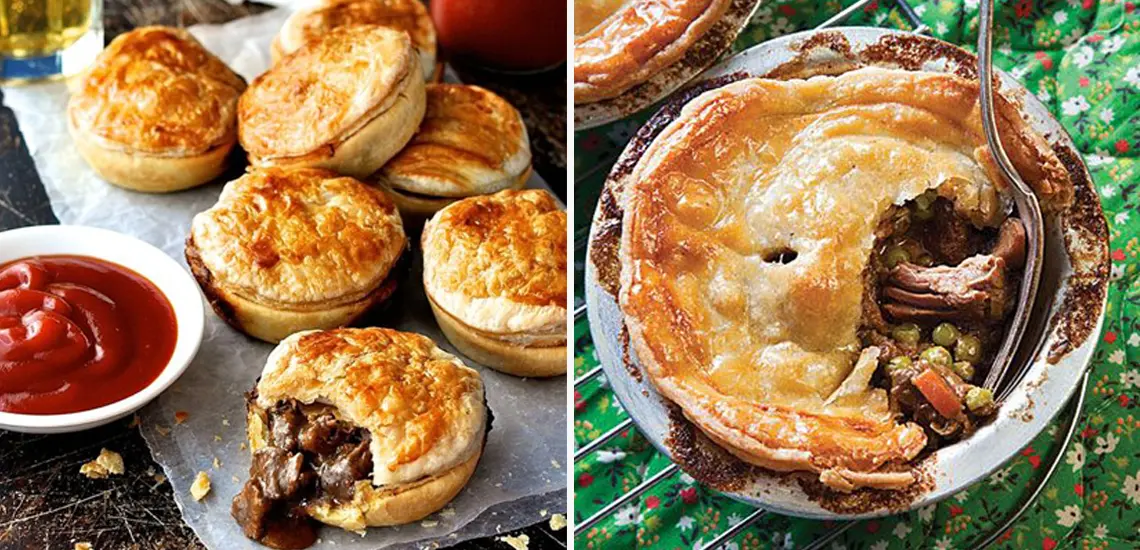 Brisbane's Best Pies
Grab yourself a piece of the pie.
By Elena Barton | 5th May 2017

There's nothing quite like the golden flaky pastry and rich fillings of a pie topped with a lashing of tomato sauce. We've tracked down and tested Brisbane's best pies so you'll never eat subpar pastry again.

This Brisbane icon was devastated by the recent flooding caused by Cyclone Debbie, but it's back up and churning out their legendary pies thanks to an amazing team and help from the community. Everything from traditional steak to lamb and coconut curry is available, so do yourself a favour and take a drive down the M1 to sample one of Brisbane's finest.

If finding a great pie is hard work, spare a thought for those trying to find a gluten-free option that doesn't disappoint. Beefy's Pies nailed it with flaky and flavourful pastry and filling so good you'd never guess it was gluten-free. It's also been given the tick of approval from Coeliac Australia and been awarded best gluten-free gourmet pie in the country.

With 12 different pies on offer, you'll be spoilt for choice. All of the pies at Big Dad's Pies are super tasty but their chicken and vegetable pie is a total standout. Hearty and wholesome with crisp pastry, it's the perfect winter warmer.
Pie Face | CBD, Fortitude Valley & Airport
At Pie Face, there is a multitude of filling options on offer plus the brekky option that comes packed full of bacon, baked beans, and mashed potato. It's even topped with a poached egg to fill you up and help start your day off the right way.
After something a little different? Goat is sure to float your boat. Every single pie on the menu at Goat Pie Guy has won an award at the Official Aussie Pie Competition so you know you are going to taste some of Brisbane's best pies.
Muzza's Pies have proven to be a firm favourite with Coorparoo locals. Baked on the premises, the thick and chunky fillings and crumbly golden pastry create a taste sensation. With all the classics available and one of the best vegetarian pies in town, everyone is catered for.
For a gourmet experience, try the selection of pies from Jocelyn's Provisions. Succulent beef and red wine, lamb and rosemary, or chicken and mushroom fillings encased in thick and crispy pastry will make your mouth water. There's even a family-sized lamb pie so you can feed the masses at home.
Piefection | Mount Gravatt & Coorparoo
Guinness beef and mushroom pie is the go-to option at Piefection. The savoury mince cottage pie is also a crowd-pleaser, topped with creamy mashed potato that's baked until golden brown. It's a tempting treat for your tastebuds.
The Shelter Bar is famous for its pies. Try the beef and Guinness pie with slow-braised beef, garlic, black pepper and caramelised onions. Or the chicken and mushroom with a white wine cream sauce, braised chicken and local field mushrooms. Both pies come with a choice of sides, making for a robust meal sure to satisfy.
Liked this? You'll love these! 1. We've Found Brisbane's Best Hot Chip Trends 2. We've Got the Scoop On This Year's Fish Lane Festival 3. Brisbane's Best Seafood Restaurants