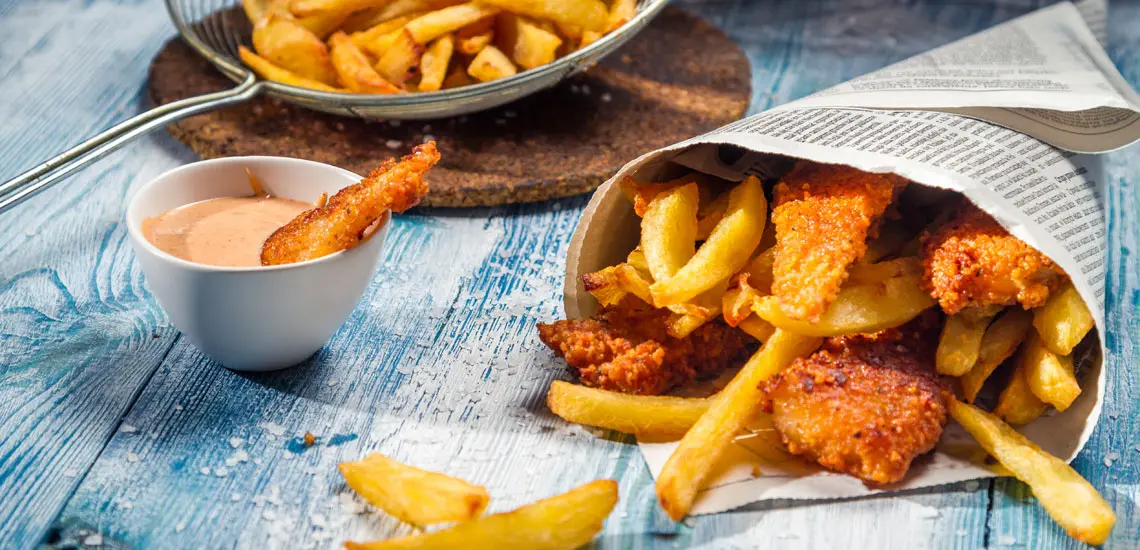 Brisbane's Best Fish and Chips
Batter up! If you're craving a big serving of fish and chips, we've got all the info you need.
By Brittney Deguara | 22nd January 2016

You're hungry. You want fish and chips. Usually, you'd head down to your local shop because it's close and you want food RIGHT THIS INSTANT. But not this time. This time you're in the mood for something amazing.

Now that your stomach is well and truly grumbling, let's get down to business. Whether you're excited to get down and dirty with a greasy paper wrapped meal or prefer the fancier feast at a restaurant, we have you covered with a list of the best fish and chips in Brisbane! Yes, we said the BEST. We've rung around, read reviews and tasted our fair share of batters and crumbs (this is serious research, guys) to bring you the who's who of Brisbane seafood.
The Kingfisher
Serving up fresh seafood cooked to order, The Kingfisher offers some of the best seafood in town. Dine in their covered courtyard or grab some takeaway – either way, you're guaranteed a delicious meal. They do it all, offering BYO beer and wine with free corkage for diners and catering options for parties and events.
The Kingfisher 52 Dean St, Toowong P 3870 9855
Stokehouse
This is a Style office favourite, serving panko-battered squire (a little snapper fish) with crushed peas, pickled onions and chips and aioli. And if that isn't enough chip for your fish, just order another side of them with chili salt – it's the stuff of dreams.
Stokehouse Sidon St, South Bank P 3020 0600
Jellyfish
If you're looking to catch a classy seafood dinner on the river, in an aptly-named restaurant, then look no further than Jellyfish. The chefs create the perfect batters, crumbs and sauces to accompany up to 14 different types of fish. Your choice of batters includes soda, beer, saffron, curry and gluten-free, and crumbs include Szechuan pepper, parmesan, sesame seed, citrus and dill, and panko.
Jellyfish Boardwalk level, Riverside Centre, 123 Eagle St, Brisbane P 3220 2202
Swampdog
Following the mantra "good for you, good for me, good for the sea", Swampdog works to raise awareness of sustainable fishing. Cooking up fish other than your usual snapper, salmon and barra, they strive to bring you fish you've never tasted before.
Swampdog Fish & Chips 186 Vulture St, South Brisbane P 3255 3715
Bacchus
Choose from the swordfish caught off the coast of 1770 in Queensland or their trout dish in a saffron broth. These decadent dishes don't automatically come with chips but the thick-cut sebago chips with sea salt are to die for!
Bacchus Podium Level, Rydges South Bank, Cnr Grey & Glenelg St P 3364 0837
Motion Bar & Grill
Two words: seafood tower. It's recommended for two, but we just see that as a challenge. The seafood tower offers up a selection of grilled barra, crumbed prawns, salt and pepper calamari and steak fries with a cold selection of spanner crab, Moreton Bay bug, pacific oysters, and ocean king prawns. Yes, yes and YES!
Motion Bar and Grill Lobby Level, Brisbane Marriott Hotel, 515 Queen St P 3303 8034
The Fishmonger's Wife
This team has had tongues wagging for years with their specialty meals and creative flavours from locally-sourced seafood. Some of their specials include Tahitian lime coconut cream snapper and grilled Moroccan cod (brb, just drooling). Gluten-free people of Brisbane unite; they have gluten-free batters available and a whole SEPARATE MENU just for you!
The Fishmonger's Wife 48 Orchard St, Hawthorne (07) 3899 5873
Fish Lovers
This family-owned gem nestled in Rosalie can serve you fresh hot seafood right in-store or prepare a take-home pack for you to cook up yourself. And with no corkage fees, they're conveniently located next to a bottle-o. Want a beer to go with that beer-battered fish and chips, anyone?
Fish Lovers 4/165 Baroona Rd, Rosalie P 3217 6511
Seafood Town
Now this seafood haven is further away than most, but it's worth it, especially when you get to enjoy your meal looking over the beautiful Woody Point Jetty. Sourcing most produce straight off the trawlers or from the fishermen themselves, their whole fresh selection is on display in the shop.
Seafood Town 4/14 Oxley Ave, Woody Point P 3142 2057
The Fish Factory
This iconic fish market serves up some good-looking raw seafood accompanied by a popular dine-in and takeaway cafe. All fish is locally sourced from Australia and New Zealand and the cafe is stocked to the bream with yummy fish. You'll also find burgers on the menu and, of course, chips (including the sweet potato variety!)
The Fish Factory 363 Lytton Road, Morningside P 3399 9888
Fish's Seafood Market
A Teneriffe favourite, this shopfront has dine-in and takeaway options with raw seafood available for purchase as well as catering. Their Cajun fish meal with veggies and rice will leave you feeling satisfied instead of greasy and guilty.
Fish's Seafood Market 110 Macquarie St, Teneriffe P 3257 7180
Blue Ocean Seafood
With spicy wedges and market fish on the menu, this Coorparoo shop has everything on the menu from red emperor to octopus and even halal options. You'll be hooked on this joint as soon as you cast your line.
Blue Ocean Seafood Shop 5, 380 Cavendish Rd, Coorparoo P 337 8027
The Jetty
This South Bank joint is a hit with diners and their large menu includes, yep, you guessed it, fish and chips. They serve up tempura flathead and shoestring fries with gem lettuce, parmesan dressing and grilled lemon. YUM! Another great dine-in choice when you want a break from the paper wrapping.
The Jetty South Bank River Quay, Shop 4 Sidon St, South Bank P 3844 8838
Reef Seafood & Sushi
Seafood and sushi? GENIUS! Their fine seafood creations will have your mouth watering. If whole fresh snapper in coconut curry sauce doesn't sound drool-worthy, we don't know what does. All meals are served with chips and salad.
Reef Seafood & Sushi Gasworks Plaza, Skyring Terrace, Newstead P 3257 7554
Chumley Warners
This is another traveller, but we promise it's worth the drive. Cooking up traditional British fish and chips, Chumley Warners serves up a meal fit for a queen. Try their mini-cod or haddock with chips, yum!
Chumley Warners 8/190 Birkdale Rd, Birkdale P 3822 7787
The Boatshed
We are so onboard with The Regatta dining hub's three decadent fish selections. Everyone usually dives in for the steak, but we can't look past their take on fish and chips. Choose from their beer-battered barra, gold band snapper or pan-seared ocean trout each served with their own rendition of chips and salad.
Regatta Hotel: The Boatshed 543 Coronation Dr, Toowong P 3871 9595
Liked This? You'll Love These! 1. Dig In to Brisbane's Best Ribs 2. We've Found Brisbane's Answer To The Grounds 3. 22 Brisbane Cafes You Should've Eaten At Already