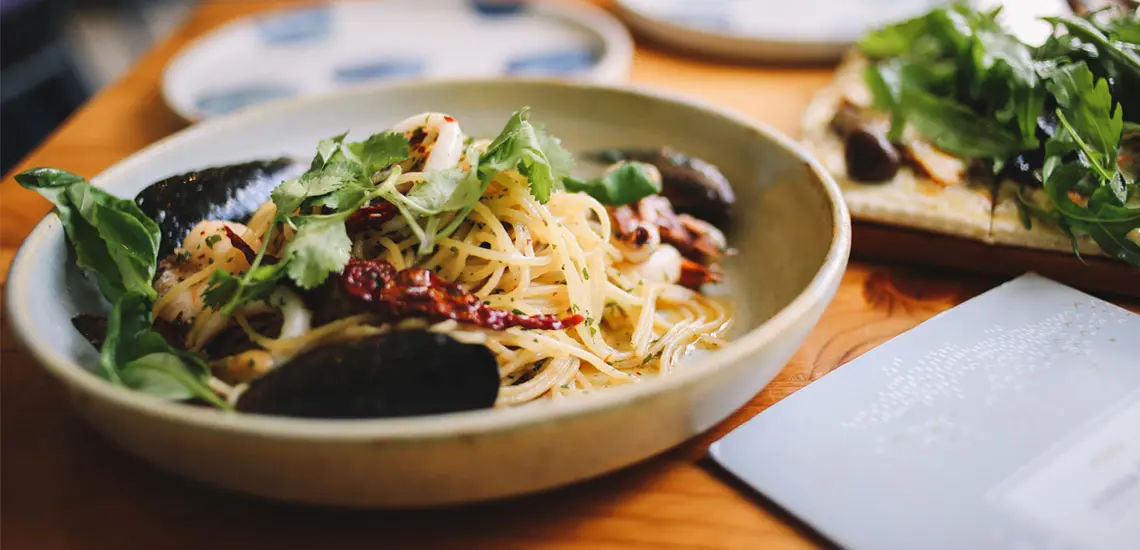 Brisbane's Best Pasta
Pasta time away with these dishes!
By Guest Styler | 15th September 2016

I love pasta. I crave pasta. I live for pasta. I am the pasta master. OK, maybe not the last part but I definitely have a deep connection to it.

I feel like pasta every damn day and because I'm so obsessed, it only made sense to search for Brisbane's best pasta so I could share it with you. I just want everyone to be happy with this beautiful Italian goodness. Since I've probs made you crave it already, check out the list below of Brisbane's best pasta!

I went to The Spaghetti House and decided to try the Pomodoro sauce. This was with tomato, garlic, onion and basil sauce and I chose penne pasta. It's safe to say I ate the whole thing and longed for more. I'm a sucker for ANYTHING with those ingredients and I was really impressed with the taste and will definitely be coming back for another round!

Based in James Street, Bucci serves the best of Italy with their delicious seasonally-driven menu. Their pasta selection is quite impressive, offering some interesting flavours and ingredients. If you're a fan of gnocchi, I recommend trying their Gnocchi Alle Olive Con Chorizo E Calamari. In this dish, you'll find braised calamari, crispy chorizo, peas, lemon and herbs. It's an explosion of flavour!

This New York-style basement bar and restaurant is a super cool location to have a meal, a drink and meet up with friends. For us pasta lovers, there are some mouth-watering options available, including Pork Belly Linguini with roasted garlic, chili, mushroom, mint, English spinach and olive oil. For something naughty, you can't go past the Brandy Tortellini with spinach and ricotta tortellini, cream, pine nuts, sun dried tomato and brandy. Delicious.

Head to South Brisbane to experience this casual Italian pizzeria and all it has to offer! Since you're in heaven already, make sure you try a pizza. It would be criminal not to. In terms of pasta, you need to get your mittens on the Pappardelle al Ragu d'Anatra. In English, that's flat ribbon pasta with a duck and tomato ragu – aka, try it or regret it forever.

This place is a hidden gem! They're known for their insanely good food and let's be real, their pasta is next-level. For an experience like no other, I recommend trying the Smoked Salmon Linguine with baby capers, sliced red onion and garlic in a lemon cream sauce with goat's cheese. Since I have no self-control, I also recommend the Fettuccine Marinara for all the seafood lovers!

For a Italian feast, head to Bella Tiarnie in New Farm. Upon looking at the menu, I saw they had some fabulous options and it was definitely hard to choose! The Mona Lisa Farfalle stood out to me – prawns, sun-dried tomatoes, Napolitana sauce, cream, parsley, chili and parmesan cheese. Or if seafood isn't your thing, try the Tortellini Alla Panna – veal tortellini with bacon, mushrooms, wine, cream and parmesan cheese. Give Bella Tiarnie a go!
Tartufo, Fortitude Valley
At Tartufo, you can look forward to classic Italian food inspired by Naples and the surrounding regions of Tuscany, Umbria and Abruzzo. For a pasta dish with authentic Italian flavours, I would choose the Rigatoni Alla Sicilliana – house-made tube pasta served with Italian pork sausage, fried eggplant, smoked mozzarella, tomato, basil and parmesan. For a vegetarian option, try the Linguine ai Funghi Tartufati – house-made linguine served with wild and cultivated mushrooms, butter, mascarpone, sage and truffle pasta, topped with parmesan and cracked pepper.
This riverside restaurant at the Brisbane Powerhouse is without a doubt one of Brisbane's best Italian restaurants. To get your pasta fix, try their gnocchi with local spanner crab, chili and fennel or give their Pappardelle with Goat Ragu a go! The best thing about Bar Alto is you get the best food with an amazing view!
Nestled in the Windsor International on Gympie Road, this may be one of Brisbane's best-kept secrets. Francesco, Va Bene's head chef, brings the truly authentic taste of Italy all the way from his childhood home in Naples. My pick is the Linguine Mare, which is made with fresh seafood, a hint of chili and a touch of tomato sauce.
Liked this? You'll love these! Brisbane's Best Cheese and Wine Venues Brisbane's Best BYO Restaurants: 2016 Edit Brisbane's Best Salads