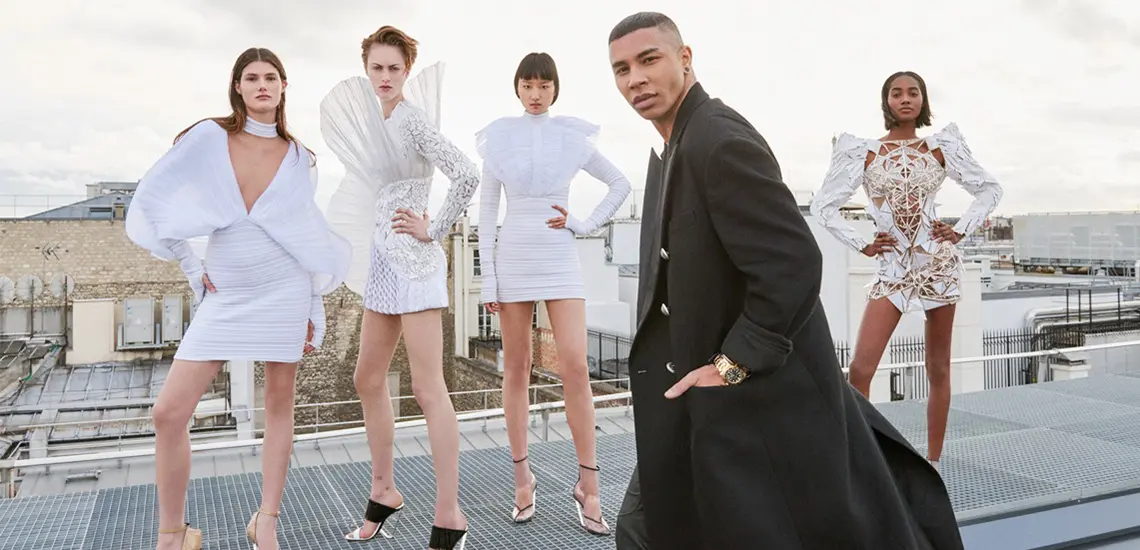 Never Mispronounce A Luxury Fashion Label Again Thanks To This Guide
It's Miu Miu, not meow meow.
By Guest Styler | 23rd July 2019

Sure, you may know a Chanel from Balenciaga by looking at it, but do you know how to correctly pronounce their names? It can often be a blunder in itself mispronouncing something you want to be so sure of, especially when it comes to fash-un (except for perhaps your mother-in-laws name). Next time you're at a soirée and want to compliment someone's Balmain bag, make sure to say it right. Otherwise, they may just know your Givenchy is from the back streets of China, rather than the Champs-Élysées. Read-on to right your fashion pronunciation faux pas and thank me later.
Balmain
Constantly in the spotlight, so time to get it right. Worn by the likes of Kim K, Chiara Ferragni and Beyonce, the brand lead by Olivier Rousteing is growing from strength to strength.
Sound it out: Bahl-mahhhn
BVLGARI
No, it's not just a bunch of letters shoved together, it's just stylised like that. The luxury Italian label is often pronounced with the 'v', but don't be fooled, dear friend.
Sound it out: Bul-gari (the actual brand name)
Givenchy
Like many finer things in life, Givenchy reigns from France and therefore the letter 'g' can often be incorrectly pronounced. In this case, the 'g' is more of a 'z'.
Say it out: Zhee-von-she
https://www.instagram.com/p/B0BUDGIpGnw/
Hermes
Another French fashion house, Hermes is commonly mispronounced 'her mez'. Think, Hermes is 'er-mazing'.
Say it out: Erh-mez
Louis Vuitton
Don't deny it, we've all been there – awkwardly stumbling from the 'l' to the 's'. Is the 's' silent or it actually pronounced loo-is, like the kid next door? Make the stumbling stop!
Say it out: Loo-ee Vit-ahn
MIU MIU
Let's just cut to the chase here – no it's not said like a hungry cat.
Say it out: Mew-mew
Moschino
No, not like a skinny cappuccino. Think of Kate Moss in her prime naughty-days, reaching for the car keys after a few drinks. Moss? Keys? No!
Say it out: Mos-ki-no
Versace
Another classic Euro trip-up. The Italian fashion house is known for their out-there prints and over the top looks and is often mispronounced with an 'ee' on the end.
Say it out: Ver-sah-cheh
Yves Saint Laurent
Also known as 'Saint Laurent' or 'YSL', it can certainly be a hard one, so no judgement here.
Say it out: Eveh-sohn-luran (now add a French twist and voila!)
Liked this? You'll love these! 1. Euro Fashion Trend Alert: Goodbye Leopard, Hello Snakeskin 2. Trend Alert: Flared Jeans Are Back And Are More Stylish Than Ever! 3. These Are The Boot Trends We're Obsessing Over For Winter!