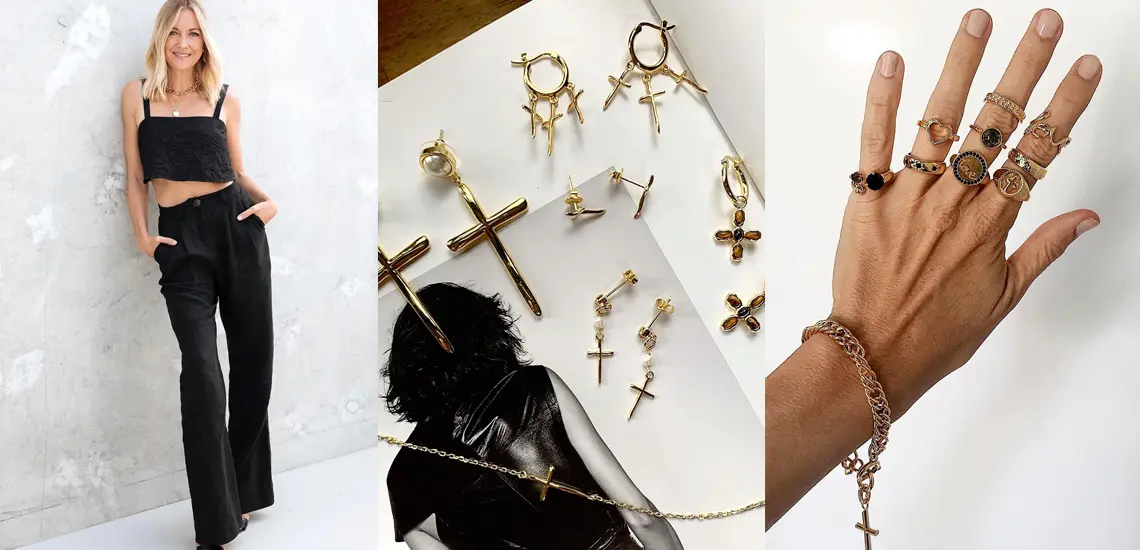 Dream Of Having Your Own Jewellery Label? This Chick Tells Us How To Do It!
Laidback, yet oh so luxe.
By Guest Styler | 12th April 2019

Byron Bay-based Sharona Harris lets us in on her glamorous yet down-to-earth personal life. She also gives us a little BTS on her luxe jewellery label,  @fandhjewellery AKA Femme + Homme (meaning woman and man in French).

Her latest collection 'La Femme' was created for International Women's Day, it's made up of beautiful feminine pieces with soft tones of colour. As part of helping women through the transition of homelessness to independance, Sharona will be donating 10% of proceeds from the collection to The S.H.I.F.T Project in Byron Bay.

We caught up Sharona a few years ago too, and spoke about how she got to where she is today with her fast-growing jewellery label. You can check out the back story here.
PERSONAL LIFE
Describe your personal style: Tailored, tonal and a little bit tomboy.
Sum up a typical day for you. I start the day with an F45 class at 5:30am and then arrive at the office around 7:30am. A day could be designing, PR, planning shoots, researching or social media! I am always out of the office around 5pm and ready for a beach walk, swim or surf. I definitely need some outdoor activities to help me wind down at the end of a busy day. Then once I'm home it's pretty much just all about food and relaxing!
Favourite town/city? New York, it's just so inspiring.
Go-to Aussie designer. I wear mostly overseas designers but Sir the Label is a great go-to for relaxed beachwear.
Drink of choice. Soy cappuccino (day), Negroni (night).
Couldn't leave the house without? My dog, Yoplait.
First thing you did this morning? Had a matcha!
Song on high rotation. Mondo Rock, Come Said the Boy.
What do you like to do in your spare time? Read, surf, hike, chill at the beach, anything outdoors, I find if I stay inside too much I just think about work!
Next holiday destination. Heading to Italy in October but before that a trip to Tassie for the Dark Mofo Festival in June.
WORK LIFE
Occupation: Owner and Designer of Femme + Homme Jewellery.
Fave F+H Jewellery pieces? The new Femme stud earrings I created for International Women's Day and my Kashmir Pearl Earrings.
What did you do before designing jewellery and before starting F+H? I worked in marketing, PR and events for my whole career before F+H.
Can you tell us a bit about the production of your jewellery? It starts with sketching, designing in Illustrator and then handing the collection to my craftsman for sampling.
Where do you draw inspiration from? Nature, vintage imagery, music and street style.
How many people do you have in your team at F+H or is it just you? It's just me! But I definitely outsource as much as I can to assist with advertising, PR and marketing.
Who is the most famous person to wear your designs? Margot Robbie, she is a huge fan of the brand and loves all the crosses!
Give us a little insight on a day-in-the-life of your business. I start at 7:30am and try to answer emails from customers and wholesale first thing, then I move into designing, PR or accounting. It's hard to stay focused as things do arise that you need to deal with each day, so it's not easy. But I try to schedule certain days of the week for marketing versus designing. I am always finished by 5pm; I work much better in the mornings!
Some tips for aspiring fashion designers/business owners? Make sure you have a balance of business knowledge and not just creativity; it's hard work running your own business so you need to have a very balanced mindset.
Any 2019 goals or dreams you have? I really want to push F+H internationally; I have just secured my first luxury boutique in Korea, which is very exciting!
Liked this? You'll love these… 1. Margie Woods of Viktoria & Woods Tells Us All About Her Sustainable Fashion Label 2. La Dolce Vita: With Silk Laundry's Katie Kolodinski 3. Your First Look At Brisbane's New Yves Saint Laurent Boutique!