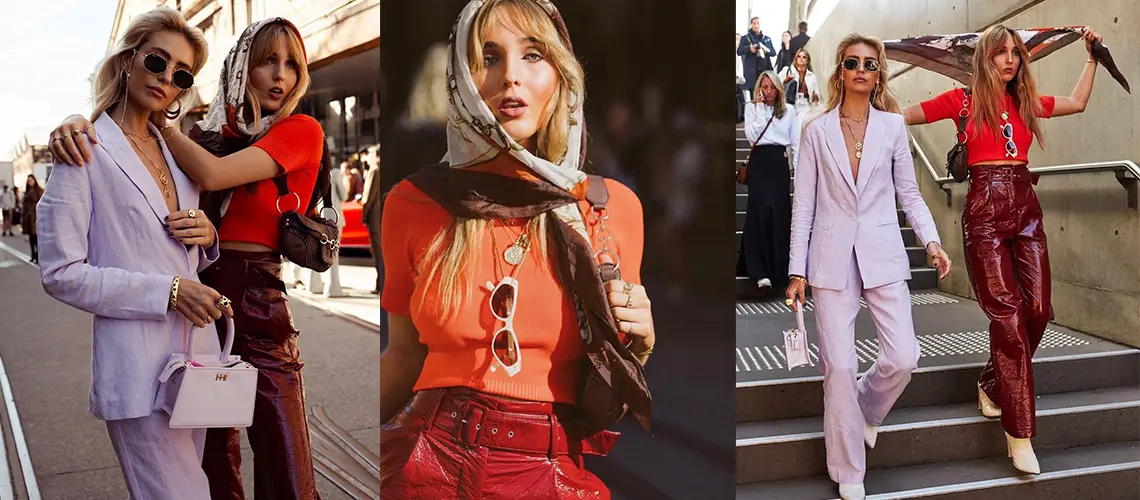 We Sat Down With Turkish MBFWA Influencer, Maral Uysal
Turkish threads took on Fashion Week
By Guest Styler | 30th May 2019

With over 10-thousand followers on Instagram, Maral Uysal is a Brisbane-born fashion influencer challenging the hemline. Her fierce Turkish and German features scream a Mediterranean summer vacation, with blue eyes that remind us of translucent waters and Turkish talismans. We follow her as she levels-up the modelling world while balancing a fashion honours and a part-time job at one of Brisbane's leading labels.

Tracking her globe-trotting adventures with an epic highlight story reel, Maral's Instagram is filled with culture, exploration and wanderlust, all things we welcome to our feed. So, when we saw these autumn hued street-style looks at MBFWA, we simply had to sit down with her. We uncover the inspo behind Maral's wardrobe door, her insight into the future of fashion and her take on MBFWA in this Q&A.

What's your 9-5 grind? My 9-5 grind is currently a 9am-2am grind hahah. Being a fashion student is very demanding with time, so I'm working on my collection and writing my thesis all day every day, if I'm not at work at Bec and Bridge. It takes over your whole life but I'm happy to do it and I know that it's going to be sooo soo worth it!

When did you start planning your outfits for Fashion Week and who styled you? I styled myself from a selection of Bec and Bridge clothing. It was super last minute because I always like to wear something that reciprocates how I'm feeling at the time. All I knew is that I wanted to reference the contemporary 70s twist from the show.

Did you do your own hair and makeup? Hahah yes I did, and I was running late so my make-up was unfinished and my hair was still a little bit wet, but I was wearing a head scarf so you can't tell!

Talk us through a day in the life at Fashion Week. Wake up early, have a coffee and a good breakfast and get ready for the first show. Meet your friends and expect a lot of photos being taken of you from street style photographers. Then obviously watching the shows, which is my favourite part! I think it's so important to acknowledge the hard work that everyone puts into the shows, and it's also so exciting seeing what they come up with for the season! Following the shows, and probably following a few outfit changes… going to after parties to celebrate all the work involved!

What was your favourite show and why? The Bec and Bridge show was amazing. Firstly, 70s references are hard for me to resist, but I liked how they updated those classic 70s styles and colours to be really contemporary. The attitude of the looks had a super refreshing energy to them, and it was really cool to see new silhouettes and fabric combinations!

Any tips on how to create a Fashion Week outfit? Wear something that is a little bit more daring than what you would usually wear on a normal day, but make sure that you are still being you, keeping your personal style present!

What were the biggest trends that you saw in street-style this year? Oversized suiting for sure! And outfits that incorporated tailoring mixed with street style pieces styled together. I think Australian fashion is always casually elegant but relaxed, which is derived from the Australian climate and lifestyle. So, this meant that there was a very high summer/ resort approach to dressing.

Who is your idea of best dressed in the world right now? Probably some Italian or French grandmother, somewhere! Someone who appreciates the quality in garments and understands layering and accessorising to match their self-identity.

Can you predict any upcoming trends? Maybe, cow print, tie-die, low rise skirts and pants for women and flared trousers for men?

Who is your biggest style inspiration? My parents and their friends in the 70s and 80s, and Cher in the 70s!

Favourite designers? My current favourite designer constantly changes, but I will always love Jean Paul Gaultier, John Galliano and Martin Margiela. My current favourites might have to be all the students that I am currently studying with – they are so talented and inspiring.

If you could live and work in any city in the world, where would it be? Berlin, Paris, Amsterdam or New York.

Are your fashion choices inspired by your Turkish heritage?  Yes, my fashion design aesthetics and design practices are definitely inspired by my Turkish heritage, as it is the most influential part of my personal and artistic expression.

Dream fashion label partnership?  Right now, I think I would learn the most from a partnership with someone like Ottolinger or Jacquemus.

Have you got any exciting fashion news coming up that you can share with us? Yes! I am currently in my honours year of a Bachelor of Fashion Design, which means that in a few months I will be releasing my graduate collection of garments from this year!

Would you ever start up your own label? Potentially one day! I think there is so much that I have to learn about everything in the industry still. I will most definitely continue making my own clothing regardless of what I do career wise!

Liked this? You'll love these! 1. Stylist Lana Wilkinson Shows Us The Hottest Trends Of The Season! 2. Our Definitive Guide To MBFWA 2019! 3. Our Wrap Up Of This Year's Met Gala Pink Carpet Looks!