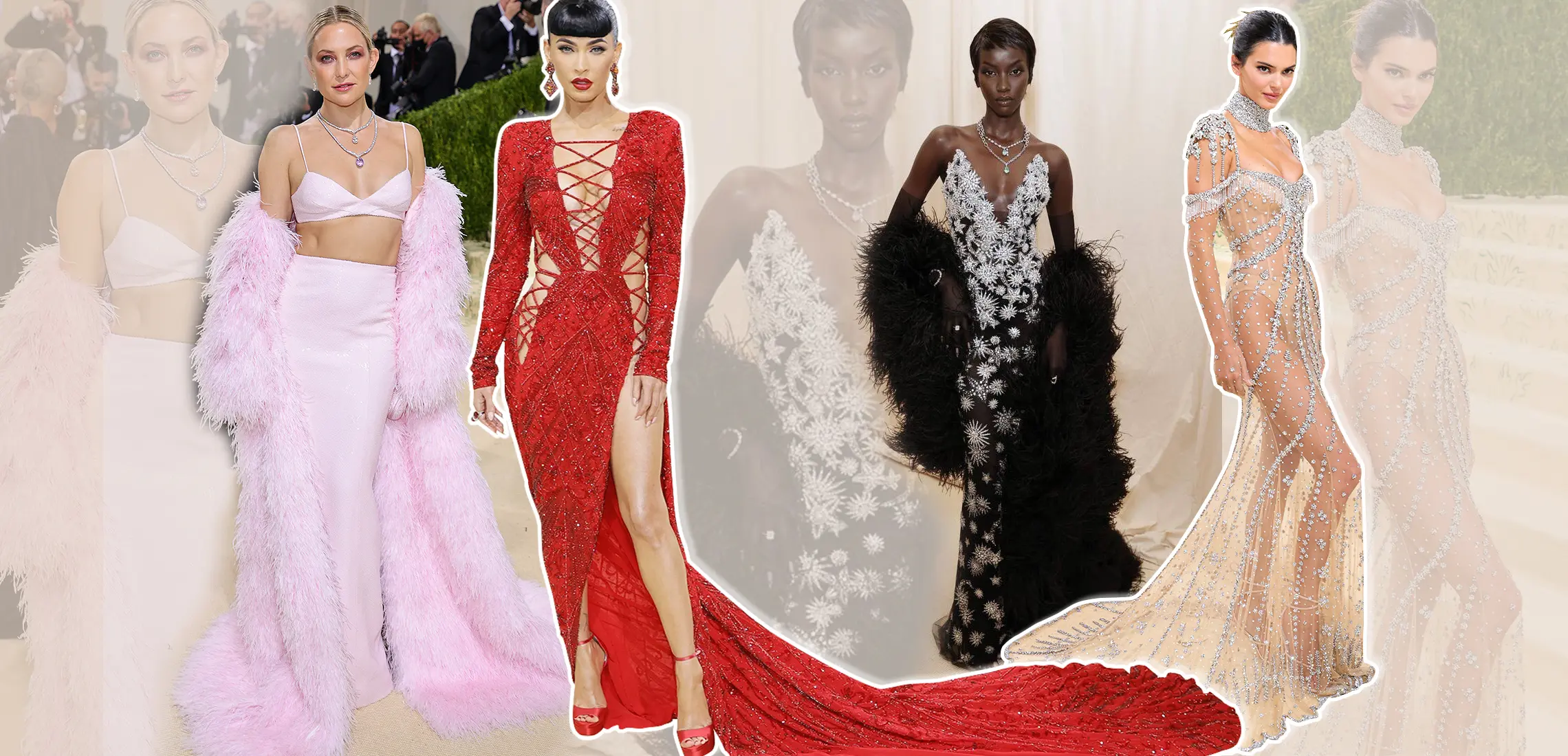 An Honest Review Of Fashion Looks From The 2021 Met Gala Red Carpet
By Astrid Taemets | 14th September 2021

It's been a looong time since we've seen a red carpet, and what better way to bring our fave celebs back together than with fashion's pinnacle event – the Met Gala.

With this year's theme 'In America: A Lexicon of Fashion' (a celebration of modern Americana), there's been no shortage of jaw-dropping, eyebrow raising, and throat clearing 'fits (ahem, Kim Kardashian-West) to keep us buzzing in the office all day long.

From starry-skied gowns to sky-high splits and everything in between, behold – the most talked-about fashion moments on the Met Gala red carpet for 2021:
Kim Kardashian-West
Astrid: Things that go bump in the night.
Dinushka: Someone's watched Pulp Fiction one too many times…
Fiona: Skims launches new head-to-toe range.
Billie Eilish
A: Billie Eilish aka the First Lady.
D: Marilyn meets Fairy Godmother meets I'm a baaaaad guy.
F: It's just Billie Eilish's peach-cloud world, and we're just livin' in it.
Timothée Chalamet
A: A very confused little penguin just arrived.
D: He looks like a suave Michelin Man.
F: When you have orchestra to conduct at 5pm, but need to be at the skate park by 5.05pm.
Justin and Hailey Bieber
A: Modern-day Holly Golightly. Here for it!
D: Practical from Hailey – Wayfarers vs the papz. JB's mum bought him the suit hoping he'll grow into it.
F: Hands down, best on ground! Ugh, so, so good.
Emma Chamberlain
A: Sweetie's just a deer in the headlights.
D:  I dig! Angsty butterfly energy!
F: Makeup by Tim Burton.
Kristen Stewart
A: Grandma's been reliving her rock 'n' roll years.
D: When Mattel decides to do Barbie in a nursing home, she should wear this – pretty!
F: Colonel Stewart.
Julia Garner
A: Ruth who?! A far cry from the caravan park.
D: This is the vision I had for myself every middle school disco. My mum disagreed.
F: Oh my lord YES (in southern Ozark accent). Top contender for best on ground. Love the elegant resort-style bikini and shiny overlay combo.
Anok Yai
A: Bow down, Kween Yai has arrived!
D: SHE COULD KILL ME IN ONE LOOK I AM DECEASED
F: Wow! Look at that frrrrrrosting! 
Kim Petras
A: Who the hell thought this was a good idea?
D: It's a neigh from me.
F: My saddle's waitin'… you know the rest.
Jennifer Lopez
A: Jenny from the block found the wild, wild west.
D: Yee-how is she 52?
F: JLo steps out as the new queen of Westworld.
AOC
A: A little ironic, don't you think?
D: The theme and AOC's outfit are synonymous. A++
F: Is that comic sans?
Kris Jenner
A: Momager, but BYO wrecking ball, 'cause things could get ugly.
D: This couldn't be anymore momager if she tried. Kris, we get it, you want to be Moira.
F: Kris Jenner has arrived for the mourning of disco.
Megan Fox
A: I'm both in awe and terrified of Ms Fox. Props for backing up after the VMAs.
D: Questionable lockdown bangs. Also, a detective called – he wants his red thread back.
F: Where does one keep their iPhone?
Ciara
A: You guys remember Flubber?
D: Maybe the grass is greener! Kermit and I ADORE
F: Gorgeous! And I never thought I'd say that about 500,000 lime green sequins.
Kendall Jenner
A: Kenny is a shooting star, and I am here to wish upon it!
D: Call me a hater, but kind of predictable from Kenny. New year, same ol' style.
F: *jaw drops to floor*
Kid Cudi
A: Me in the shower when I take my mascara off.
D: Did Jenny Humphries do his makeup?
F: When you try to even out your eyeliner and it just turns into Uncle Fester.
Lily-Rose Depp
A: Me at 12 trying to be fashionable.
D: Omg I'm holding my high-waisted jeans tight. Love this for her though.
F: Dear god, when did low-rise come back?
Kate Hudson
A: Like, not the theme, but I think I love it?
D: She should've worn the yellow dress from How To Lose A Guy – that's an American icon
F: Styled by Samantha Jones circa 1998 (I LOVE IT)
Tessa Thompson
A: "May the odds be ever in your favour".
D: Fire emoji! Also, very on the nose re the state of America.
F: That girl is on fiiiiiiirrrreeeee
Zoe Kravitz
A: I'd wear nothing too if I looked this good.
D: Fishnet chic at its finest! Me and my alfredo-plus-garlic-bread-for-lunch could never.
F: Ladies and gentlemen… HER.
Cara Delevingne
A: Another political statement from Cara on the red carpet. Yawn.
D: If the police in Kendall's Pepsi ad wore this, it wouldn't have been such a dumpster fire.
F: Fierce with a capital F!