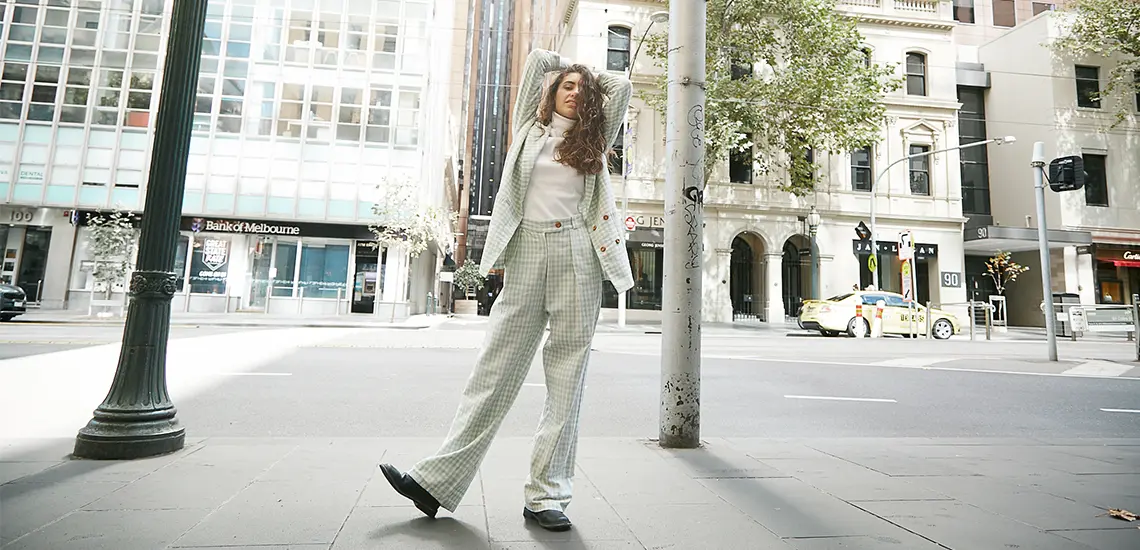 Meet The Designers Putting Sustainability First
Fashion with heart.
By Guest Styler | 31st May 2018

Five years on from the Rana Plaza tragedy and Fashion Revolution movement that followed, the fashion industry is more conscious than ever. With the introduction of the #WhoMadeMyClothes initiative, we're continually seeing many positive changes and a shift to a more sustainable, ethical future, in terms of both materials and worker welfare.

Consumers are now demanding to know who made their clothes, how much they're paid and what their lives are like. In many ways, Australian designers are leading the way.
Ash White
Born out of the desire to support rural artisan communities in developing countries, Ash White is the eponymous label from Mackay-based Ashleigh White.
After working in manufacturing in Sri Lanka and learning about artisan work, White felt compelled to create opportunities for the people in rural communities that would support their lifestyle and contribute to preserving traditional art-forms.
"We work with a large network of fabric suppliers in India, from organic cotton to high grade linen, however our signature is handwoven fabrics which are produced on wooden machines in communities all over India. We use mostly natural fibres and source only GOTS certified fabrics to ensure our process is as sustainable as possible," she says.
Having been involved with Fashion Revolution for several years before launching her label in 2017, White is a passionate advocate for recognising and asking who made your clothes.
"I feel it needs to go further, where both brands and customers start taking action to ensure the livelihood of their makers is being considered in the development process. Education is important; however, action and change is even more crucial and it really begins with taking one step closer to a more positive outcome. It may seem small taking action on a personal level, however collectively great strides towards a more positive fashion world can be made."
For White, worker welfare is the number one component over all other ethical practices.
"How we live our life and the decisions we make ultimately drive business and if we do not build a sustainable foundation to our businesses, the chances of failure are higher. Worker welfare is crucial in building a sustainable fashion future as human hands make the majority of our clothing and every human on this planet deserves respect and support regardless of our circumstances. Positive support leads to positive growth and by working together we can create an industry we are all proud of."
https://www.instagram.com/p/BjRoO5ZgRa6/
"My hope for the future is that we return to a slower, more considered approach to fashion and we begin to truly value our clothing and how it is made."
BAAIA
While running a small Instagram account sharing brands that were doing great things in the sustainable fashion scene, Amber Boyers was regularly asked for recommendations on sustainable & ethically made swimwear. She found it difficult to find any herself, so put her fashion and business knowledge to the test and started designing her own.
Since launching her label, Baaia, Amber's position on sustainable fashion and supporting those in the industry has only grown stronger.
"I hope that the ethos can change to quality over quantity,"she says.
"I think the #WhoMadeMyClothes initiative, as well as social media are really to credit for this growth in transparency from brands."
As the people behind the biggest brands of our time Amber believes factory workers deserve to be valued and respected as equals.
"The only way their situation might start looking up is if the western consumer starts changing their shopping habits," she says.
"I think it's an important part of the relationship between brands and customers that went overlooked for a very long time. By removing the veil and being honest about who they choose to employ and how they choose to treat them, shows respect and honesty to the paying consumer."
"My biggest hope is that the attitude towards our current fast fashion craze shifts to a slower, more thoughtful approach. There's nothing better than having a piece you've worn and loved for years – something with style & quality that has stood the test of time. Those cherished pieces will always bring more joy to us than short lived 'on-trend' garments ever could, and that kind of joy and appreciation for clothing is something I hope more people will experience in the years to come."
Rant Clothing
For Sarah Garrett-Hodoniczky, creating her own label and producing locally was a natural progression, having been in the fashion industry or several years.
Since launching her label, Rant Clothing in 2013, Sarah has made it her mission to avoid the trends and disposability of mainstream fashion.
"Fashion is one of the most polluting and wasteful industries. Over the past couple of decades clothes have gotten cheaper and cheaper with offshore production, thus creating a mentality of 'wear once and then throw out'. Making clothing a disposable item and not something made with care to keep, treasure and maybe pass on," she says.
"The #WhoMadeMyClothes initiative is a great thing! Making people more aware of the people that work in the fashion industry. I hope that people understand that if you buy a dress for $20, the sewer would get paid approximately 50c for that garment. Would you sit and make a make a garment for that price? It just devalues the effort put into the garment."
The knit fabrics used by Rant Clothing are all produced by local Australian mills; knitted, dyed and printed in the same factory in Melbourne. The garments are then sewn from home studios in Brisbane.
"We don't overproduce our items making small quantities to reduce waste. We make our clothes to survive many washes and wears, don't go out of fashion and can be worn in a myriad of ways.
Liked this? You'll love these… 1. We get race day ready with Steph Claire Smith 2. 22 Capsule wardrobe essentials you'll actually want to wear every day 3. Alice McCall chats to us about her 15 years at MBFWA