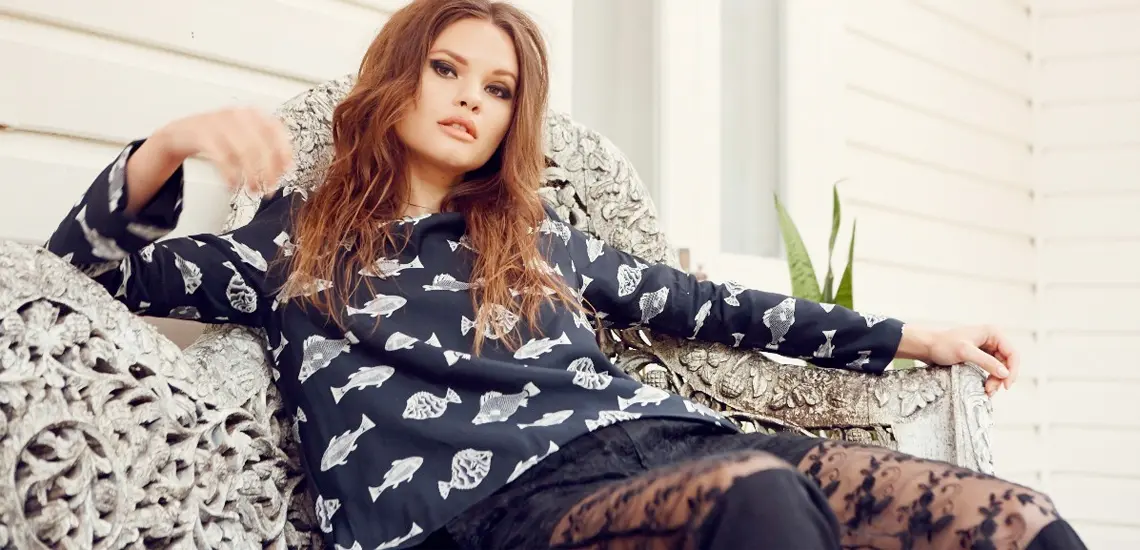 Australia's Best Fashion Labels
Say g'day to the Aussie fashion brands you should be wearing, whether it's Australia Day or not!
By Guest Styler | 21st January 2016
Image: Stevie May
With the right labels, you could swap tank tops, flag bikinis and Southern Cross tattoos for all things high fashion, dahhling. We're all for supporting home-grown talent, so we've rounded up our favourite Australian fashion labels we'll be wearing on January 26:
Wallet-Friendly
The Fifth An abundance of stripes and grey marle are just some of the reasons we love The Fifth. And with reasonable price tags, we can shout ourselves every week! When it comes time for that casual barbecue this long weekend, you'll be pleading The Fifth in a heartbeat.
Stevie May Boho and beach-friendly, just like the best Aussie babes, Stevie May is from the same Australian fashion powerhouse behind Isla and Talulah. Born out of Byron Bay, this brand epitomises the laidback lifestyle of the beach town without being too hippie about it.
Finders Keepers In a word? Effortless. This Australian fashion label thrives on throw-on-able dresses in easy silhouettes, simple patterns and colours. They even have a fun playsuit or two to keep things interesting. With options like this, we could easily have our whole wardrobe made up of Finders Keepers and be very happy girls.
C/MEO Collective Structural, architectural, and just a little bit fun, C/MEO is the label we reach for when we want a little bit of structure but don't want to look stuffy.
Splurge-Worthy
Willow Willow is all about the perfect drape; in our eyes, they can do no wrong. Their way with silk means we end up crushing hard for each new collection, which is always full of classic event outfits perfect for the social Styler!
Zimmermann If it's good enough for the Duchess of Cambridge, then it's good enough for us! We love everything from the prettiest, most ruffly bikinis right through to the stunning lace dresses. We've got more than a few Zimmermann dresses in our 'drobe to take us from beach to bar.
Josh Goot Josh Goot has stolen our hearts! If you lust after structure, luxe fabrics and unexpected details, you'll know just what we mean when we say that Josh's sport luxe vibe makes him one of our favourite Australian fashion designers.
Lover The Label You can get married in it, you can go to the beach in it – such is the beauty of a Lover dress. Known for their use of gorgeous lace, this is one Australian fashion label that's been hard to keep a secret.
Bassike No Australian fashionista's wardrobe is complete without a set of stripes from Bassike. Comfy fabrics, dropped crotches and simple, clean lines are their jam, and ours!
Jewellery
Baby Anything With the finest, most delicate jewels we ever did see, Baby Anything is your source for stackable pretties in our favourite metal hue, rose gold.
By Baby In addition to being Austrlaian, this is a Brisbane local! The designer behind By Baby is the daughter of renowned jeweller Angelo Andronis. You'll find a combination of statement pieces (we love the Venus Ring with pink tourmaline!) through to basic stacking rings that are anything but boring.
YCL Jewels Another Brisbane label, all the pieces in the YCL Jewels collection feature tiny crystals that are customisable to suit the wearer, and have been worn by the likes of Miann Scanlan, Delta Goodrem and YouTube stars a-plenty.
Samantha Wills What girl hasn't owned a piece from the golden girl of the Australian jewellery scene? Now branching into fine jewellery and more delicate pieces, her boho styles are identifiable from a mile away – and we love her for it.
Amber Sceats Inspired by architecture and with an element of rock, Amber Sceats' statement pieces will take pride of place in your jewellery collection. Think ear cuffs, chokers, and chunky earrings that'll dress up even the plainest white tee.
Also check out Natalie Marie, Mania Mania, Louise Jean … there's no need to ever leave Australian shores when you're looking for accessories!
Plus, shop a sweet selection of Australian designer jewels at The Dark Horse, another Australian business we love!
Activewear, activewear
First Base With cruisy gym gear and all the white tees a girl could ever hope to own, this Sydney-based label is the only spot to shop for basics.
Yogi Peace Club Super cute printed tees (Coconuts For Yoga, anyone?), incense and non-rubbery-smelling yoga mats are the specialties of this Australian yoga brand. We're stocking up for our New Year's resolution to get back on the mat!
abi and joseph We seriously adore an Australian brand that's dedicated to keeping things local, and that's just what abi and joseph is doing. Their designers are based here, plus their gym gear is the cutest! Bright colours and tights that hold everything in and hug in just the right places – we're sold on this Australian activewear brand!
P.E. Nation You may not be able to wear it for Australia Day, but this activewear label is the brainchild of the ever-fashionable Pip Edwards and it's coming in March. Y'all know how much we love our activewear, activewear in the Style offices, so you can bet we'll have our finger on the pulse of this one.
Other awesomeness
The Horse If you haven't noticed these watches on the wrist of every blogger worth their salt, then you'd have to be living under a rock. Designed in Sydney and now expanding into other leather goods, their Instagram feed is beautiful, as are their classic timepieces.
Nico Underwear Another Brisbane local we love, this organic underwear label definitely makes the list. Their pieces are comfortable, wearable, and cute enough to be parade around in when you're pretending to be the star of your very own catwalk show. There's no shame. We all do it.
Masini and Chern You know how we love a good monogram here at Style, and what's better than monogrammed pyjamas? Nothing, that's what. Go for classic blue, or something a little more fun (we're partial to the banana leaf print), and get a good night's sleep knowing you're supporting a local label.
Peony Swimwear You can hardly go to that Australia Day BBQ without a cute bikini in your bag. That would just be unpatriotic. Why grab a generic skimpy Australian flag set when you could be wearing options as beautiful as Peony Swimwear? Offering separates as well as stunning one-pieces, this local label is one all the Style girls are coveting.
If you've got a local label you think should make the list, let us know!
Love this? Well, then you better check these out!
Aussie Beauty Brands You Need Now
10 Best Secret Stays In Australia
Which Bikini Suits Your Style?