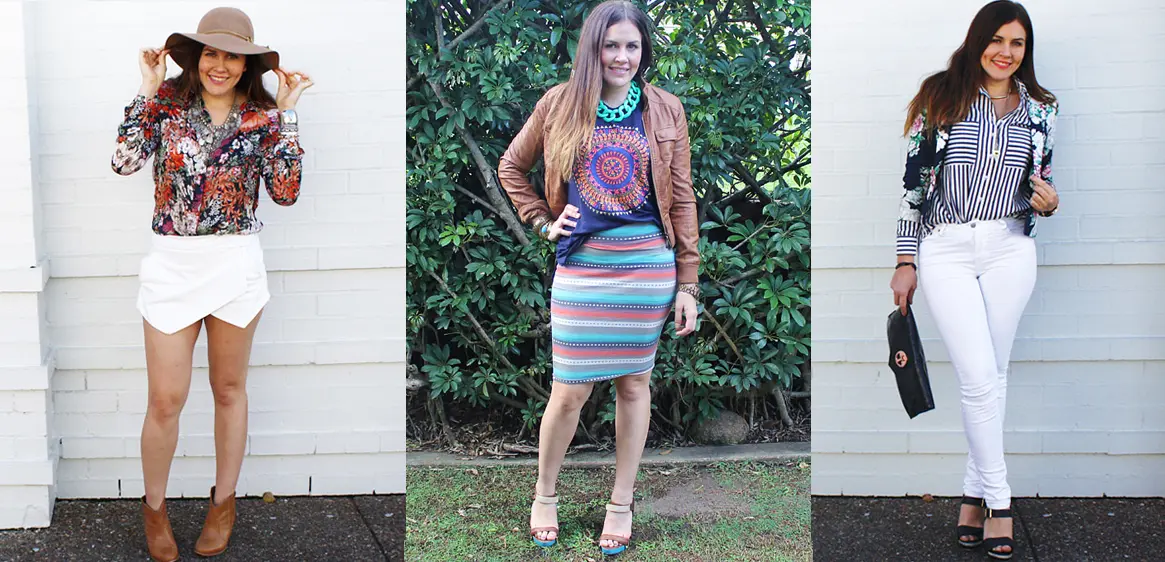 30 Days Styled By My Boyfriend | Week 3
You know what they say; third time's a charm. Right?
By Guest Styler | 8th May 2015

I'm finally past the halfway mark in my 30 Days Styled By My Boyfriend fashion challenge (you can read week 1 and week 2 here). People keep asking me if I'm 'seasoning' my boyfie's looks, and I'll be totally honest, I'm absolutely not adding 'seasoning' of any sort.

I have said a flat out 'NO' to two things, and two things only: one was a football as an accessory (with the Anzac Filly look on day 7 – after he'd taken the photo) and the other was to stockings with my look on day 15 (you'll read all about it below) which in my defence was because it was too damn hot, and I haven't bought stockings for about two years so they're probably moth eaten and/or heavily laddered. Not a good look.

Many people have also been asking if he's still inspired. The answer is that some days he is really inspired, but three out of seven he's not so much. I do have a feeling though that with the last 10 days just around the corner, he'll be taking advantage of that to ensure a memorable finish.

Here's what he got up to in part two:
Day 13 | Aztec Tomb Raider
He's got plenty of time this morning. He's been to the gym and feeling energized so he's having a good ol' dig around my wardrobe. He loves themes, and today he goes gangbusters.
I tell him I have a Bridal Shower today, so it needs to be girly, and a little dressy. His translation? Somewhere between Raiders of the Lost Arc and The Mummy.
He finds a REALLY old, cheap pencil skirt and lays it on the bed (eek!). "Aztec!" he exclaims, eyes lighting up. Another five minutes trawling my clothes, and he's come across another "Atzec" looking piece (or so he reckons). He pulls the shirt out and gets me to try on the two. He's quite literally pulling out the oldest things I own. I try my hardest not to give him my "this doesn't look good face" and he carries on.
"It doesn't really match," he says finally. Looking around, he spies my turquoise necklace and gets me to try it on. He then grabs my gold cuffs (also with turquoise on them) and my brown jacket. He touches his thumb with his pointer finger and makes a kissing sound. He's really impressed with himself.
"I'm learning principles, like wearing fitted stuff with loose stuff," he says admiring his work. He looks at his shirtless self in the mirror motioning to his, lets call it, 'cuddly' physique. "For me, it's loose on top, and loose on bottom," he laughs.
Back to my outfit, he asks: "What's that movie with Harrison Ford?"
"Indiana Jones?" I suggest.
"Aha! Aztec Tomb Raider," he says, naming my outfit. I am pretty certain that Tomb Raider is an Angelina Jolie film, but I don't tell him that.
Day 14 |  Sunday Funday
The boyf had a buck's party down the Gold Coast last night, so it's safe to say he's a little dusty.
He pulls out a daggy old t-shirt he's pulled out a few times before, but today it's sticking. I tell him I'm off to the Pitch Perfect 2 premiere this afternoon, so casual with a jacket or jumper would be nice.
"Wear your jacket from yesterday," he says in a gruff 'I-was-drinking-for-12-hours-last-night' voice. He faffs around looking for pants, and decides it's a skirt kind of day. He discovers these crumbling, weathered leather sandals in the garage and decides they're 'the ones'. Umm, really?
As I walk back up the stairs after taking the photo, one of my sandals breaks, slipping through the staircase into the great abyss (i.e. next to the bin) never to be worn again. What a shame. NOT!
Day 15 | Bengal Tigress
He's recovered from his hangover, but it appears he's suffering from Monday-itis so instantly he opts for my something that requires little-to-no brain power. AKA my 'onesies' (that's dresses in boyf talk).
It's an old dress, and I'm not even sure it'll fit – but it does. He asks me where my stockings are, and this is where I pull out the RED CARD. Sorry – that's a big NO buddy. I'M NOT GONNA WEAR 'EM. Too hot, too sticky, probably too holey and definitely decrepit (they've lived out the last two years with who knows what in a bag in the garage).
He decides my stiletto boots and 'the tassel' (the name he's coined for my Mimco bag) will be the perfect accessories.
"You look like a tiger," he says. "I am going to call you Bengal Tigress."
I'm pretty sure he's taking inspiration from the Indian restaurant up the road with a very similar name (they do a ripper Butter Chicken).
Day 16 | Gypsy Summer Luxe
He's up early today, and determined to style me up in something he really likes. I'm hoping that's a good thing. He calls what you and I would call 'statement pieces', 'big dogs', so he goes for a 'big dog' in the form of a long-sleeved, floral silk shirt.
He's getting lazy and not wanting to physically go through everything himself, so he asks me to bring him all of my shorts. I grab all of my shorts from the spare room and lay them out on the bed and floor. He goes for my white Zara skort.
"They're a bit short," he says. "Maybe you should wear your spanx underneath," he suggests. Ahh, no. "You know, like a footballer!" he laughs. He's now in hysterics – me, not so much. He discovers my very noisy, jangly silver Indian necklace and he decides the necklace, plus a floppy suede hat and "as many bangles as you can fit on your wrist; gypsies wear lots of s#!*" will finish the look.
"You could wear this on safari," he says. I tell him no, because you have to wear earthy, dark tones on safari. The idea is for them not to see you, not for you to attract them.
"Yeah true, although you look a bit like an apple tree. Like a sexy apple tree. To elephants," he says.  He looks into the distance.
"Shantaram…Bohemian Indian….Indian on safari. No, I want the word luxe in it…" he rambles.
At this stage, I'm pretty sure he's delirious. All this styling and outfit-name creation has turned him stark raving mad.
He ends up calling it Gypsy Summer Luxe, but when my colleagues hear me walk into the office, they tell me it's more like "Gypsy Santa Luxe".
Hey, I thought you guys were my friends…
Day 17 | Wicked Beauty
I'm off for a menu tasting at Bavarian Bier Cafe, so my brief is simple: STYLISH BUT MUST ALLOW ROOM FOR CHICKEN SCHNITTY. Simples, right?
The white shirt looks totes cute, but not sure about the green structured skort I've never actually worn before. When he asks if I have any green earrings, he discovers I do. He can't decide if I look more like Elphaba from Wicked or the Evil Queen from Sleeping Beauty, so he calls it "Wicked Beauty". Paired with my black bag, I'm thinking he's hit the brief.
But, it all starts to go down hill when I sit down. I should have guessed that when the structured skort he put me in still had a tag on them – there was a good reason for it. Sitting at my desk is do-able, but as I start to chow down on Bavaria's finest meaty offerings, the internal struggle begins – literally. I can't concentrate, and all I thinking about is going home.
I excuse myself to the bathroom and loosen the zip on the back, covering it with my shirt. I leave as soon as the donuts with dipping sauces come out  – I am one sniff away from a wardrobe malfunction.
Back at the office, I change into a skirt I have in my car, and the relief is immediate. Note to self: Green skort must DIE!
Day 18 | Teneriffe Task Master or New Farm Milf
He goes for another 'big dog' – my striped Country Road shirt. He originally wants to pair it with denim shorts, but when I tell him I have a meeting in the city, he changes his tune. Out come the white jeans AND a floral jacket that I haven't worn in years. He gets me to try it on, then take it off, then try it on again. I'm pretty sure he's just trying to read my facial expressions. At this stage, my facials are saying one thing: HURRY THE #*!& UP.
I rush out the door without getting a name from him, and at 11am when I am sitting at the desk, he texts me: "Teneriffe Task Master".
I don't know what he's talking about. I text back, "What?" No response. Five minutes later: "Please explain?"
He texts back, "Can I say New Farm Milf? Or is that bad?" Oh, it's the name of my look. Yep, and I reckon he's nailed it!
Day 19 | Purple Rain
After a low-level argument last night, he's not in the mood for dressing me. Eventually he wakes up, and makes his way to the wardrobe. Pulling out the pants, he looks for my bright coloured top, points to my go-to necklace and an impractical but totally gorgeous clutch.
He shrugs his shoulders, and hops back into bed. It's a meh outfit for me, but it's very comfy – and anything's got to be better than the Wicked Skort of the West that he put me in 2 days ago. Plus I'm getting a spray tan tonight, so it's loose enough and daggy enough to wear there too. Eleven days to go!